SUTHERLIN — People who are battling addiction can get a second chance and keep their family together at the same time at a new facility that opened earlier this month in downtown Sutherlin.
The Hope House Steppin' Stone opened March 1 in the historic bank building at the corner of South State Street and West Central Avenue in Sutherlin, and they filled up immediately.
The program is set up to house men, women and children who are looking to get on solid footing in recovery from addiction, and to keep families together.
Gene and Hope Dir started the home, and they welcome anyone to apply that needs transitional housing, but with one restriction. They require that they follow the rules, or they will be evicted.
For Hope, it's a way for her to give back after she went through rehab and got her life turned around.
"Two years ago I started in an Oxford House, which is a clean and sober living environment. When I left there, I really wanted to do something to give back to the community and that's kind of part of recovery, to give back what we've gotten," Hope Dir said.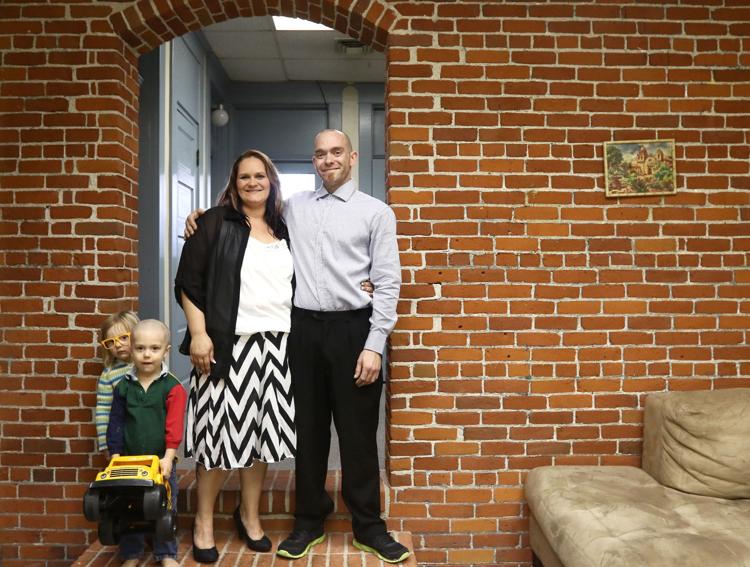 A month ago she was diagnosed with MS and she and her husband Gene decided they would put together a recovery home for families.
So they started a pay-it-forward program where people could come in for the first 60 days rent free and pay it back before they left the program to cover someone else. They can stay a maximum of a year at the home.
Hope Dir met with some other community members to figure out how to put it together. They found the old bank building that fit nicely into their plans.
All members of the program will participate in the electronic recycling business, that is in the home. And they hope to have a thrift store on the street level floor of the building. They would like to have it open within 30 days.
They plan to open the Electronic Recycling Center next Tuesday.
Whatever money they make from the recycling will be divided between the people in the home to give them some income until they can get a job.
The seven rooms they have are already occupied by 12 residents including four children.
"Each family or single person gets their own bedroom. We have a curfew everyone in the home submits to a random U.A. (urinalysis). There's a case manager who comes in to meet with people to determine what we need to do to help you get to be self-sufficient, because this isn't meant to be permanent living," Hope Dir said.
House manager and co-director Daniel Lethlean said he is there to help people in recovery, but there are two things that he will not bend on.
"In order for the house to run in the way it is intended, there will be zero tolerance for violence and substance abuse," he said.
Either of those violations guarantee a resident will bed evicted from the program.
To get into the Hope House Stepping Stone program, potential residents need to come to the home and fill out an application, and attend a house meeting on a Monday evening. Then the whole house interviews them and will vote on whether to accept them.
"To go from deciding I wanted to do it, to being open and my house full in less than 30 days, was absolutely amazing," Hope Dir said.
Electronic items for recycling can be dropped off at the site at 115 M. State Street in Sutherlin.
For information on the program call Gene or Hope Dir at 541-680-1923.