Love comes in many forms.
Some refer to it as caring, appreciation, family, friendship, respect. And for a select few it is about showing their secret crush how they really feel.
Children at the Boys & Girls Clubs of the Umpqua Valley talked about their plans for Valentine's Day.
Athena Milam, 11, said she has a crush on someone she's known for years. She plans on making a special card to show how she feels.
"We have a lot in common," Athena said. "I've known him for a while."
But when it came to plans for the rest of the day, the homeschool student said she was going to watch a superhero movie with her parents and eat Domino's pizza.
For other children, Valentine's Day seemed to be about spending time with family and friends, showing them how much you care about them.
"I think it should be celebrated more often," Sevaun Deng, 12, said. "Showing people you love them should be shown more."
But for 11-year-old Dartanyon Calvert, a girlfriend may come in the form of a dare.
The Fullerton IV Elementary School student made a dare with his friend to get a girlfriend before Valentine's Day so they could get candy.
When asked if there was a special girl he was going to ask he said no. When asked how he was going to get a girlfriend, he raised his arms and said "I dunno."
Whatever their situation it seemed the children at the Boys and Girls Clubs are ready to show those around them that they care and love.
Altrusa came to the club for the 15th consecutive year last Wednesday to help the children create valentines for veterans. The service organization hosted the event in conjunction with Celebration of Literacy events around the county.
The art room at the club had an abundance of red, pink and white cardstock. Baskets were overflowing with glitters, lace, ribbons, hearts and anything else the children needed to decorate cards.
Kids were encouraged to write "thank you for serving our country" inside the cards, although some of them opted to personalize the message by writing "thank you armys" and "we love our vets."
Kailey Gober, an 11-year-old Fremont Middle School student, said her mother served in the armed forces and although she wouldn't be able to spend the day with her she would make her a card.
"My dad, aunt, uncle and other uncle are fighting for our country," 8-year-old Bayley Robinson said when asked why she like making the valentines for vets.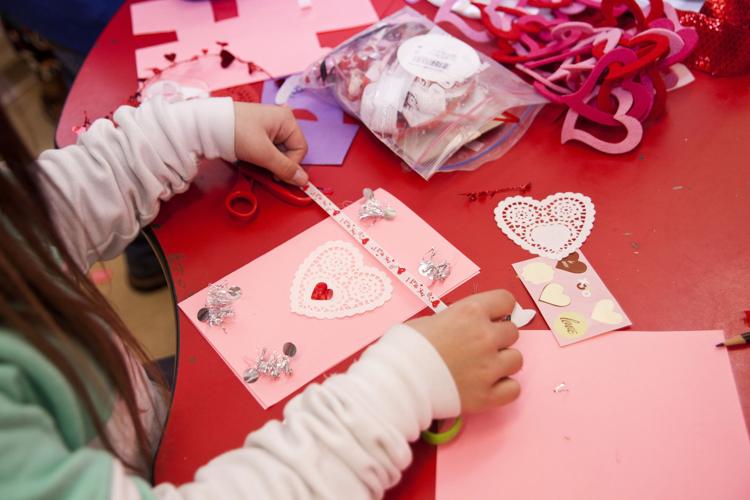 Caidence David, 7, was working at the same table as Bayley and she said she appreciated the vets, but it was making the cards that attracted her to the activity.
"I like opening my mind to creating," the Fullerton IV student said. Her friend Ryder Golladay, who attends Hucrest, said he likes that you can "add anything you like" to a Valentine's Day card.
Altrusa was expecting to bring more than 100 cards to the veterans at the Roseburg VA Medical Center.
The children will be in school on Valentine's Day, bringing candies, toys and cards for their classmates, friends and secret crushes to let them know how much they care.