Tree School Umpqua attendees are setting record numbers, causing organizers to consider holding the day of tree-raising classes more often.
The Oregon State University Extension Service holds the event in Douglas County every other year. This year's was held at the Phoenix Charter School in Roseburg on Friday. That's when more than 160 small woodland owners, homeowners and people interested in caring for trees packed into their favorite courses. The service offered 28 courses this year.
Alicia Jones, the Douglas County Extension Service forester, said this year's event had the highest number of attendees. She hopes to organize the event every year someday to accommodate the community's enthusiasm.
The courses covered how to dig ponds without damaging tree roots, identifying native trees, foraging for truffles, how to save dying trees, chainsaw care, forest-managing methods and more.
One of the most popular courses covered how to identify and save trees that are dying. There were more attendees than seats in this course on Friday.
Ellen Goheen, of Central Point, taught the course this year. She is a plant pathologist with the U.S. Department of Agriculture Forest Service. She walked the class through several stressors that can cause tree death, and she pinpointed issues that are specific to different kinds of trees.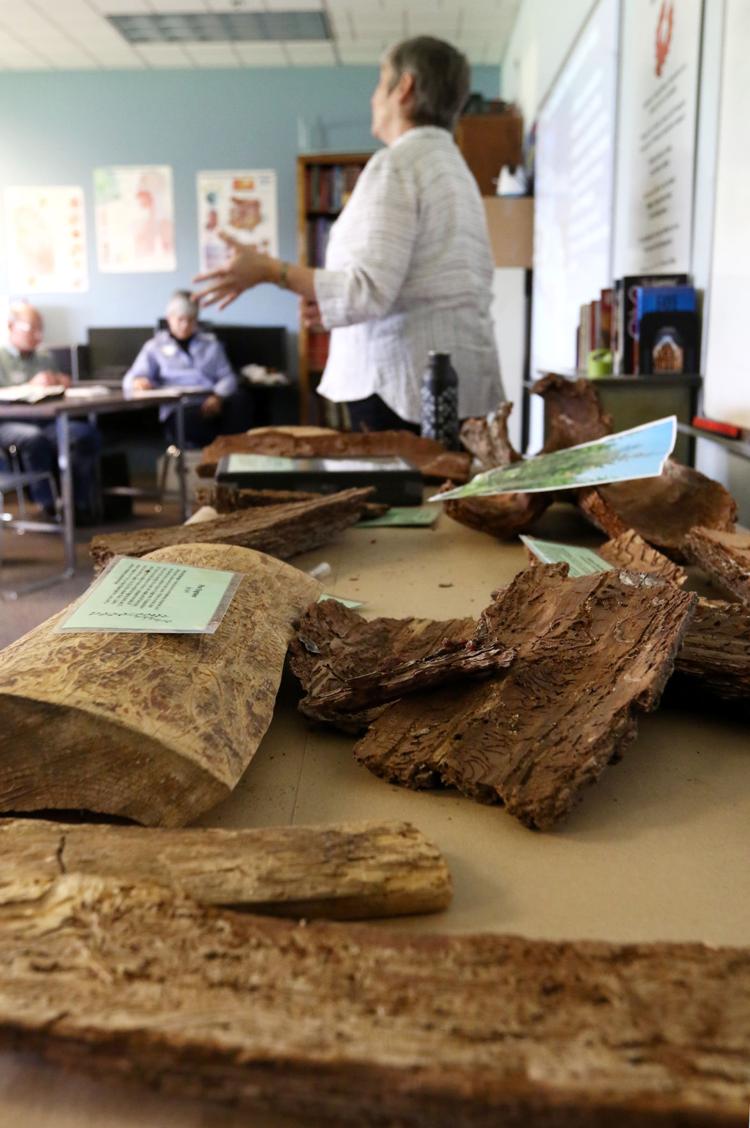 Display tables had examples of bark that had been eaten away by insects; their maze-like trails left zigzag carvings underneath the bark. One of those insects is the western pine beetle, which targets ponderosa pines. It's found throughout Oregon and Washington. It prefers large-diameter trees, and its work can lead to tree mortality, Goheen explained.
Bark beetles are the most important group of forest insects in the western part of this country, she said. They are native to the forest ecosystem. Still, they can lead to death among trees that homeowners cherish. Usually, by the time someone notices that a tree is dead, the beetles are long gone, she said.
Dennis Morgan, of Umpqua, said he attended the class to identify reasons that trees on his property and nearby are dying. He helps his neighbors down the street, he said, who have lost a significant number of trees lately.
"Like 30 trees died on one acre across the street," he said.
Doranne Long, of Grants Pass, said she attended Tree School Umpqua with several of her family members. They all took different courses so they could get the most out of the day. They own several acres of forest land.
"I'm very interest, personally and professionally, in keeping my trees healthy," she said