TRI CITY — Brennan Hill's day started off pretty great.
The Tri City Elementary School fourth grader was celebrating his 10th birthday, and when he got to school he learned that he'd be getting a pumpkin.
"It was fun," Brennan said. "We get to keep a pumpkin."
He said it was his first pumpkin and was not sure yet what he would do with the pumpkin.
Second grader Allen Barrett knew just what he was going to do with his pumpkin.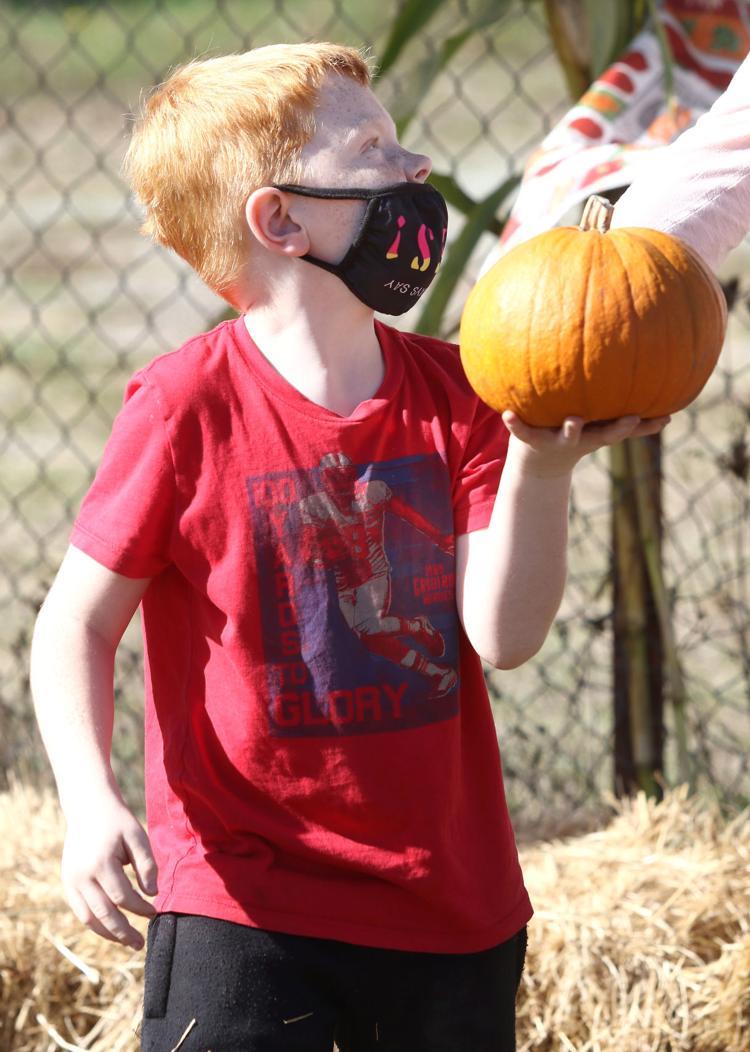 "I'm gonna carve it," he said. "I want to make it look like pumpkin pie."
The Parent-Teacher Committee worked together with Brosi's Sugartree Farms and Grocery Outlet to give students the traditional pumpkin patch field trip, without breaking COVID-19 guidelines.
Jessica Widener, who is a staff member at the elementary school and part of the Parent-Teacher Committee, said, "There was lots of excitement throughout the entire school today about a pumpkin patch."
Instead, staff from Brosi's orchard delivered pumpkins to the school Wednesday morning and several parents laid out the pumpkins on the baseball field behind the school. Grocery Outlet provided the plastic bags for students to carry their pumpkin home in.
"Everything is so different this year," Widener said. "We want to give the kids something to look forward to."
During previous years, the kindergartners and first graders would have a field trip to the pumpkin patch, but the school was able to expand the activity to all grades.
Each grade had their own designated space of "pumpkin patch" and after each student in a class had picked out a pumpkin, they came over to home plate to take a photo among hay bales and other fall decorations.
"This made me so happy," Widener said.
Principal Emily Veale said the students who continue with Comprehensive Distance Learning would be able to come to the field after school hours and pick out a pumpkin as well.
She added that keeping those students involved in the school community even though they do not physically attend school at the moment is important. The distance learning students will also be included in a "One School, One Book" activity later this year.
Brosi's Sugartree Farms owner Mark Brosi said the orchard was contacted by about half a dozen schools in Douglas County and was happy to help out.
Brosi said teachers had the option to come and pick out their own pumpkins, or his staff could do that and bring the pumpkins to the school.
Students from several private schools were expected to still participate in field trips to the pumpkin patch.
Overall, Brosi said the orchard has been quite busy in recent months as more people came to pick their own fruits.
"It's been a different year, but it's brought more people to the farm and has brought people outside to pick," Brosi said. "So it's not all been bad."