Bouasone Vannarath had no idea what the future held for him when he and his wife fled Laos in 1984.
But he knew one thing. He was more scared of what was happening in the southeastern Asian country he left behind. His wife reluctantly joined her husband although she said she was concerned about what the future held for the young couple.
But the Vannaraths endured the unknowns of immigration and now 33 years later, the family has settled into a comfortable life in Roseburg, making and selling donuts in their small business, Henry's Donuts.
What the Vannaraths left behind was a country still in chaos following the Vietnam War that had very much spilled over into Laos. The U.S. had dropped a couple million tons of bombs on Laos between 1964 and 1973 to help the country's government effort against the invading North Vietnamese Army. It's been reported some 80 million bombs failed to explode and remain scattered around the country. Many bombs have been accidentally detonated by farmers working their fields, leaving those people dead or badly injured.
Many fields in the country are not being cultivated because of the possible presence of those bombs.
The Vannaraths were a farming family and Bouasone didn't want to unknowingly detonate one of those bombs while plowing a field.
"It's hard to farm land full of bombs," he said.
He was also aware that North Vietnamese were coming into his country after the war to seek revenge on Laotian people who had helped or guided U.S. troops across the border into North Vietnam on little used trails.
"During the Vietnam War, my grandpa helped the U.S. find routes into Vietnam," Henry Vannarath, Bouasone's son, said. "My grandpa fought with the U.S. The Vietnamese were going after guys and their families who had helped the U.S."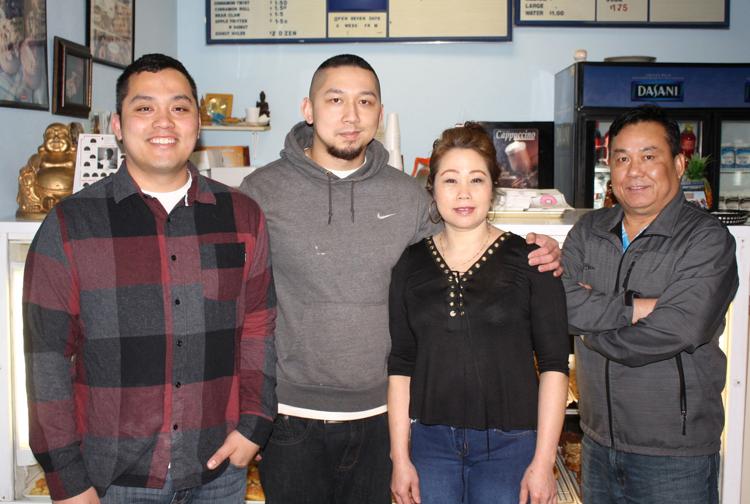 Bouasone Vannarath, 21 at the time, didn't like his prospects for the future in his native country so he and his wife, Bounpone Vannarath, fled, taking a boat across the Mekong River to Thailand and a refugee camp. There they began to learn English and waited for a sponsorship from a family in the U.S. That came three years later, and the couple with 3-month-old Henry landed in Seattle where they lived for several months with Bouasone Vannarath's sister.
During that time and for the next couple of years, the Vannaraths traveled up and down Interstate 5 between San Francisco and Seattle, looking for jobs and working whenever possible.
"My dad wasn't scared of anything," Henry Vannarath said. "Being back in Laos was scarier for him. He just wanted to find work to support his family.
"It was more difficult for mom," he added. "She didn't know the language, she had left everything behind, she didn't know what to expect. She didn't know what jobs they could do, how they would get by. Mom was more scared than Dad."
In 1991, Bouasone Vannarath took a job in a bakery in Fairfield, California, where he learned how to make donuts. He has been baking and making them ever since.
The family, now including daughter Christine and son Skii, moved to Roseburg and opened Henry's Donuts in 2002. They picked Roseburg because Bouasone Vannarath's sister had moved from Seattle and opened the Bangkok West restaurant in the town, and because at that time there was only one other doughnut shop in the town.
"We came up and took a gamble," said the senior Vannarath who is now 53. Bounpone is 49.
Both Bouasone and Bounpone went through the process and earned their U.S. citizenship in 2010 and 2008 respectively. Henry, who they named their business after, also earned his U.S. citizenship in 2010. Now 30, he is a 12-year veteran of the U.S. Army and has made one deployment each to Afghanistan and to Iraq.
"I'm happy," Bouasone Vannarath said recently during an interview in his doughnut shop. His English is improving, but his son Henry helped by interpreting. "I'm pursuing the American dream. There are a lot of people outside the U.S. who hope for that chance.
"I feel an ease of mind here, I feel secure in this country," he said.
Bounpone Vannarath added in her accented English, "I'm happy being a citizen here."
As U.S. citizens, it has been easy for them to travel and they have made several trips back to Laos to visit family and friends.
"We buy a ticket, get a visa and we're like any other traveler going through customs," Bouasone Vannarath said. "Coming back is just as easy."
Laos, where the main religion is Buddhism, is not one of the countries on the travel ban recently proposed by President Donald Trump's administration.
Bouasone Vannarath said he does not have a problem with the ban. He added that people who come to the U.S. illegally or stay illegally give all immigrants a bad image, especially those who came legally like his family.
"It elevates the stereotype of immigrants and makes us look bad," he said, his son Henry interpreting. "We did all the right things. We waited. We did the paperwork. There are people who sneak their way in. They don't pay taxes. They don't vote."
The Vannaraths said they and their business have been welcomed in the Roseburg community. They said when they first opened, some Roseburg Police Department officers dropped in to see if there were any issues.
"Everybody has been friendly," said Bounpone Vannarath who is the face of the business because she is behind the counter every day. "People have been nice and welcoming."
Henry Vannarath, who attended Fremont Middle School when the family arrived in Roseburg and then later graduated from Roseburg High School in 2005, said he dealt with no racism during those years.
"I grew up in the American culture with just a normal American childhood," he said.
He added that during his years in the Army, three active and the last nine in the reserves, there was joking about racism, "but that didn't mean we were serious. We were brothers."
Henry Vannarath said he not only wanted to serve, he wanted to fight for the country that had given his parents the chance to succeed in a safe environment. He said being deployed to Afghanistan and to Iraq were reality checks for him, allowing him to see how other people live and giving him appreciation for where he was raised.
Henry and his wife Megan started as partners with his parents, but now they are the sole owners of Henry's Bakery in Sutherlin. Henry learned the doughnut baking business from his father.
"Dad was like a drill sergeant in the bakery … this is how you do it," Henry said. "I initially resented the business, I didn't like it at first, but I adjusted to his mentality of 'If I'm going to do something, I want to be the best at it.'"
Skii Vannarath works at both shops, helping with baking and making deliveries to retail outlets that sell Henry's doughnuts.
While there were hardships early on and unknowns, the Vannaraths said they have endured and now feel quite comfortable with their life.
"I love being here, I couldn't picture living anywhere else," Bounpone Vannarath said. "People have been nice, our business has been accepted."
Her husband nodded his head in agreement and smiled.