On a clear morning in late May, the sun was beginning to evaporate dew on the baseball fields at Gaddis Park in Roseburg — an area where unsheltered people have long established camps.
Across the multi-use path that runs along the park, a narrow trail through brush and trees led down to the banks of the South Umpqua River where the air was slightly cooler.
Nestled into the brush near the exposed roots of a tree on the riverbank, a Douglas County work crew began to take down a structure that homeless people vacated after the city posted a few days earlier a camp cleanup would take place.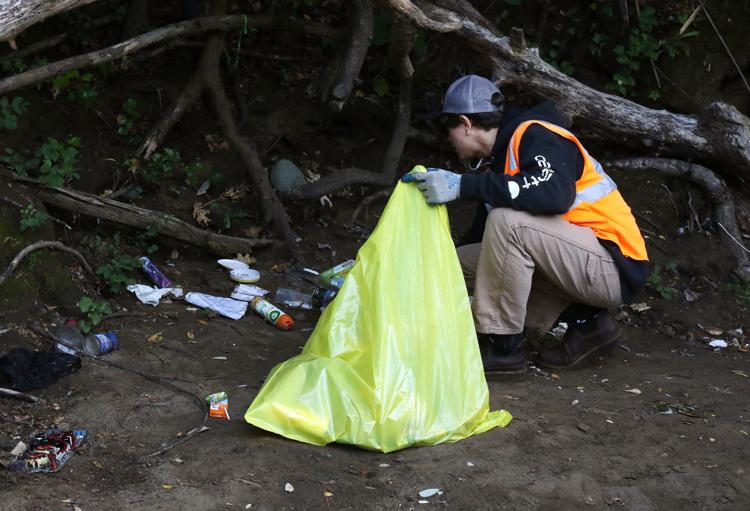 "Watch for nails guys," said Lori Oglesby, who has overseen county work crews since 2016.
Three crew members struggled to pull down the roof of the structure leaning against a tree branch. Logs and two-by-fours were spaced about 6 inches apart likely to support a tarp that would shield inhabitants from rain.
Empty food containers, batteries, a couple hypodermic needles and other collected items littered the ground around the structure.
"Tear it down the best you can," Oglesby said after a crew member noted the group didn't bring a chainsaw that day.
Although Roseburg city officials say clearing out camps is not a solution to homelessness, camp cleanups have become a key part of the city's response to the issue. In a June guest column in The News-Review titled, "Roseburg is trying to tackle homelessness," City Manager Nikki Messenger primarily discussed camp cleanups.
Cities can't criminalize camping on public property when there isn't a sufficient number of unrestricted shelter beds available for the homeless population. In Roseburg, there are no unrestricted shelter beds, because shelters require people to attend religious services and be sober. But the city can conduct camp cleanups.
While hazardous materials are removed from public spaces, the effect of the cleanups on unsheltered people is continuous displacement throughout the city. Service providers say the displacement makes it harder to give people the resources they need to try to get housing.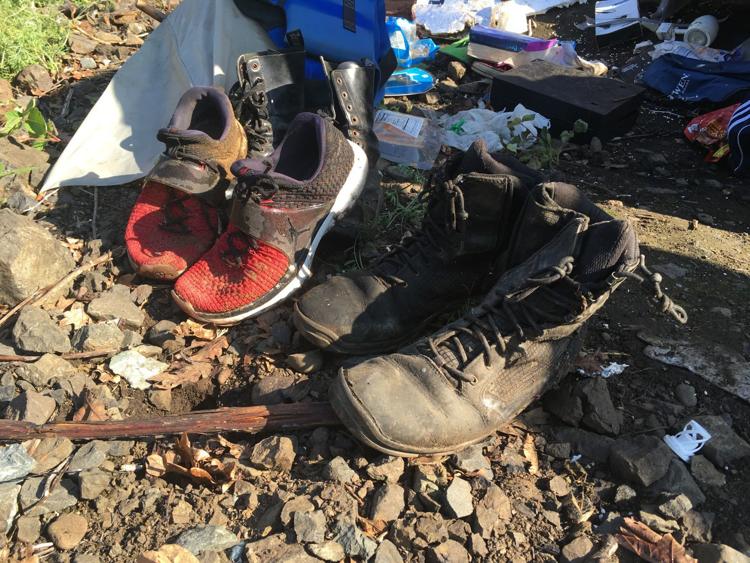 Meanwhile, taxpayers continue to finance camp cleanups. During a three-month period from the end of April through this July, the city spent $9,155 on 10 days of camp cleanups, according to city records. The money went to county work crews and dump fees for materials collected. The amount doesn't include money for staff time paid to the city's one full-time compliance officer, who supervises the operations.
The cleanups have also proven to be a financial liability for the city. Between October 2018 and April 2019, the city suspended its camp cleanup program after Legal Aid Services of Oregon filed a lawsuit seeking $27,000 in damages. Attorneys representing a homeless man in Roseburg alleged the city violated the man's constitutional rights by illegally disposing of his property during a camp cleanup without due process.
The city settled the lawsuit in March for $7,500. As part of the settlement, the city denied accountability for allegations made in the lawsuit.
The city also agreed to create a policy, which followed state camp cleanup laws. The city created an intergovernmental agreement with the county formalizing who is responsible for camp cleanup operations because the city uses county work crews.
There are more than 100 homeless people without shelter in the Roseburg area, according to t…
According to Oregon law and the new policy, the city must follow a process when conducting a camp cleanup.
The city must post a notice at the site at least 24 hours before a cleanup that it will occur. Unclaimed property with "apparent utility" that is considered sanitary must be stored at the police station for at least 30 days, according to the policy. The policy lists items such as tents, medication, functioning bikes, camp stoves and cell phones.
But which items are thrown away can be left to the discretion of the work crew because of the wording of the policy.
Unsanitary property is defined as property that "is reasonably feared to harbor hazards or disease; has had its usefulness compromised by exposure to weather, and/or is so dirty that any reasonable person would consider it unusable as found."
At the camp cleanup in May, crew members repeatedly asked whether something should be thrown out. Nearly everything was thrown into two 20-yard dumpsters stationed at Gaddis Park for the cleanups.
One crew member asked specifically about two pairs of shoes that appeared usable to him. Compliance Officer Dennis Randolph said they were soiled and should be thrown out because they were found inside a collapsed tent deemed unsanitary because it had rotting food in it.
While the crew was clearing out a camp near the railroad tracks, a man started searching through one of the dumpsters. He said he was looking for his bike, but he also appeared to be looking for other useful items.
Oglesby yelled at him to get out of the dumpster and he started shouting expletives back before leaving the area a few minutes later.
The work crews find new camps while they're cleaning up posted camps, Oglesby said.
"I mean, we're cleaning it up today, but they'll be back tomorrow," she said. "We're just moving them around and they get to come back to a nice clean camp. I don't know what the solution is but there has to be one."
At a recent Roseburg City Council meeting, Police Chief Gary Klopfenstein said cleanup efforts are working to keep campers out of certain areas, but he echoed Oglesby's comment.
"We're doing our best, but it's like moving chess pieces around," Klopfenstein said.
Stuart Cowie, director of the Community Development Department, which oversees the camp cleanup program, acknowledges that the cleanups haven't decreased the number of camps recently.
"That shouldn't be the reason for saying, well we're just not going to cleanup any more camps," Cowie said. "There has to be a long enough period of time to determine the effectiveness of it."
While the cleanups won't address the underlying causes of homelessness, he said, cleanup supervisors try to give unsheltered people encountered at camps information about resources. Supervisors pass out a sheet of paper that lists contact information for drug and mental health service providers, the Roseburg Rescue Mission, housing and food resources.
Christopher Hutton is a board member at the Roseburg Dream Center, which provides meals, clothing and other items to unsheltered people. He spends a substantial amount of time talking with unsheltered people and helps them access resources for housing.
COUNTERPRODUCTIVE CLEANUP?
He said if the city's goal is to stop people from camping in public, camp cleanups might have the opposite effect because displacing people makes it harder for him and other service providers to help people access resources that may help them find housing.
"There's no concentrated area that people are at," Hutton said. "It puts more pressure on people to find shelter where they otherwise wouldn't. Abandoned sheds, houses that are empty, commercial buildings that are vacant. When winter hits, they're going to be having to really look."
A long-time homeless camp unofficially called the Freedom Camp next to the South Umpqua River near Micelli Park was disbanded after the county sold three parcels of land to Raymond Pieren, who owns other properties nearby, in June, according to county records.
Hutton said before deputies with the Douglas County Sheriff's Office told campers the property sold and they had to leave or face arrest, as many as 60 people camped there. In mid-July, Sgt. Brad O'Dell, a spokesman for the sheriff's office, said in an email deputies contacted several individuals who were warned or cited for trespassing.
The man who introduced himself as Elliot Ness sat on a bench in front of Roseburg City Hall …
Hutton says deputies told people who were camping in the area on county land, not the properties that sold, to vacate the premises too, which would violate the 24-hour notice requirement.
People formerly residing at the Freedom Camp have since scattered throughout the city, according to Robert Thompson, a homeless man from Roseburg who used to camp there.
Thompson says being continuously moved throughout town is dehumanizing.
"We're animals to them," he said. "It's depressing, it's disheartening, it creates anxiety. It makes us worry when's the next time we're going to be harassed, and when we do, where are we going to go."