Homelessness in Roseburg has been a noticeable issue for years. For two local business owners, it's become a fact of life.
Isidra Castro, owner of Raven Crafts Tattoo, said interacting with homeless people has become a part of her daily routine.
Freddy, a homeless man who frequents the tattoo parlor in search of shoestrings and money, is one of Castro's "regulars."
"I'm always collecting socks, flashlights. A lot of them have messed up teeth and mouths and can only eat soft stuff," Castro said. "I just don't know how to say no."
She said she wished there were more programs available for people experiencing homelessness in the community.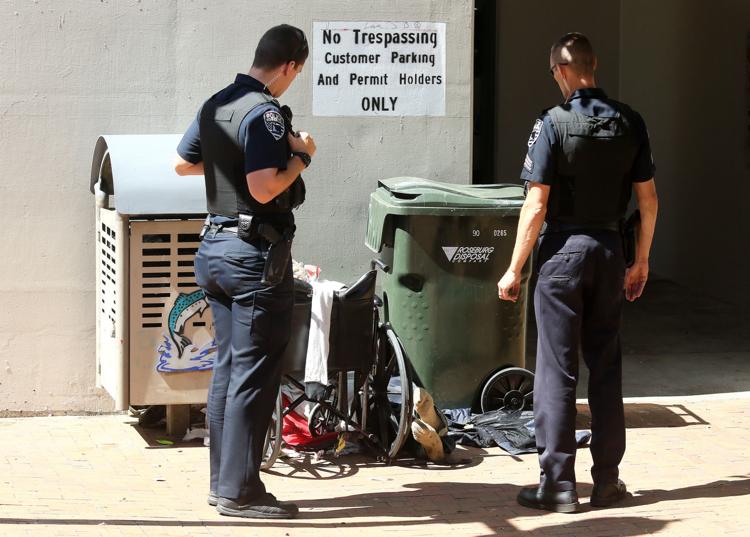 "You can only afford so much, you can only help so many people, and it sucks, I do what I can," Castro said. "They should at least do a food kitchen or a food donation drop off."
In 2017, the Roseburg City Council adopted a set of goals by resolution that included taking a proactive role in community economic development and revitalization and adopting policy that enhances housing and community development.
The city prioritized the housing crisis in 2018 when it acquired funding for a Housing Needs Analysis and Homeless Population Study of Roseburg. These studies provide the city with accurate data and potential solutions to guide policy in order to address the issue.
The Homeless Population Study cited lack of affordable housing, barriers in accessing housing, limited mental health services, shelter limitations and insufficient drop-in services as the city's biggest needs and gaps in service.
Roseburg Police Sgt. Jeff Eichenbusch said it's hard to quantify how many times Roseburg police respond to calls for service for complaints related to homeless people, though he said such calls are common.
Eichenbusch said the police attempt to identify threats in the community without waiting for a call to service.
"For us, self-initiated activity is actually where we go out and try to be proactive, instead of trying to respond to a call for service. We try and go out and find things before they're getting reported, like drinking in public and disorderly conduct and criminal mischief. That sort of thing," he said.
Over the summer, the officer stationed at the schools in the community is reassigned to patrol the downtown and park areas in the community.
Annemarie Beaittie, manager of Brown's Shoe Fit downtown, said she has interactions with homeless people at least once a day.
"We usually, unfortunately, have to call the nonemergency line once or twice a week and it tends to be pretty bad in the breezeway area by the parking garage," Beaittie said. "So much so that we don't take advantage of our back door because they tend to hang out back there."
She said the business has experienced everything from homeless people camping near the store's back door to a man using the store's water to witnessing hardcore drug use.
There are more than 100 homeless people without shelter in the Roseburg area, according to t…
Eichenbusch said when RPD receives calls for service, the officer has to prioritize the calls and choose the one to take action on.
"Say for example he has three calls that are pending. One of them's a shoplifter that's detained at Walmart, one of them is somebody that's drinking beer at Eagle's Park and one of them's a traffic accident," Eichenbusch said. "He has to prioritize which is the biggest community concern and safety concern."
In this situation, the accident would be handled first, then the shoplifter and then the person drinking beer.
"It's unfortunate, but when we get really busy with calls that's what we have to do is prioritize which ones they go to first," Eichenbusch said. "So it doesn't go by the time it came in, it goes by the severity."
Beaittie said not all homeless people she interacts with are dangerous or threatening.
"Some can be relatively friendly, harmless and everything. It is rare to get a completely belligerent person," Beaittie said. "But at the same time, we usually call the cops about once every week and it is due to hysterical yelling or the drug use."