The man who introduced himself as Elliot Ness sat on a bench in front of Roseburg City Hall in a blue raincoat on a pleasant October day.
He spends most of his days on this bench, rain or shine, and some of his nights. It seems he's been doing that for much of the past decade.
After our story in Sunday's News-Review about "Elliot Ness," the homeless man who frequently…
Elliot's shoulders slumped and most of his face was hidden under a hood. When he peered out, he revealed a graying beard, blue eyes and crooked teeth.
Elliot seemed friendly and didn't mind sharing his bench.
He told a reporter he is originally from Los Angeles, which he believes is also known as Heaven. He believes that he is the police chief in Heaven, as well as here. This place, he said, is called Forever.
Elliot thinks Forever is a pretty nice town. People bring him food, he said. There was an empty paper bag from Little Caesar's next to him as evidence of that. And he believes — perhaps from experience — that they will bring him a winter coat when he needs it, too.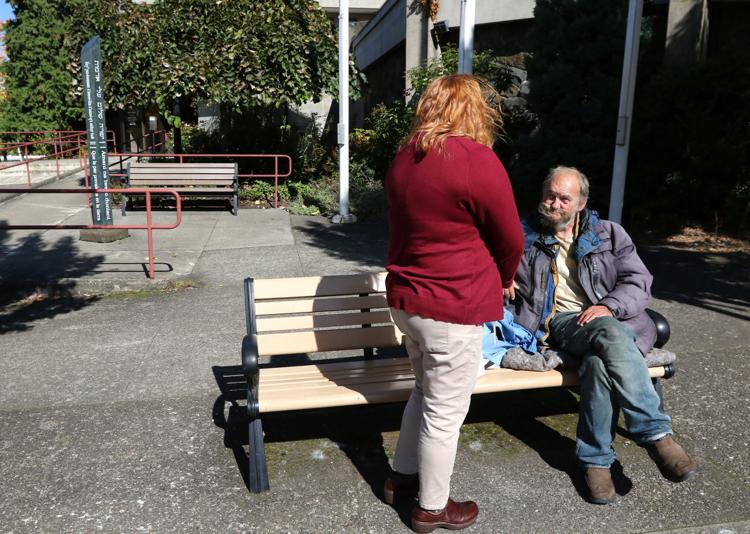 He was out on his bench when most Roseburg residents were huddled indoors following February's major snowstorm, and he told reporters even then that he was alright.
Elliot may not remember that. On the first Tuesday of October, the world according to Elliot was just eight days old.
"This is as old as anybody is. We're still starting history out," he said.
Others might consider Elliot to be homeless, but he does not see it that way. In Elliot's mind, he is on a mission of some kind, and the bench is an OK place where he can sit and carry it out.
"We look for missing people. I specialize in homicide," he said.
So that's what the world looks like to Elliot, or at least what it looked like to him on that day.
What does Elliot look like to the world?
In the decade Philip Baca and his wife, Rebecca, have been unsheltered, they have filled out close to 80 apartment applications each, he said.
Well, for starters, there's the name.
Elliot is known to Roseburg police and city staff by his legal name, which is Jeffrey Short.
Short, 64, has frequented the bench in front of City Hall for the past decade, said Koree Tate, who has been a management assistant in the City Administration Office for 12 years.
Tate said Short is always friendly, and she's never seen him drunk. He never begs, never asks for anything at all. Maybe that's why a whole group of people frequently bring him food and other supplies.
Sometimes he leaves his bench at night, but he has been spotted there at all hours.
He used to spend time at Stewart Park too, but he doesn't anymore. He told Tate there were bad people there.
Short has experienced various realities, according to Tate, but the belief that he is some sort of police chief and that he is here, on his bench, because he is protecting the rest of us has been a common theme.
Neither the police nor the homeless advocates we contacted know Short's background or whether he has family in the area. The News-Review called every person with the last name Short in the phone book and no one who responded to those calls knew him.
Dream Center Director Tim Edmondson said Short often comes in on days they're serving food. He always signs in as Elliot Ness. Edmondson said Short also comes into the warming center when it is open during the coldest nights of the year.
He said he didn't know anything more about him.
"He's never been a problem for us. He just comes in and eats and he doesn't stay very long. He eats and goes. He probably has to get back to his bench," Edmondson said.
As the political debate rages on over how best to address Roseburg's homeless crisis, a few …
United Community Action Network Homeless Outreach Coordinator Larry Clark said he's repeatedly offered services to Short, who he only knew as Elliot Ness.
"He would never take anything from me. He would take a sandwich or something from me, like if I gave him food, but I could never get him to come down and get socks or any clothing or anything like that," he said.
Clark said it's very rare for homeless guys to turn down the supplies he offers, like coats, shoes, hand warmers, hygiene kits and flashlights.
"I can't even think of any other ones that have done that," he said.
If Short would accept his help, he'd be able to try to figure out if he has any family or income like social security. He might be able to get him peer support and get him housed.
The police only know he's been picked up and jailed repeatedly on suspicion of second-degree criminal trespass and contempt of court, as well as for a warrant out of Benton County. The News-Review found nothing in the state's court records indicating he's ever been convicted of a crime.
The contempt charges were likely due to Short's inability to show up in court. How does a person with no concept of time honor a court date, after all?
Roseburg Police Sgt. Jeff Eichenbusch said he doesn't know anything about Short's life story. Eichenbusch said he wasn't sure what the trespass charges were based on, but he did not believe they were related to his time sitting on the bench.
"He's often difficult to interact with because he often refers to himself as 'the Mayor, the Chief, Errol Flynn, etc.,'" Eichenbusch said in an email.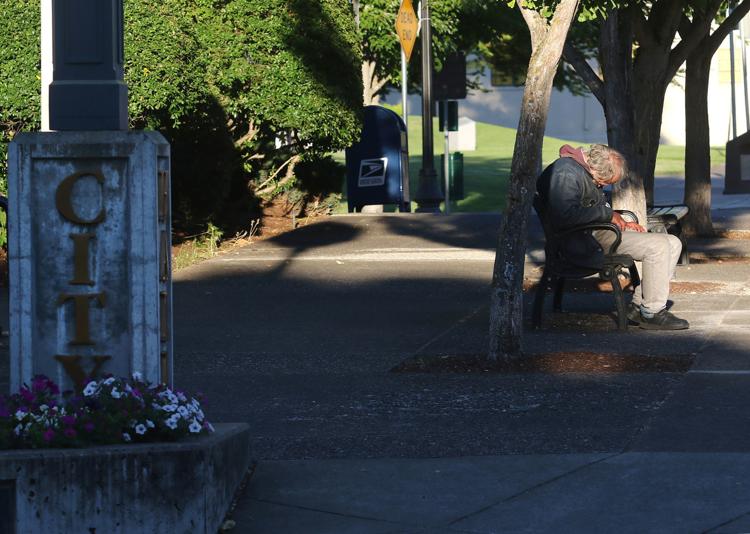 Certainly his names are colorful. If they sound familiar, it might be because the real Elliot Ness was a Bureau of Prohibition agent who helped bring down gangster Al Capone, and the real Errol Flynn was an actor who played Robin Hood in the 1938 movie "The Adventures of Robin Hood."
Even if Short is experiencing hallucinations or mental confusion, he can't be forced to receive treatment. Nor can he be locked up based solely on his mental illness, so long as he is not a threat to himself or others.
Nothing in his criminal record or his interactions with The News-Review or anyone else we spoke to suggests that he would be a threat to anyone.
The police receive crisis training on how to handle situations involving the mentally ill, but they aren't mental health experts, Eichenbusch said.
They're also involved with the new Mobile Crisis Team, which provides mental health assistance when police are working with people who appear to be mentally ill.
Darlene Brooks, with the local chapter of the National Alliance on Mental Illness and the Douglas County Mental Health Court, said as a community we rely too much on the police to handle situations like Short's.
"The Roseburg City Police are fabulous, they're wonderful and I have a great deal of respect for them, but I think we lean on them too much to manage treatment issues," Brooks said.
People with severe mental illnesses need treatment and care, she said, not jail time.
"I think when we arrest them and put them in jail all we're doing is exacerbating an already unmanageable situation, making it tough for the jail, making it tough for the Sheriff's Department in Roseburg because they're the people there manning the jail and they're not psychiatrists," she said.
Instead, the mentally ill person needs a psychiatrist and often psychiatric medication, she said.
"We don't make the mentally ill seek treatment and provide for their care in a loving, respectful, decent manner where if a person was in a diabetic coma there would be many crisis people around," Brooks said.
For Short, or as he knows himself, Elliot, the world is a much simpler place than it seems to the reporter and the city staff, the advocates, the mental health providers and the police who are concerned about him.
He is there on his bench outside City Hall because that's where he believes he needs to be in order to accomplish his mission.
"I'm a happy person. I'm OK with it right here," he said.