In the decade Philip Baca and his wife, Rebecca, have been unsheltered, they have filled out close to 80 apartment applications each, he said.
"It's a $30, $35 or $40 application fee per adult," Philip Baca said. "When you're paying application fee after application fee and you still don't get approved, you're wasting your money constantly. It gets frustrating. My wife has gotten to the point where she feels like giving up on searching for a place."
His application denials are primarily a result of his extensive criminal background, he said. A second-degree rape conviction in 2003 led to six years in prison, after which his homelessness began.
According to Roseburg's recently completed Housing Needs Analysis, Roseburg lacks sufficient housing at all income levels, but particularly for low-income households. A homeless population study of Roseburg included in the analysis states that because of insufficient low-income housing, the process is competitive and renters deny applicants with blemishes on their records such as Baca.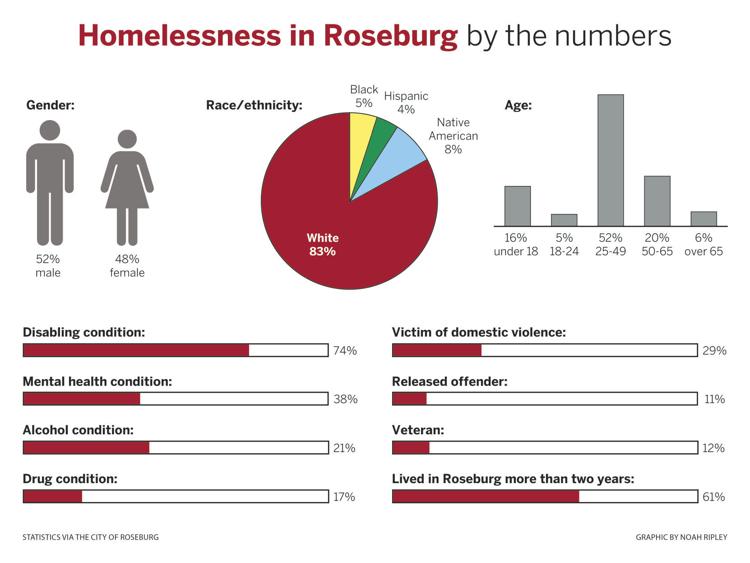 Barriers to housing are the most significant issues facing unsheltered people in Roseburg, according to the homeless population study, which was largely based on a recent point-in-time count — a federally mandated annual assessment of homelessness.
Roseburg city councilors' statements, however, show they are at odds with a growing body of research and local data shows the best way for policymakers to address homelessness is removing barriers to housing.
Researchers say it's important for communities to provide addiction and mental illness services because those issues make it difficult to house people. But they add it's counterproductive to say those issues are the primary cause of homelessness.
The man who introduced himself as Elliot Ness sat on a bench in front of Roseburg City Hall …
The addiction-focused narrative in the city leaves people like Philip Baca out of the conversation when people like him make up the majority of Roseburg's homeless population, according to the homeless population study.
At a recent City Council meeting, a resident frustrated by homeless campers near her property urged officials to do more to address homelessness. Such comments are frequent during the audience participation period.
Multiple councilors responded by framing the issue in terms of addiction.
"This is an addiction problem, this is not a homeless problem," said City Council President Tom Ryan. "In my opinion, for somebody on drugs sitting under a bridge or down on a riverbank, it's more compassionate to either let them bottom out and try to cure their addiction, but get to the root cause, no one's helping these people by giving them something."
City Councilor Brian Prawitz echoed Ryan's comments by saying, "We are aware of addiction being the target here and not necessarily homelessness."
A few months earlier in a video posted to his city councilor Facebook page, Prawitz said he was impacted by "Seattle Is Dying" — an hour-long TV special by KOMO that discusses homelessness in Seattle.
"It so clearly illustrates how much of an addiction problem, or how much addiction affects homelessness and is the root cause of homelessness," Prawitz said about the TV special while looking into the camera.
When Christy James-Beck and her family learned of her brother-in-law's death this past Febru…
Since it was released this spring, "Seattle is Dying" has been criticized for inaccurately characterizing Robert Champagne's experience with homelessness in Seattle. Champagne was featured heavily in the film.
Marisa Zapata is the director of the Homelessness and Outreach Action Collaborative, a research center at Portland State University that focuses on using data to address the causes of homelessness.
She said one of the focuses of the center is to research how rhetoric and attitudes about homelessness affect how it's addressed. Zapata said it's misguided to characterize addiction as the root cause of homelessness, and doing so can harm efforts to address the issue.
"It's also a way to remove it from yourself," Zapata said about policymakers.
Zapata is a proponent of the housing first model of addressing homelessness, which recommends homelessness is best addressed when policy-makers build avenues for people to acquire housing.
"If you look at the psychology underpinning housing first, it's really based on (Maslow's) hierarchy of needs," Zapata said. "We're asking a lot for people to really try to become unaddicted or to manage an addiction if they don't have a place to live."
Zapata said she tries to have people imagine the time in their lives when they were the most tired they've ever been.
"Like the least sleep they've ever gotten, and then imagine that sleep was on a sidewalk or was in an alley where people kicked you. You're not really set up to succeed in those circumstances."
Zapata said unsheltered people often start using drugs after they become homeless.
"There's some good research coming out of San Francisco saying that once they become housed, the addiction actually resolved pretty quickly," she said.
Baca says his drug use while homeless was largely a way to cope with depression and his homelessness, not the cause of it.
He is part of a rare group of people who have been able to manage their addiction while being homeless. He said he has been drug-free for three years and alcohol-free for eight years.
"A lot of people don't want to think about how an unstable lifestyle affects a person's mentality," Philip Baca said. "They think that because somebody's homeless, they're choosing to be that way."
Although 10% of the 260 homeless people in the point-in-time count said they were homeless by choice, the top three reasons people said they were homeless were housing-related. The top factor, at 36%, was that rent is unaffordable.
Baca is a prominent member of Roseburg's homeless population. He frequently volunteers at local homeless service providers and he says he's often asked for help by other unsheltered people with resources such as food.
In December, he spoke out against the city electing to expand Roseburg's Enhanced Law Enforcement Area at a City Council meeting.
The area, also known as the "exclusion zone," prohibits people who have been cited three or more times for crimes such as assault, drinking in public and disorderly conduct from entering the zone for 180 days.
Baca objected because the expanded zone included Umpqua Low-Cost Veterinary Services. He said including the vet in the exclusion zone would deter unsheltered people from seeking care for sick pets.
Unsheltered people in Roseburg want housing, Baca said.
"The majority of people who are homeless aren't there because they choose to be," he said.
Baca said when city councilors say homelessness in Roseburg is primarily an addiction problem, it leaves out people like him.
Zapata says couching the issue as an addiction problem leaves out large numbers of people who are "doubled up" (living with friends or family) or people who are at risk of losing their housing. Both populations were highlighted as substantial issues for Roseburg in the recent study.
As the political debate rages on over how best to address Roseburg's homeless crisis, a few …
Prawitz says when he talks about homelessness in terms of an addiction problem, he's talking about people who are visible because they're publicly disruptive and require frequent police action.
But nearly all of the City Council's discussions about homelessness focus on the disruptive segment of the homeless population, not on the unseen majority of people looking for housing.
The wider community inaccurately generalizes Roseburg's homeless population by equating everyone with the small disruptive group, according to the homeless population study.
"Due to this perception, much of the city's approach to homelessness focuses on trying to mitigate its impact on the community rather than trying to help people to end their homelessness," the study said.
Community Development Director Stuart Cowie says creating the conditions necessary to bring in more low-income housing is a top priority. He added city councilors' addiction-centric approach to addressing homelessness doesn't hinder his ability to create those conditions.
While homelessness didn't come up on Aug. 26 when the City Council adopted the Housing Needs Analysis in the city's comprehensive plan, the analysis includes several policy recommendations directed at using housing to address homelessness.
More than 40 policy recommendations in the analysis directed at housing deficiencies at all income levels will have to be voted on by the City Council individually.