A two-vehicle accident involving caused a semi-truck and trailer to burst into flames and tip on its side in the southbound lanes of Interstate 5 near the Garden Valley Boulevard overpass, temporarily shutting down southbound I-5.
The accident, which happened shortly after 7 p.m. Friday, turned I-5 south into a parking lot, trapping about 30 cars caught near the fire before southbound traffic could be diverted on exit 127.
As of 8:30 p.m. Friday, authorities warned of continued delays for southbound traffic as reconstruction by Oregon State Police and cleanup continued from the wreck.
At one point, traffic was backed up for more than an hour.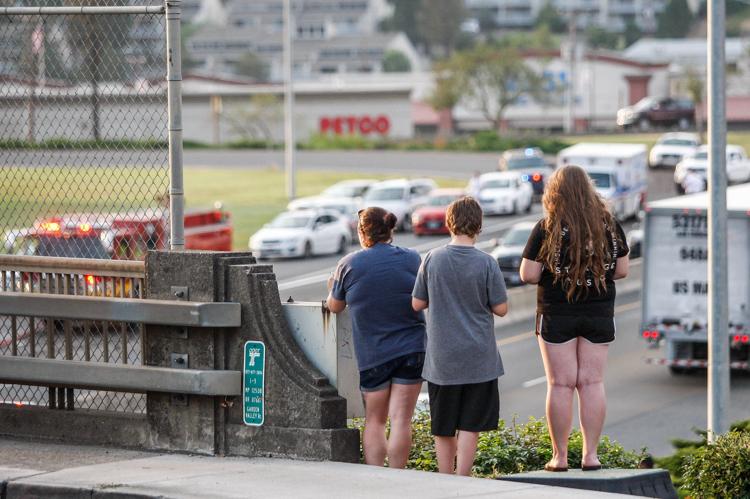 The driver of the truck was transported to Mercy Medical Center with serious injuries. Occupants of a blue BMW sedan were not injured.
The cab of the truck was a total loss, according to the Roseburg Fire Department. The trailer sustained moderate damage.
The fire delayed the start of Friday's performance of Theory of a Deadman at the Douglas County Fair.
A handful of cars had pulled off to the side of the freeway while drivers watched from a nearby grassy area as firefighters worked to extinguish the truck.
A damaged blue BMW sedan rested on the grassy median after jumping a retaining wall.
Billie Mecham of Roseburg was entering the freeway from the Exit 125 on-ramp with her husband when she said saw the driver of the BMW at high speed south on I-5. According to Mecham, the driver lost control, causing the car to spin out. The car hit one of the wheels of the semi-truck, causing it lose control and flip on its side.
As of presstime, OSP had yet to release an official cause of the accident or names of those involved.
Moments later, it burst into flames.
"As he started losing control, I was thinking somebody is going to die in the accident becasuse it was going to fast," Mecham said. "You could tell it was going to turn over."