OAKLAND — Working with classic phrases like "et tu, Brute?" and "beware the ides of March," Oakland High School students became comfortable with Shakespeare Monday after spending the day with a team of actors.
The two-actor team was part of the Oregon Shakespeare Festival's annual School Visit Program that's now in its 45th year. The team held two acting workshops for freshman students and performed renditions of two plays, "Julius Caesar" and "Shakespeare Smackdown," for the entire school.
Actor Domonique Champion said the program is beneficial for students because "it tries to erase that stigma that Shakespeare is hard to understand. It was written for people like us to be entertained to get a deeper sense of humanity . . . When it is done well it is well received by all ages."
Actress Annie Paul found that "students may not have seen a live play or have been introduced to Shakespeare before, and if they have, it's been in a classroom sitting down reading when it's really meant to be up on its feet . . . so it might not be so daunting next time they experience it."
During each of the two workshops, about 20 freshman students from instructor Johanna Held's two English classes participated in several acting exercises based on a two-page script with characters Brutus and Cassius from the play "Julius Caesar."
+5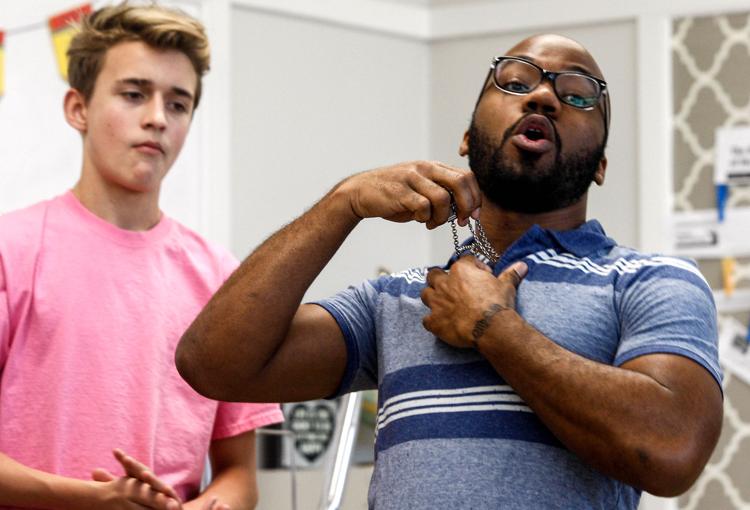 In one exercise, half the class read Brutus's part while the other half read Cassius's part out load in unison with emotion.
"I liked being able to participate in it and not just having a sit-down talk," said freshman Colton Brownson about the workshop. "When you put effort into it and you're participating, it's a lot more fun."
Another exercise had the students sitting on the floor back-to-back in pairs with each student reading a part from the same script out loud with emotion to express the heated discussion between Cassius and Brutus.
Freshman Hayley Braack enjoyed the participation between students and actors as well. "I thought it was fun and it was interactive, which is hard if you're shy, but I think it helped you break out and just have fun."
Braack said she learned that "there's a lot more to acting than just talking and memorizing lines . . . this opens up a whole new world."
The last exercise incorporated pantomime where students recited short lines from the same script that were paired with a variety of physical actions such as throwing an imaginative dart.
+5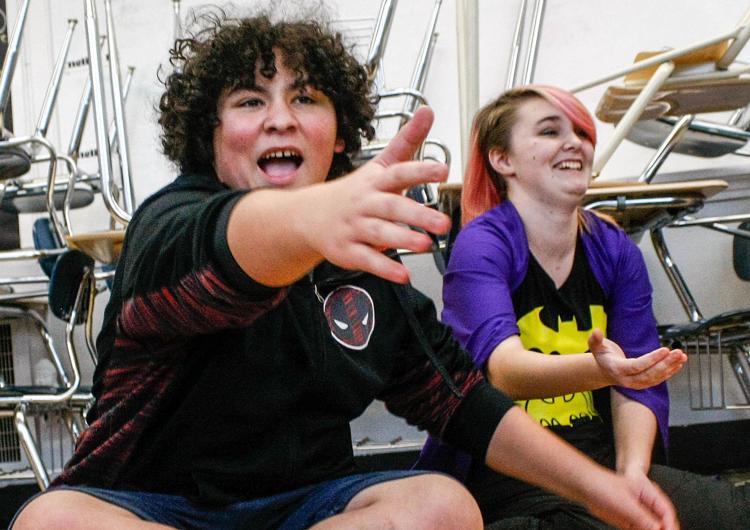 From this exercise, freshman Haley Rush said she learned "to have emotion with hand movements as you're speaking." She also thought the workshop was significant "so kids can learn how it feels to act out things in scripts."
Held, who coordinated the first ever Shakespeare Day at the high school, said she believed the workshop was invaluable for students because they experienced different levels of acting paired with the same script.
"Assigning meaning to those words that are so foreign was valuable for them," Held said. "Students who were reluctant at first willingly opened up and were willing to play with the language, which can be the biggest stumbling block with Shakespeare and young kids."
Held appreciated the two performances and the workshops because they encouraged students to become comfortable with the language of Shakespeare.
"The workshop in just 45 minutes was able to break down a lot of barriers with students," Held said. "Having that first big Shakespeare experience be positive for them is going to set us up to pay dividends later on."