SCOTTSBURG — A crash involving a semitrailer on the Scottsburg Bridge closed Highway 38 Wednesday afternoon and into today, according to the Oregon Department of Transportation.
Officials say the bridge will likely be closed through the weekend.
At approximately 2 p.m. Wednesday, a semi truck hauling empty wooden pallets crashed through the bridge's railing, tossing the pallets and the truck's trailer into the river below. The driver, Sergi Borodin, 26, of Seattle, was trapped, requiring emergency crews to extricate him before transporting him to a local hospital for minor injuries. He was later released, according to the Oregon State Police.
Along with the wooden pallets and the truck's trailer falling into the river, diesel fuel from the semitrailer spilled into the river, according to police. The Department of Environmental Quality was alerted and is addressing the spill, police said.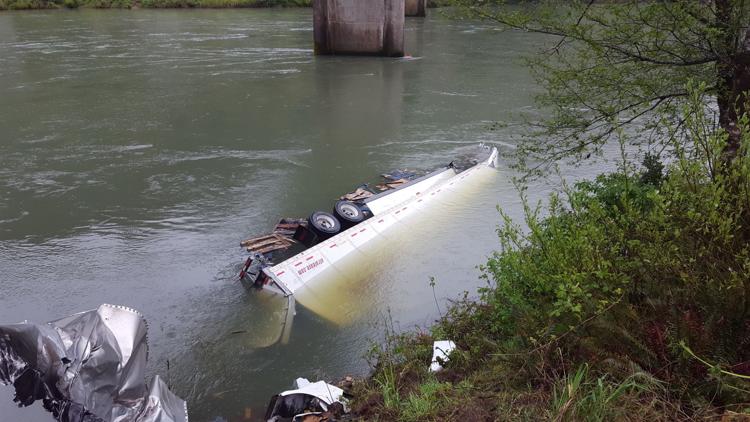 Troopers said speed was likely a contributing factor in the crash and that Borodin was issued a citation for several traffic violations.
The crash forced officials to close the highway as bridge engineers and maintenance staff respond to the area. ODOT originally warned drivers of a 30-minute delay, but by 4 p.m., the department announced that both lanes of the highway would be closed. By Wednesday night, the state reported that the highway would remained closed overnight.
ODOT does not have an estimate for when the highway could be reopened. Instead, officials are recommending drivers use Highway 42 or Highway 126. Closure signs are posted along Highway 38 in Reedsport and Elkton as well as along Interstate 5 and Highway 101.
Elkton School District buses running from Scottsburg to Reedsport today were cancelled due to the closure; however, buses between the Scottsburg Bridge and Elkton operated on a normal schedule.
State police were assisted by the Scottsburg Fire Department, the Douglas County Sheriff's Office, the Reedsport Police Department, ODOT and the Coos Bay Fire Hazmat Team.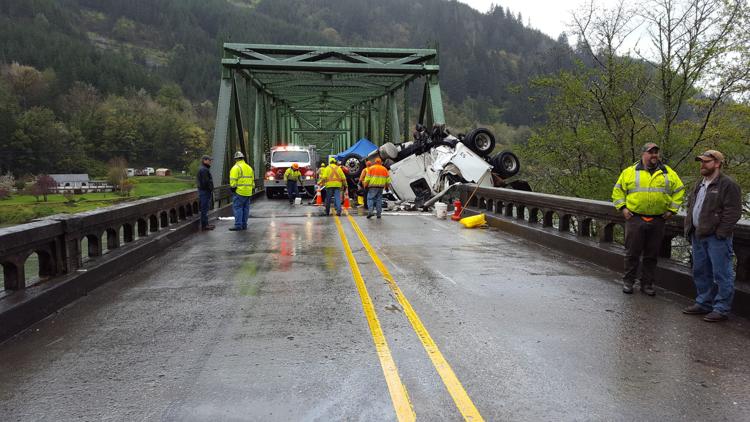 In 2014, a semi pulling a trailer of lumber products crashed on the bridge, dumping lumber and leaking about 100 gallons of diesel fuel into the Umpqua River. In a news release, Oregon State Police said the truck hit a guardrail while driving through a left hand curve. The news of the crash — along with dramatic photos of the truck's entire trailer dangling precariously over the bridge's edge — made national headlines. According to the Associated Press, the trailer was later detached, causing it to fall into the river below.
The highway was completely closed for the better part of a day, but intermittent closures and minor delays lasted approximately three weeks as crews continued to clean the area of debris and complete bridge repairs, according to The Coos Bay World.