EUGENE — New Oregon coach Willie Taggart won his first recruiting battle within the Ducks program Wednesday morning when running back Royce Freeman announced that he will return for his senior season with the Ducks.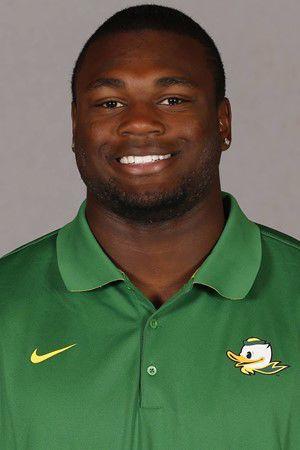 "The return of an experienced talent such as Royce Freeman ranks among the top recruiting coups we could hope to attract to the University of Oregon in our first two weeks at the helm," Taggart said. "Royce represents the type of young man that we intend to build this program around. Not only does he stand out as one of the top running backs in the country, he epitomizes the character of the type of student-athlete we are looking for as well as the work ethic of someone who truly wants to be here."
Freeman has led the Ducks' rushing attack the last three seasons while claiming second-team All-America acclaim following his 2015 campaign.
Freeman, who rushed for 945 yards in 11 games while battling injuries for most of the 2016 season, ranks second on the school's career rushing chart with 4,146 yards. He trails LaMichael James' 5,082 yards (2009-11). Freeman's 44 career rushing touchdowns also are surpassed only by James' 53 scores on the ground on Oregon's all-time list.
Freeman ranked fourth in the country in rushing yards per game in 2015 (141.2 avg.) and will begin the 2017 season ninth on the conference's all-time rushing list. The Imperial, Calif., standout has accumulated 22 100-yard rushing efforts through his first three seasons, including two games over 200 yards.
"After consulting with my family and giving this considerable thought, I feel this is the best decision for me in regards to my future on and off the field," Freeman said. "My education was one of the most important reasons I chose to come to Oregon and that priority hasn't changed.
"I wish to thank Coach (Mark) Helfrich and the entire coaching staff for the roles they have played in my success thus far. I am extremely grateful to Coach (Gary) Campbell for everything he has taught me and the influence he has had in my life over the last three years.
"However, the prospect of playing for Coach (Willie) Taggart my final year here was certainly a factor in my return. His enthusiasm and vision for this program are contagious. I am excited to be coached by him and to enhance my development.
"All praise to the most high; and Go Ducks."
The two-time first-team Pac-12 all-conference choice set the school's single-season rushing record with 1,836 yards as a sophomore and is one of only four Oregon players ever to rush for more than 1,000 yards in two separate seasons.