Dawson Gillespie delivered in his debut for the Docs. And Jace Stoffal, Ever Lamm and the defense kept the Eugene Challengers off the scoreboard.
It added up to a 5-0 season-opening victory for the Docs on the first day of the Father's Day Tournament on Friday at Bill Gray Legion Stadium at Champion Car Wash Field.
Gillespie, a junior-to-be at Roseburg High School, blasted a three-run homer over the left field fence in the second inning to give the Docs all the offense they would need.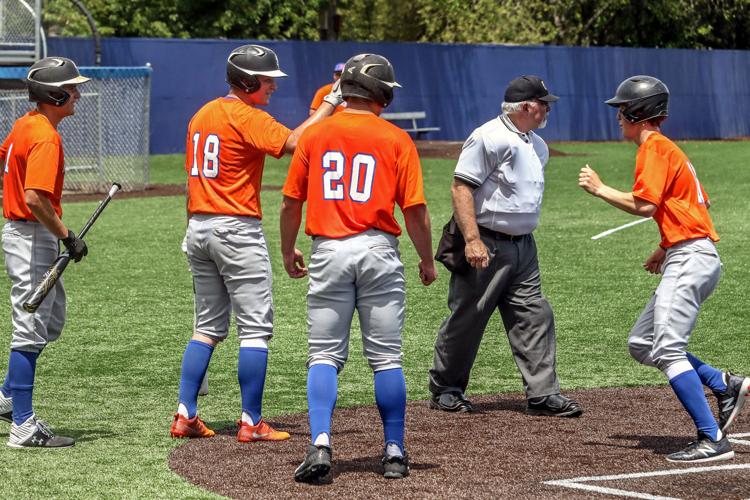 Stoffal and Lamm, both right-handers, combined for the shutout on the mound and the Docs played error-less ball behind them.
Stoffal — a recent RHS graduate who will play at Umpqua Community College — picked up the decision, allowing five hits over five innings with six strikeouts and one walk.
Lamm, entering his junior year at South Umpqua High, worked the last two innings. He gave up one hit, fanning three and walking two.
"I was really proud of the guys ... their composure and how they played the game," Docs coach Jeremiah Robbins said. "They did some really good things. How they went about their business, it's exciting to see."
"We did pretty good," Dawson Gillespie, a shortstop, said. "We didn't have any errors, the pitchers threw well, we held them to zero and swung pretty good. Getting that first win is important."
All but two players on the Docs' roster were playing a game on the new turf field for the first time this year after the spring sports season was canceled because of the coronavirus pandemic. The Docs are playing an independent schedule this summer, following the American Legion's national decision to withdraw its sponsorship of baseball.
"I feel like we played very well as a team," Stoffal said. "It felt really good to be back on the field. The warm weather definitely loosened up the arm and I had great defense behind me all the time."
"We practice so hard and train for the games, so we're ready come game time," third baseman Jacob Luther, a former Umpqua Valley Christian standout who played at Umpqua Community College last season, said. "Our (pitchers) came out and competed. They threw strikes and pitched to contact, and did a great job."
Gillespie's first at-bat against Eugene starter Kevin Pierson was a highlight reel moment.
Jett Black and CJ Gale both drew walks, and Luke Van Norman advanced them with a sacrifice bunt. Gillespie — dubbed "The Rookie" by Robbins, then came up and parked Pierson's second pitch, giving Gillespie his first round-tripper at Champion Car Wash Field.
"It was a 1-0 count, so I knew he (Pierson) was coming fastball," Dawson Gillespie said. "He threw it right on the inside part of the plate and I turned on it and hit it out. It felt really good. I thought it was a ground-rule double when I came around first."
"(Dawson) gets a knock in his first at-bat. That was a great swing, he was ready," Robbins said. "That was big and took some pressure off of us."
"That was pretty exciting, especially for a new kid coming ready to compete at the plate," Luther added.
Doran Gillespie, Dawson's older brother, contributed an RBI single with two outs in the fourth for the Docs. Luther knocked in a run with a one-out single in the sixth.
Doran Gillespie finished 2-for-2 with a walk and hit by pitch in the contest. Spencer Six was 2-for-4, including a triple to the right field fence in the sixth, and Luther had two hits in four at-bats.
"Some of our older guys started seeing the ball better later in the game," Robbins said.
Cal Morgan went 2-for-4 for the Challengers.
The Docs meet Klamath Falls at 6 p.m. Saturday, then wrap up the tournament at 6 p.m. Sunday against North Medford.
Challengers 000 000 0 — 0 6 1
Pierson, Langworthy (6) and Woodcock, Lugo (6); Stoffal, Lamm (6) and Six. WP — Stoffal. LP — Pierson. HR — Da. Gillespie (D). 3B — Six (D). 2B — Lydon (E).