TRI CITY — South Umpqua's state meet-bound girls cross country team has been seven years in the making.
Jessica Kalebaugh wanted to run cross country and asked S.U. coach Taylor Groth for advice on how to get better. The following year Savannah Slay and Jessica's sister, Bethany Kalebaugh, joined the Coffenberry Middle School team.
"It started with one kid and one after another we kept recruiting more and more really talented athletic kids," Groth said. "Thirteen years ago cross country was that sport that people did that couldn't do other sports, but wanted to do something. I look at this group that we have now and have really attracted a lot of really great athletes."
Slay and Hayley Woodward are the only two seniors who will represent the school at the 4A state championships at Lane Community College in Eugene.
They will be joined by juniors Bethany Kalebaugh and Aneykah McCall, sophomore Hasina Lathan, and freshmen Haven Pickup and Jadyn Vermillion.
Many of them started running cross country in middle school and Groth is thankful the parents stepped in to revive the program at the middle school in Myrtle Creek, which did not have a cross country program from 2008 until 2010.
"A lot of these girls, especially the ones that are still out here, their mom was at one point the middle school coach," Groth said. "We have had four middle school coaches in the seven years and it's just them volunteering their time because they want their kids to be a part of something."
Each year the high school team has attracted between 15 and 20 athletes, but the quality of the athletes has been what helped propel the girls team to state for the second time in three years.
"This is no longer the place that you go when you can't do other things," Groth said. "We've got something going here with the cross country team and it's become one of the things people want to be a part of and that wasn't the case seven years ago."
Groth also decided to help the program by researching different training techniques and honing his skills as a coach.
"I think they've made me a better coach," Groth said. "They brought me so much talent that we never had in the past and I really had to get back in the books and learn myself and these kids are demanding results. When I look back to seven years ago, we didn't have a lot of variety in what I was coaching and that is because they wanted more. They've demanded that and forced me to become a better coach. That will benefit the kids that come in the future."
The 4A girls race is set to start at 11:15 a.m., while the lone boy to qualify for the state championships, Nakai Sinohui, will be at the starting line at 11:50 for the boys race.
South Umpqua's girls cross country team finished fourth in the 2015 state meet, which included four of the runners from this year's team. The team did not qualify last year.
Slay qualified for the state meet last year on her individual performance and finished the race in 21:04.10 for 24th place, but noted that this year has a very different feeling.
"It's been intense," Slay said. "It's my last season, so it's been very bittersweet."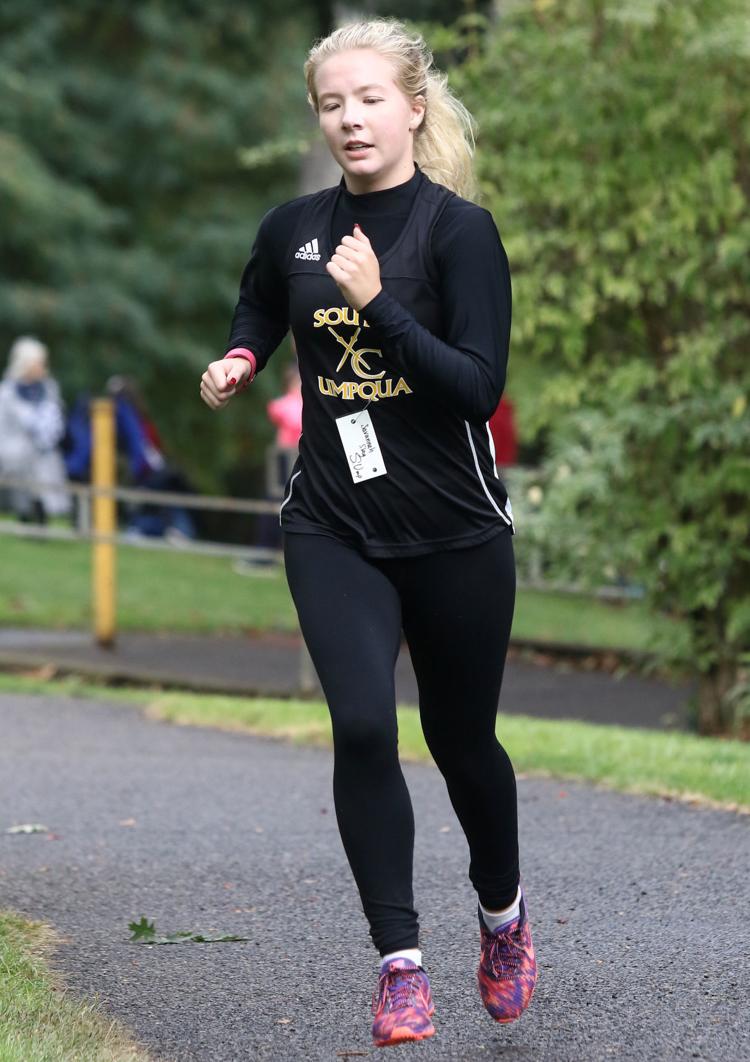 Slay said she's been focusing much of her training on the hills that will be a part of the state championship course.
"I want a PR from that course," Slay said. "Last year I PR'd from the previous year, so I want to PR specifically for that course."
The Lancers finished second in the Far West League meet at Tugman State Park in Lakeside with four runners among the top 15 finishers — Slay, Bethany Kalebaugh, McCall and Pickup.
Slay's personal best of 20:16.38 make her the 23rd fastest qualifier in the field. Three years of state championship experience should also help the senior in this year's competition.
"I think we're going to do really well as a team," Slay said. "I think we'll surprise ourselves."
When asked if the expected rain in the weather forecast would impact the runners at all, McCall responded, "I think we'll be fine."
Slay added: "We'll manage. If not, we'll just fall and get back up."
Bethany Kalebaugh's time at the district championship made her the second Lancer across the finish line. McCall's personal record of 20:46.0 makes her the second fastest runner on the team and one of two to run 5,000-meters in less than 21 minutes.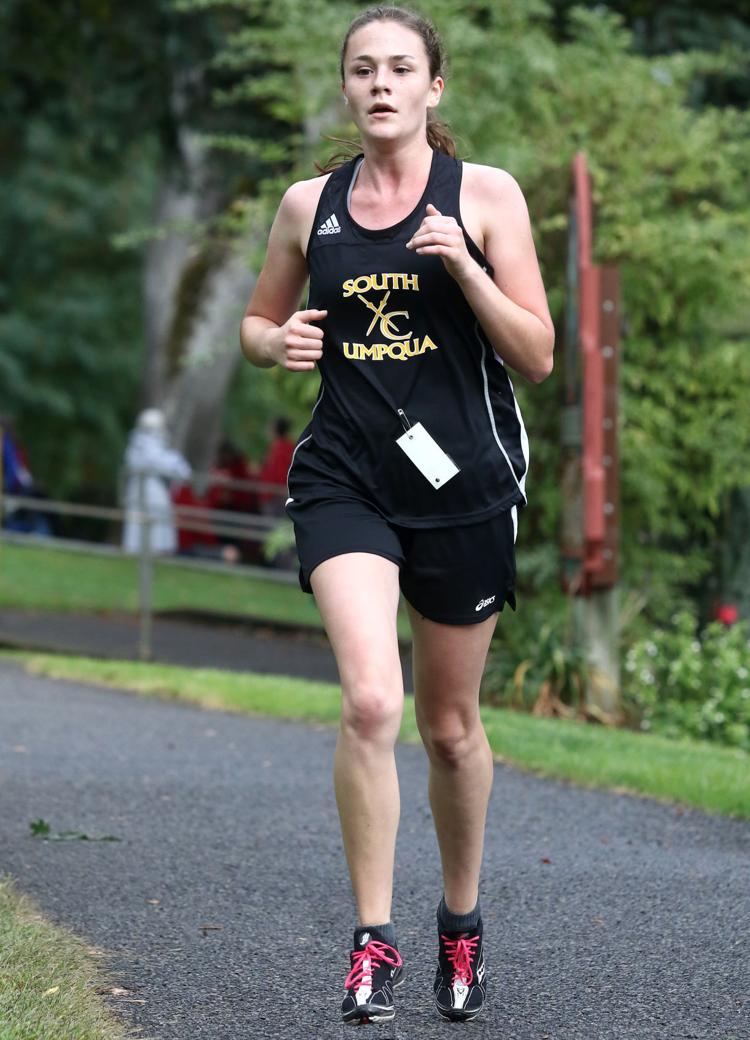 McCall performed well at the 2015 state championships, finishing 18th in 20:48.0, and hopes to continue to perform well on the big stage.
"We've been putting a lot of work in and I feel like we deserve to be where we are," McCall said.
The three top runners are set for the Lancers, but it's the remaining runners — Pickup, Woodward, Lathan and Vermillion — who will be the deciding factor on the team's finish.
The team started with Jessica Kalebaugh, but she won't be competing in the race Saturday. Instead, she will be in Eugene to cheer on her teammates,
"We will keep five of our top seven (for next season)," Groth said. "Every year I have kids who come to me as incoming freshman or who don't play a fall sport and know this is a group that has been competitive and successful."
South Umpqua will also be moving down to Class 3A and will likely find itself competing against an entirely new field of runners next season.
Sinohui's second place finish in the FWL meet made him the only S.U. boy to qualify for the race. Damien Shockey just missed the mark with a seventh place finish in 17:34.58.
"I wanted that first place title," Sinohui said. "The way I ran the race was good, but the outcome wasn't what I wanted."
The top two teams and any individuals in the top five not on those teams qualified for the state championships. Those strict standards made Sinohui one of 10 individual qualifiers in the state.
"The majority of those five are on the top teams, so for a kid like Nakai to qualify, that's a really tough job," Groth said. "There's a lot of people that talk about goals and say 'I want to do this' but to put the work in and to have the right mind and the heart to do it, that's rare, and (Nakai) has the right mentality."
While Sinohui's 17:11.63 at the district meet was a personal best, he was not satisfied with his second place finish and had his sights set on the top spot.
"At district I started out from the front to begin with," Sinohui said. "This whole season we've been trying to sit back the first mile and then attack the second and third mile and, so I think that's more the approach I'm going to take at state. Just try to get a good time in the first mile and start catching people in the second mile. It's going to be better with a more competitive crowd out there because there will be more people I can catch."
His PR puts him in 29th place in comparison to the other runners at the state championships. Last year he finished in 42nd place in 17:49.0.
"I'm going to try for top 20, if not lower," Sinohui said. "Knowing where to stride out and open up and where I can pass people will be really beneficial. I really hope it rains. Coming from California I like hot weather better, but I found that if I wear a lot of layers before the race and get all warm and then get in the cold weather, I run better."
Roseburg runner Hunter Agsten will be competing in the Class 6A boys meet.