WINSTON — When high school javelin coaches need new points, paint, or grips or need the whole implement to be aligned, they call Ron Johnson.
Only 19 states allow javelin competitions at the high school level, Johnson said, and he receives javelins from all of them. As far as he knows, he's one of only two people in the country who do javelin repairs and he does it all from his garage in Winston.
He started his company, The Track Man LLC., in 2004 after Gill Athletics bought out the previous two companies where he worked. He learned the science of javelin making from certifiable javelin legend Dick Held.
"I like to save the schools money, try to save the event because a javelin can cost up to $1,400 now," Johnson said. "I'm trying to keep the javelin in the states it's in now. That's my goal really, is to make it affordable."
He argued with Gill Athletics when they tried to stop doing javelin repairs. He insisted it was a necessary thing for student programs and beneficial for professional athletes who wanted more customization.
"They used to repair, actually, when they bought us out in 1999," Johnson said. "They repaired until about 2004. When we moved up here and I started this company full-time, they dropped out of the rebuilding phase."
His walls are lined with javelins from beaten up student spears to world-record-setting javelins with fresh paint and new grips, ready to be shipped out before competitions all over the world.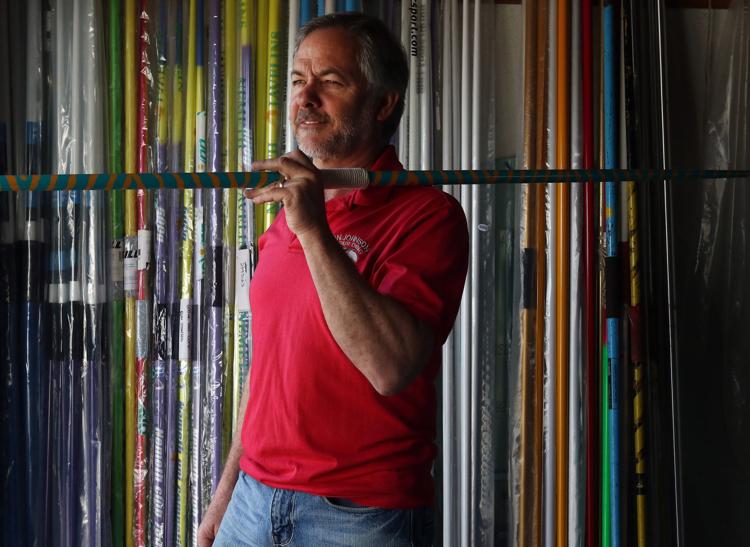 Every javelin is a precise tool, meeting strict length requirements down to the millimeter and weight requirements down to the ounce.
Roseburg High School assistant track coach Stephanie Hutchins said having proper equipment is key for high school students looking to get recognized by college recruiters. Hutchins said Roseburg High and Newberg High are some of the top schools for producing javelin throwers. She had 35 students learning to throw a javelin in the spring.
"It allows us to have our javelins in top shape at all times," Hutchins said. "There's not a lot of people who are certified to work on them. People from all over the world send him javelins to work on them. He's convenient and he's fair and he's there to support the kids. Having a good implement can make a difference of a good throw which is going to lead to — hopefully — scholarships."
Johnson said he usually doesn't go to meets, but if a coach asks, he tries to go and see how he can help specific students or refine the javelins for them.
On the back wall, above the shop window looking out on the rolling hills of the Umpqua Valley, are six javelins, including the gold-medal-winning spear thrown at the 1984 Olympics in Los Angeles.
Just one year earlier, American athlete Tom Petranoff broke the world record with a javelin Johnson and Held built that spurred the javelin rule change. Officials debated a rule change and it would go into effect shortly after Uwe Hohn broke Petronoff's record, also with a javelin Johnson built, and solidified his spot as the permanent record-holder.
"He's well-known in the javelin world as the jav-man," Petranoff said. "In college, most of the javelins I threw were made by Ron and Dick Held. The top probably eight or 10 throws in the world were OTE javelins and they were all built by Ron. He makes an old javelin look brand new. Ron's able to tweak the javelins out so they meet the standards, but they're close to being almost not legal."
The current men's world record is held by Jan Zelezny, a Czech athlete, who threw a javelin 98.48 meters (323 feet, 1 inch) in 1996. He used a javelin Johnson built.
Johnson and Held built the javelins used to win two gold medals — one in 1984 and the other in 1996 — set three world records and five American records — including the No. 2 ranked U.S. women's javelin thrower, Kara Winger.
Winger said she's known of Johnson since she started throwing in high school, but she didn't send a javelin to him to repair until this spring for her first-ever javelin repair.
"It was so easy, he made it so simple and I'm really, really pleased with how my javelins are flying in practice," Winger said. "He was the first person I thought of, first person I would trust with that job. His reputation preceded him."
One of the javelins she sent to Johnson was the one she used to break the American record in 2017.
"The original tip is in the ground in Croatia somewhere and I had not thrown it, obviously, since then," Winger said. "I waited two years to get it fixed and I'm really excited to have it back in my arsenal. The one that you throw in practice that you're most comfortable with is the one that's going to be your favorite."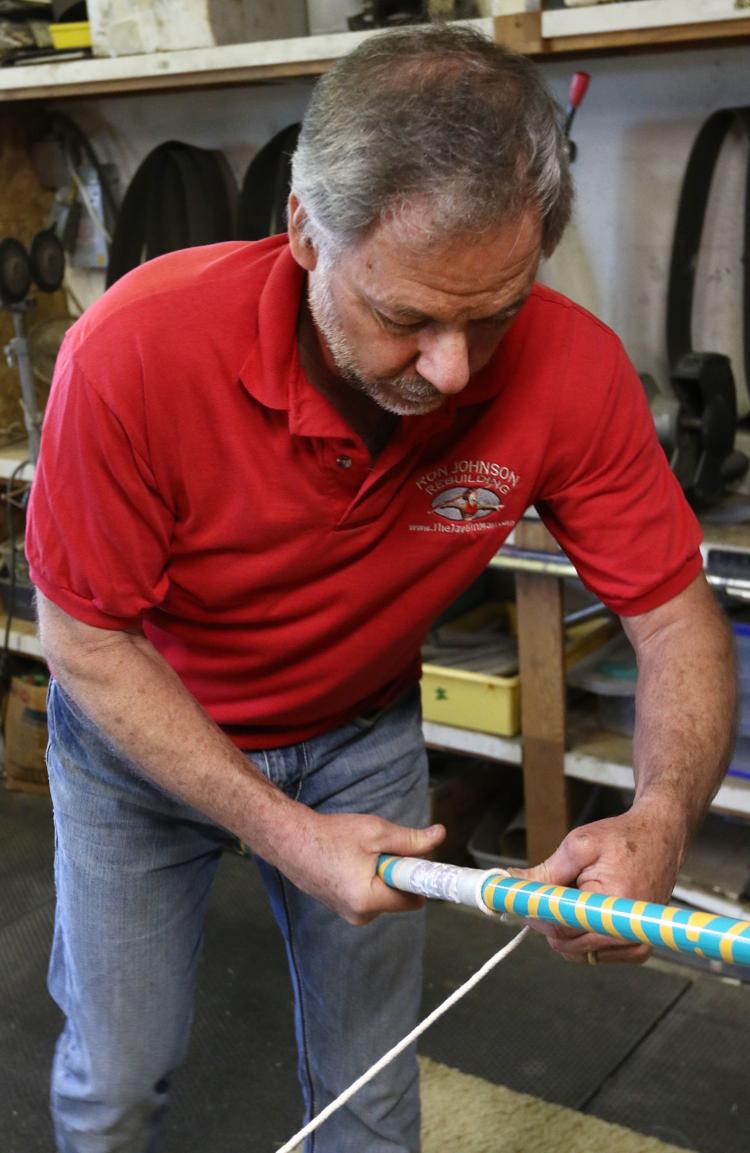 Held's javelin model is still widely used by athletes all over the world and was influential in the regulations created — primarily because he found and used the loopholes, according to Johnson.
He said Held put a javelin in a wind tunnel to find the "exact moment where it would start creating its own lift." He launched javelins from a "java-gun" to test each change and at one point drilled holes into the tailend. Johnson said the International Association of Athletics Federation told him not to drill the holes or they would write a rule against it.
Johnson discovered javelin making in 1981 when he was 19 years old and had just started working at AMF Pacer. He was making gym rings, racquetball rackets and discuses, but heard Held was looking for an assistant to make javelins.
"I knew he needed help and I was going to be the one whether he liked it or not," Johnson said. "I learned from the best. He was basically the innovator."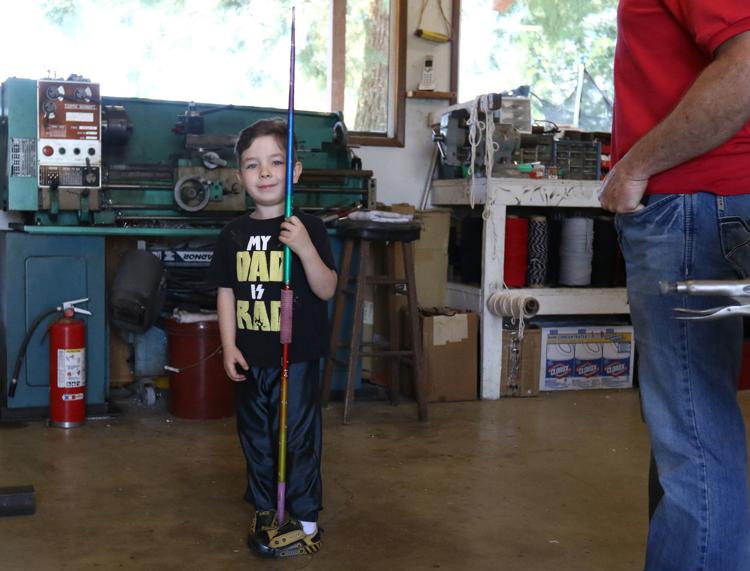 Johnson followed Held until he retired in 1999. Held died in March last year after battling Alzheimer's disease for several years.
Johnson has been training a helper for eight years, but he hopes one of his six children will eventually take over the business. His oldest is 24, but his youngest, David, 4, still brandishes his miniature javelin, parading it around the garage. Johnson made it for his oldest and it's been passed down as the "Johnson Kids Javelin."
"It's still challenging," Johnson said. "It's not something you can just sit down and teach somebody or hire a part-time person to come and fill in, which makes it really hard. Making it affordable, really, that was my main reason for rebuilding."