take turns practicing different throws, all of which seem to take up the whole length of the six-foot slab. Each man takes a running spinning start and watches the discs end up on the other side of the long green.
"It's about the same as everywhere else," Chuck Parks said. "I think that we're kind of a little bit more lucky. We have a lot of different courses in the area. Every town seems to have a course and we have a lot of different ones."
Chuck Parks has been playing for years, building up a large collection of discs and thousands of hours of practice, but he said all levels are welcome at the course — like Croucher, who recently started playing when Chuck Parks got him into it.
"It's fun and affordable," Croucher said, making Chuck Parks chuckle. "I mean you've got to buy discs, but compared to regular golf — do you know how much a nice set of clubs cost for regular golf? You're looking at like three grand my man."
David Morrow and Sal Trujillo are out at the course shortly after the rain stops for the umpteenth time on a March day. Morrow had just come from the Whistler's Bend Disc Golf Course before meeting another friend at the Riverfront course.
"The f-word in disc golf is to say the word frisbee," Morrow said. "It's a dog toy. It's obviously very serious."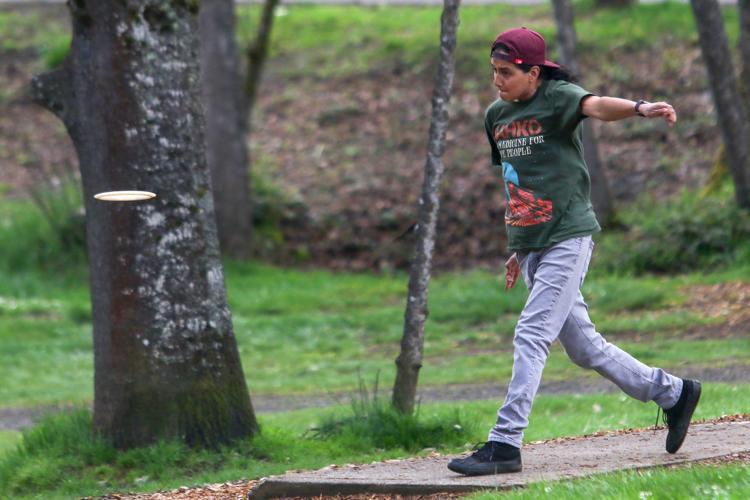 Trujillo has been playing for about seven years and carries about 18 discs around with him.
"There's so many variables," Trujillo said. "Every disc does a different thing. Sometimes you get in these tough situations where a specific disc will be your lifesaver."
He is confident as he picks out each disc while moving through the 18-hole course and, is methodical about throwing them between the trees.
"It's competitive and it brings me outside," Trujillo said. "It makes you forget about everyday life. You come out here and you just zen out."
Even though Morrow and Trujillo played together, they appreciate that it's a game that they can play alone when they want.
"It's fairly cheap, you don't need a team, honestly, you don't even need the baskets," Trujillo said.
Josh Maxfield passes by them as he wraps up the course on his own. His disc flies into a downed tree that fell in a record-breaking snowstorm in February. He pushes his way into the branches and aims for the basket from there.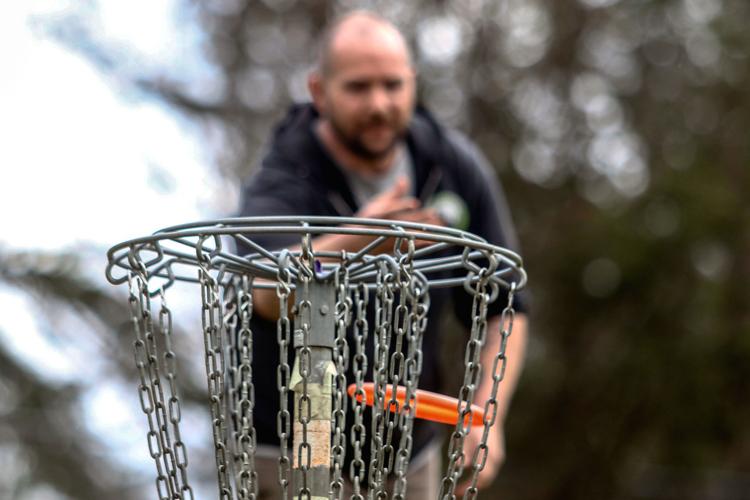 "The snowstorm made the course look a little different," Maxfield said.
He knows that basket, in particular, is deceptive, downed tree or not, and aims for three-quarters of the distance so the disc doesn't go past the basket and down the hill, where it could land further away than where he started.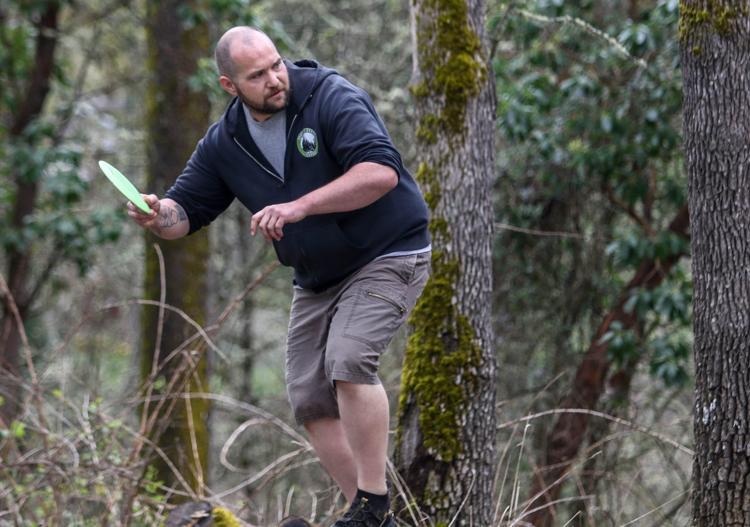 While there aren't any people using the trail that runs the length of the course while Maxfield is playing, he usually sees a train of strollers and kids on the path.
He was gone by the time the twice-a-week "flip" competition started at the park, but Henry, Parks and Croucher were just getting started.
"There's a lot of great people out here," Parks said. "You meet a lot of fun people. Pretty much no matter where you go, when you go, you always run into somebody. You can make friends anyplace you go."