Dan Meyer is the manager of Rock Creek Hatchery, where he has been working since 1986. Meyer lived at the hatchery and lost his home in the Archie Creek Fire.
From what I understand the hatchery was built in the '20s across the creek, and in the '40s it was moved to the north side of the creek. It was trout to begin with and after that, it was trout, steelhead and salmon that were reared at this current location. The function of the hatchery is to provide recreational fishery for the sports and commercial fisheries. The species that we put out here are spring chinook, fall chinook, summer steelhead, winter steelhead, coho and rainbow trout.
To work for the Oregon Department of Fish and Wildlife at a hatchery, it's a condition of employment to live at the facility for security reasons, and I was no exception. So my residence was here and I raised my family here the entire time I've been in the community of Glide.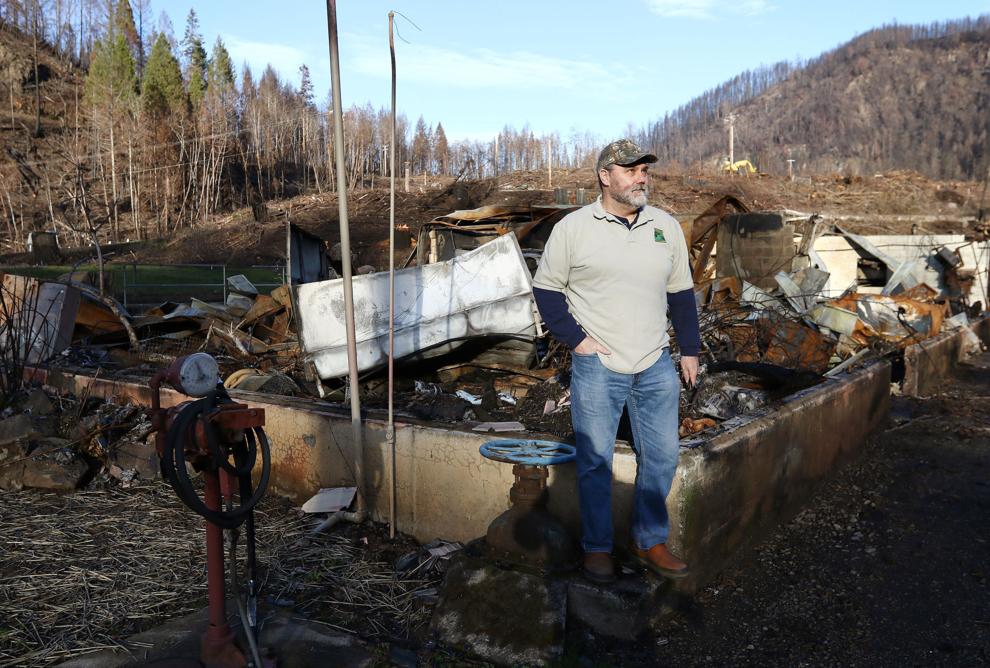 The morning the Archie Creek Fire started I was scheduled to work. I got a call that there was a fire in Glide, so I drove there and when I turned the corner down onto Highway 138, there were all kinds of limbs and things on the ground, the wind was blowing. I got back from town about 10:30. I told my technician, "You need to go up to your house and start packing up." I was going to get the equipment in the middle of the complex to get it out of harm's way, but I heard that it had gone to Level 2 evacuation. So I went up to our house and loaded up things. We went to some friend's house where we held up for a few days. Within a half hour, they declared a Level 3 evacuation.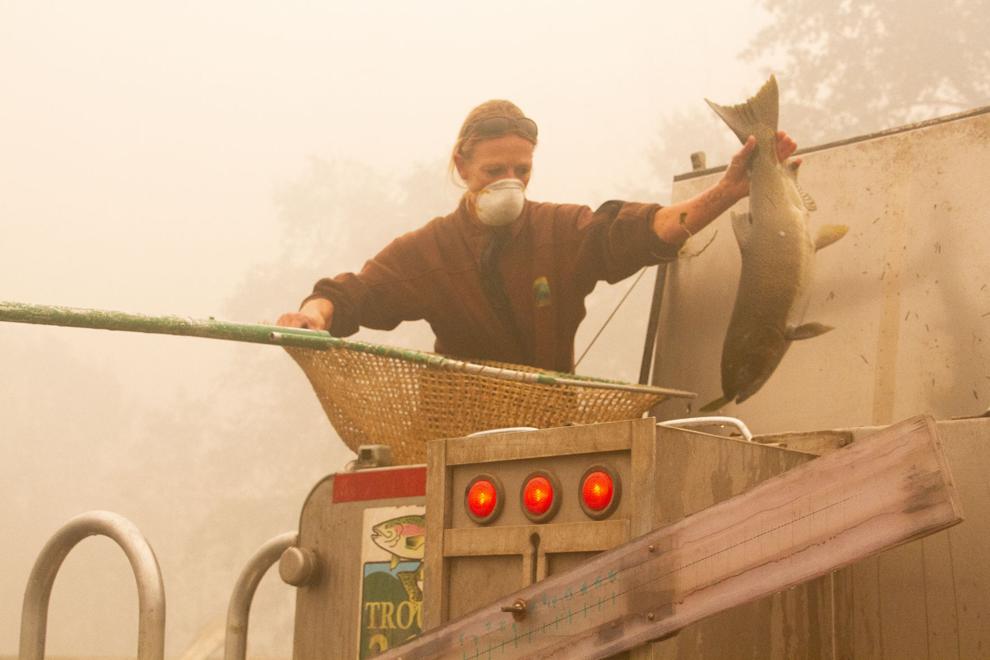 I met up with a technician the next morning to see if we could get back to the hatchery. We talked our way through two road checks and followed a small fire truck in. It was just total devastation, couldn't hardly see maybe 50 feet in front of you. We had our N95 masks on, we got to the top of the driveway and there were trees down everywhere. We parked the truck and walked around and there were flames we could see, structures were gone, our houses were gone. We got down to the hatchery and everything was alive.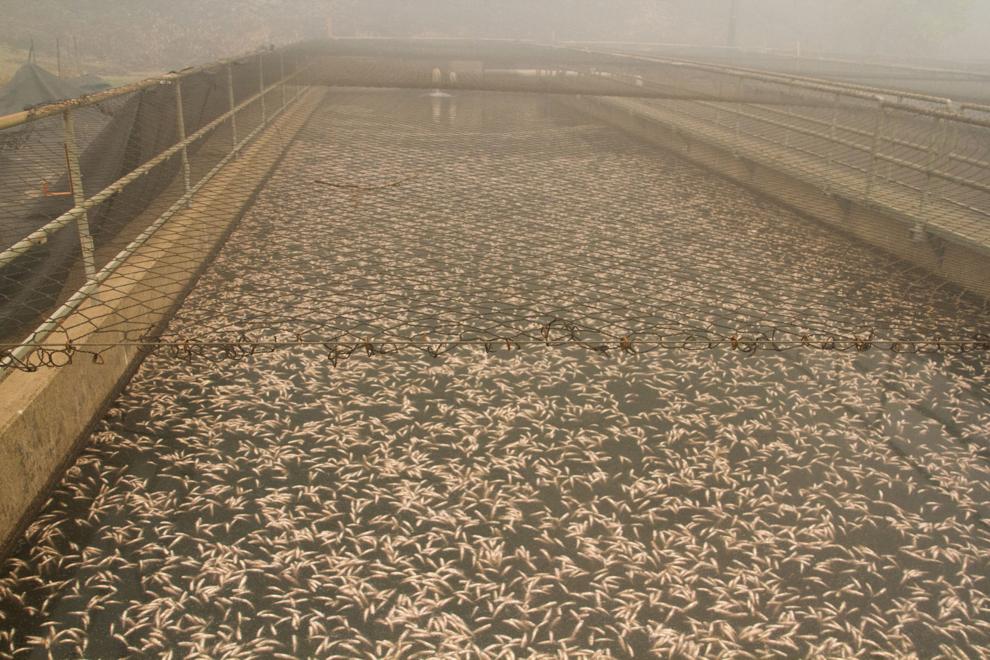 After we saw the hatchery was semi-secured down below, we headed up to the intake. The entire time we were down there, when you looked around it looked like a bomb had gone off, it just looked like total mayhem. But the Rock Ed building was standing, our generator room was standing, our US post office boxes were still intact. Yet 15 feet away the 2,300-gallon liberation truck melted down. We got to about the top of the hill and could hear a really loud whistle, which was the 1,000-gallon propane tank venting off, so we decided to return the next day.
They weren't letting us back in that day, thinking it might blow up again. So we came back the next day and the water had been shut off or deprived on the juveniles and you could see that they were gone, but luckily there was enough water seeping through the intake up there on Rock Creek to keep the adults alive.
What was lost was probably 80% of the structures on the facility, 15 structures, there were five residences, the hatch house, a large equipment garage, all of the equipment was lost other than the fish pumps. But what remained was the raceways, even the bird predation netting over the top of the raceways was spared, and my old '88 Dodge pickup. The fish we lost from the fire were approximately 800,000 juveniles; we saved about 700 adult summer steelhead and spring chinook. So we lost the entire year of production of chinook, salmon, coho, steelhead, and trout.
We recruited enough people to net the fish out, then put them into the trucks. Bees were terrible, the yellow jackets were pissed off, and there were a few stings. Nobody was allergic but it was miserable. We did two trucks at a time, approximately 100 fish per truck and the operation went very smoothly. The seven trucks evacuated with 700 fish to Cole Rivers Hatchery.
The next week, we went down to Cole Rivers because the summer steelhead and spring chinook were mixed together. We spawned our first take of spring chinook, as we separated them, and we followed up for four weeks and fertilized about 500,000 eggs in that period. Those fish are now marked; there's 332,000 juveniles down there growing and awaiting their release from the hatchery this fall and March of 2022.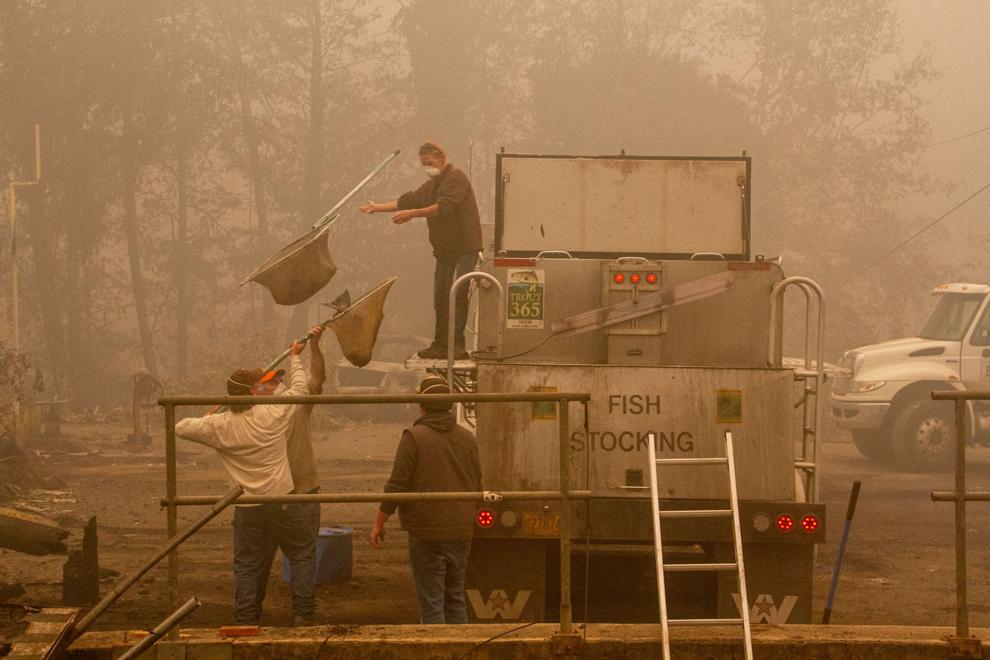 Now my job entails a lot of insurance collaboration, describing details of structures and equipment. Also, we talk about where our production is going to be — is Rock Creek and the North Umpqua habitable for a hatchery? Those things are still up in the air. We're finding out that the temperatures are quite a bit higher than they were before the fire, and so we're looking at options; off-site summer rearing, on-site special structure type rearing, possibly an enclosed system. Just different options of what the future looks like.
Every time I go back and look at old pictures of the facility and how lush and green everything was, I realize how it can be just wiped out within 24 hours. It's somewhat haunting. When you travel out of the fire footprint, it comes back to how it used to be, and what's so impactful is how long it's going to take to recover back to where it was. We're talking more than a decade, a century maybe, if it's ever going to be the same. It's unimaginable to me. I just can't fathom how it's going to come back the way it was.
I raised my kids in the Glide community, and there were a lot of things that happened in our life that gave us a perspective of the community of Glide. People were very kind and outreaching, a very tight-knit community. I think that's something to take home, especially in today's world. /