With fires raging in three states, the local industry played a crucial role in fighting the fire.
More fire lines were built faster on the western flank of the fire than the others burning simultaneously in western Oregon. That is a testament to the "iron" — heavy equipment — employed by industrial timberland owners and local logging contractors.
Much of that equipment and personnel are part of a unique firefighting agreement in Oregon. In 1912, the Douglas Forest Protective Association was formed by local timberland owners, who continue to pay for fire protection on a per-acre basis. For 100 years, the DFPA has provided wildland fire protection on private and public lands in Douglas County. In the course of a fire season, DFPA staffs 20 engines, three dozers and a 20-person hand crew. The association owns a fixed-wing aircraft for aerial observation and contracts with medium-sized helicopters.
DFPA District Manager Pat Skrip has 37 years of wildland fire experience. He considers the Archie Creek Fire as the top event in terms of speed and destruction: "The fire took off just like a rocket," he said, "throwing out spot fires ahead of it into dried fuels."
In two days, more acres burned in the Archie Creek Fire than in the 100-year history of the Douglas Protective Association District. It burned over 66,000 acres in its first 24 hours, and another 41,000 acres in the following 24 hours. Douglas County Sheriff John Hanlin, a former DFPA firefighter himself, said that "the intensity of this fire up the North Umpqua was unlike any fire I've ever been involved in or witnessed — ever." He and many others have described the Archie Creek Fire as sounding like a jet engine.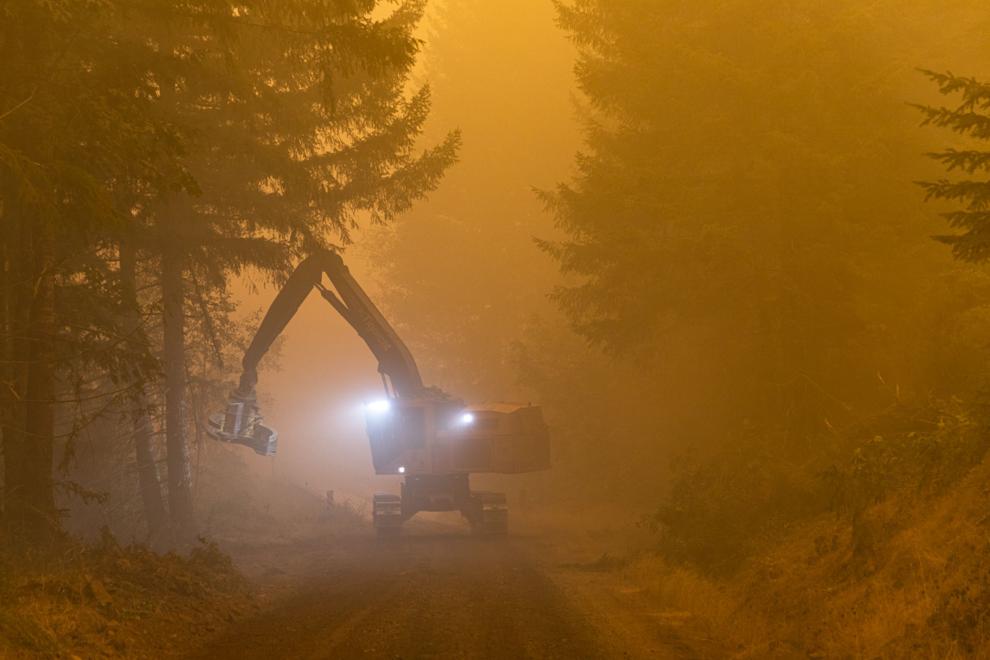 The 2020 Labor Day fires, including Archie Creek, began later in the fire season. Other fires throughout the West were already underway and additional federal resources were extremely limited. There were no state incident management teams immediately available and DFPA was forced to order in a federal team, something never done before in the history of the association.
"Knowing you are going into a battle and there is nobody to help you, that the system is overwhelmed within a matter of hours, was a challenge that we were prepared to face," Skrip said.
The first available federal team was a Type-2 Incident Command, even though Archie Creek was clearly a Type-1 event. Its incident commander, Brian Goff, posted a Sept. 11, 2020, online video stating that "we are limited on resources and availability because as you look at the news all the fires going on within Oregon and Washington really stretches us thin."
According to Skrip, the incident command teams are just there to manage the logistics and bring order to chaos.
"The real fire suppression efforts came from our industrial component here in Douglas County," he said. Industrial landowners — such as Roseburg Forest Products, Lone Rock Resources, Seneca and others — bring a special set of skills and heavy equipment. This includes dozers, excavators, and feller-bunchers that can move wood off the fire lines and create defensible containment of the fire.
"The local timber companies that are working with us on a daily basis and help in providing resources, big equipment, heavy equipment that is very effective in this vegetation to contain the fire," said Goff, three days into the Archie Creek Fire.
In daily meetings, private companies worked alongside fire and emergency managers to determine which fire lines had been built and where the next ones should be.
"If it wasn't for the industrial component, we wouldn't have gotten a line around the Archie Creek Fire," Skrip said.
Lone Rock Resources lands manager, Joe Newton, was heavily involved in the suppression effort.
"We were engaged immediately and began line construction just north of Glide and ultimately, we built a fire trail from the ranches around Glide, all the way over the ridge down and connected it into the areas east of Sutherlin," he said.
Phil Adams, director of timberlands for Roseburg Forest Products, believes that Douglas County has "the best firefighting system in the world."
Douglas County Commissioner Tim Freeman agrees.
"Nowhere in the world do you have an industrial property owner group like we have here that is so practiced in fighting fire and has committed so many resources to going and putting out fires — it is amazing to watch," he said. /