Jolee Kawamura lost her husband in January 2020, then lost her home in the Archie Creek Fire that same year.
My husband and I moved to Glide seven or eight years ago and were going to buy a house. That fell through so we had to find a place to live. We drove by Susan Creek and saw that they had an opening. We moved there and swore that we would never leave. That was going to be the last place we were going to live. It was beautiful there, until the fire.
2020 was a bad year. Starting Jan. 1, my husband, Kirk, passed away from cancer. I had to get through that. Around the time the fire started, I was just barely getting to where I could get through things and slow down. I had a hard time coping. I was the manager of the trailer park at Susan Creek, so along with dealing with my own personal stuff, I had to deal with managing eight other tenants. Mowing lawns, testing water and dealing with things up there.
In the park there was only one trailer that was privately owned, the rest were rentals. Including me, there were a total of nine up there. They ranged from one person to families with children. All of us were like a little family.
Kirk and I would go to the Tioga Bridge a lot and watch the ducks, and he loved to fish. We would drive the hills because it was so beautiful, and we loved the outdoors. That was a big thing for us, that river. You could sit on the porch every day and hear the river go by and the wind blow. It was a real calming and beautiful world.
I saw the fire and called it in. The night before we had the terrible wind and the power went out. When the power came on, I made some coffee and went out on the front porch to drink it. The wind was still blowing and then I smelled smoke. I thought "That's weird."
So I start looking around, surveying everything. Then all of a sudden I saw a plume of smoke. I ran down a couple trailers because one of the tenants used to work for the Elkton Fire Department. I said maybe it is a campfire or something and he said, "No, no, it is a fire, we have to call it in." So, I ran down and called 911 and they told me you guys have to get out.
By then it looked like it was in the trees. At first, I thought it was someone that had a campfire, but it kept getting bigger and bigger and then you could hear like a jet engine sound and then you could hear the crackling of the wood. It was getting closer and closer and then I could see the flames and when it went around the back of the mobile home park the fire was between us and the rental up on the hill. It was burning, you could see the fire, it was right there, and it was scary.
I had to run to the other tenant's houses because it was early in the morning and some were still sleeping. One tenant I had to knock on the door and go in and literally shake them to wake them up and I told them we have to get out. As soon as I get everybody going, I ran in my house to get my stuff together. All I got out with was my four cats. Then 911 called me and said you need to get out and I said, "I am, I am but I've got to find my cats."
Then somebody is beating on my door, and it is the sheriff, and he is yelling at me to get out and I said I'm trying to get my cats. He said get out now or you're never going to get out. So, I left bawling, thinking that I didn't get one of my cats. Then all of us like a wagon train leave the park; we were all together like a family. We went to Swiftwater Park and stood around in terrible shock. On the way to Swiftwater, there was fire on both sides of the road and that was scary. We get to Swiftwater and there were other people that looked just as lost as we did. It was the scariest thing I've ever been through.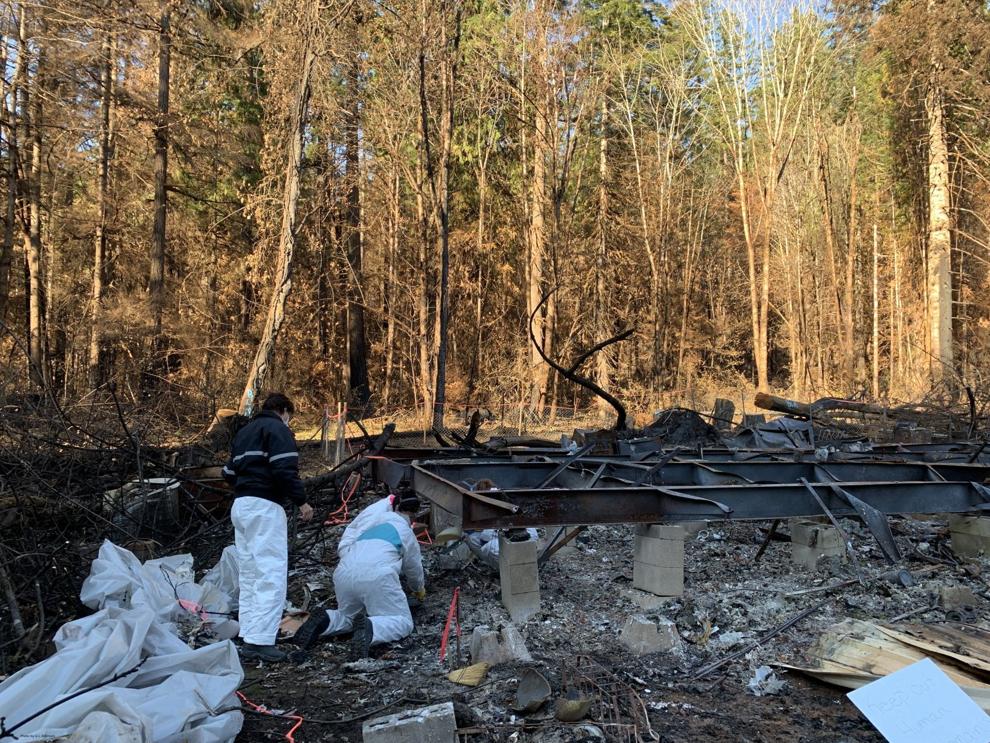 I thought my home was lost because the fire was so close when we left. Later that night, I saw on Facebook where someone had filmed my house burning. And that is how I found out that my house had burned. I literally watched it burn down and that is not a good feeling at all. It was devastating.
I attended the town hall meeting where we officially found out if we had a house or not, even though I already knew. I know I had that deer-in-the-headlight look, but to see as many people as I did have that same look, was crushing. I saw a lady who found out and she just passed out on the floor. That is kind of how I felt. That was hard to see, all the lost looks in people's eyes.
We all went together to look at our homes, our little Susan Creek family. We were all nervous to go up. Once we got past the roadblock, we saw it was still smoldering and still burning. We got dead silent. There was no more talking or joking to try to make things light. It was devastating for all of us. They had ministers or pastors at each of these spots. When we pulled in, we were all in shock. The pastor that was there, I used to go to that church years ago. I was grateful that he was there.
Everything was still hot and the heat permeating and coming off of all that and all of us walked around like in a fog and hugging each other and telling each other that we are still a family, and we have still stuck together as a family.
I lost everything. I was the family historian. I had stuff like my great-grandmother's marriage license that was 150 years old. I did find my wedding rings. They were in a canning jar in the bathroom. But the glass is all melted around it. I need to find a jeweler to see if they can somehow get my rings out of this melted glass jar. I found my husband's dad's dog tags from World War II. I need to find somebody to clean them up to give to my daughter.
I lost my husband's ashes. I don't know why I didn't grab them. That bothered me the most.
My cousin in California felt bad because he couldn't do anything to help, so he found this place called Alta Heritage Foundation that would come and search for my husband's ashes.
They came a month later. My daughter was up there with me. They came with two archeologists, two cadaver dogs, a fire and police guy out of California and told me that if they were there, they would find them.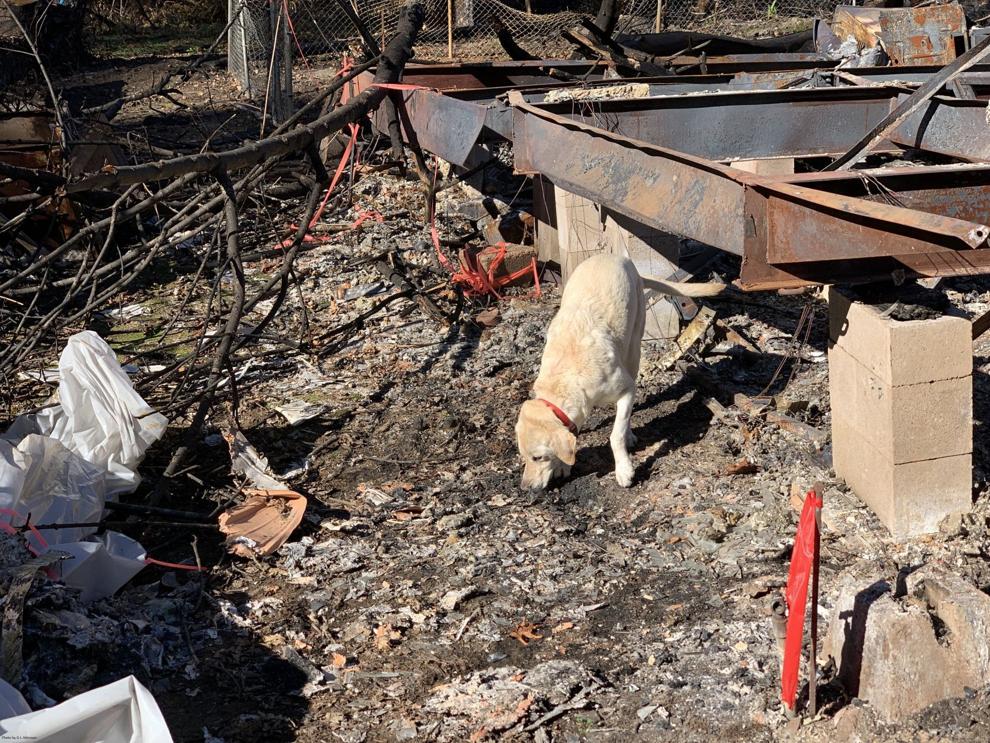 They were English Labradors trained to detect human remains, including ashes. They turn them loose and the dogs have to find them on their own. They told me that even though you are cremated, you still have a smell.
The dogs lay down when they find it. The first time the dog laid down, my daughter and I started bawling and said, "Oh no, we found dad." And they told us no, don't get excited, we have to make sure.
They took the dogs away again and brought them back and the dogs did it again. They found my husband! That was amazing. I never thought that would be possible. That was the biggest blessing out of this fire, that I got my husband back. In pieces, but I have him.
United Way called me up in the beginning and said a contractor was going to build a house for someone, that there was a drawing, and my name was drawn. I told them I couldn't take it because it needed to go to somebody who had kids. I couldn't stand the thought of kids living in tents through the winter, so I turned it down.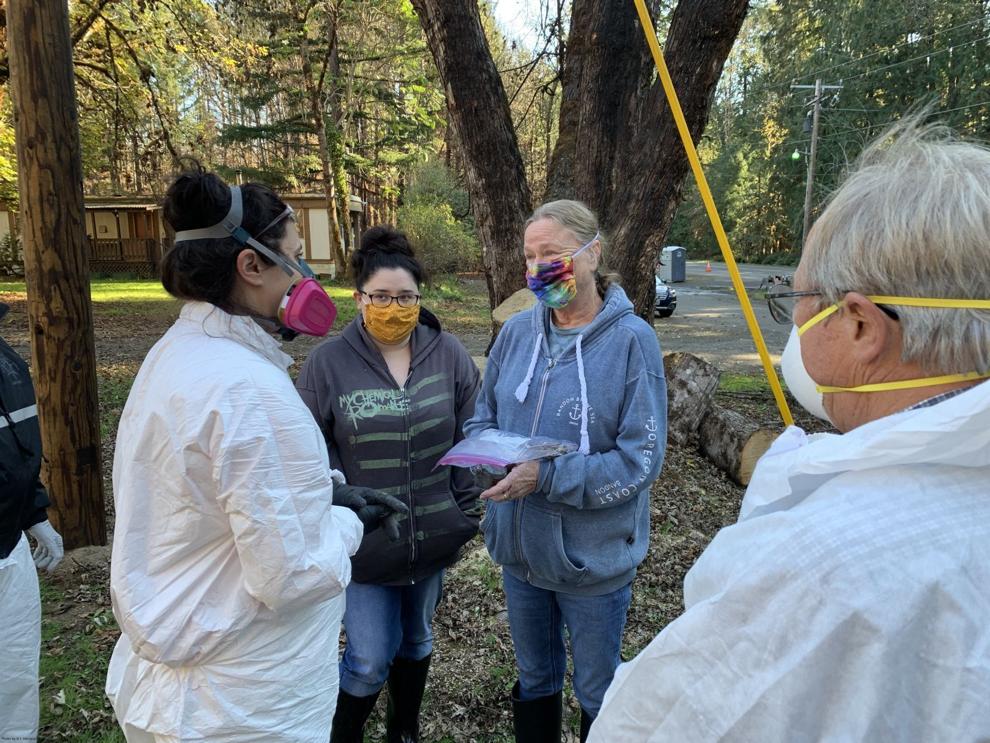 It has been really hard for me to adjust. Like I said earlier, Susan Creek was supposed to be the last place I would live. Going into the motel was hard but the hardest was the holidays. The first holiday without my husband with nothing around me to feel like I had a home, or him, or family, anything. I'm even having a hard time adjusting to living in town. I've not lived in town since I was a child. I lived in Melrose, and I've always lived in the country so that is hard. It is hard to wake up every day and it is not home. That is the hardest part, but I'm getting there.
At least I'm getting out and talking to people a little. For a while, I just holed up because it was too hard to talk to people and not cry. People don't understand what you're going through. I even went to a counselor, and he was more concerned about me dealing with my husband's death than the fire.
The morning of the fire I was at the pizza parlor in Glide and I called my son and told him that my house was burning down. He said it was going to be OK. A few hours later he called me back and said he lost his apartment in the Alameda fire. He and his family lost everything the same day I did.
I go up the North Umpqua at least once a month. I spread some of my husband's ashes off the bridge up there because he never wanted to be anywhere else but there, so I look at it like he is still kind of there. I go up there to visit. When I go up the river, I see things are improving. The little green ferns are coming back. The trees not so much.
I'm not sure what I'm going to do next. I haven't decided what I'm going to do with my life.