The Moore's home in Idleyld Park was a treasure, a log cabin built by Frank Moore with the help of Jeanne Moore and their children.
If Frank Moore were still in his 70s, maybe even his early 80s, the house would have been rebuilt, his daughter Colleen Bechtel said.
"We just know beyond a shadow of a doubt he would have been right up there redoing it," she said.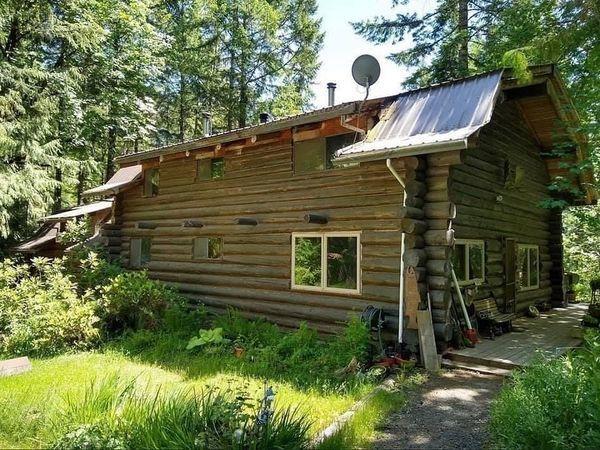 In addition to Frank Moore's service during the war, the pair are well known for their conservation efforts and as the founders of the Steamboat Inn.
Jeanne Moore has been described as the grandmother of the annual Glide Wildflower Show, and she discovered rare plants that led to the conservation of the Limpy Rock area in the Umpqua National Forest.
Frank Moore is an avid fly fisherman who has been inducted into the Fresh Water Fishing Hall of Fame. He's also the subject of the documentary "Mending the Line," for which he returned to France to fish.
Frank Moore, 98, and Jeanne Moore, 95, are no longer able to give interviews, so Colleen Bechtel told her parents' story for them.
As the fire approached their home, the Moores were rescued by son-in-law Tim Bechtel of Glide, Colleen's husband.
They briefly moved in with Roseburg relatives when Glide was evacuated and then returned to the Bechtels when the evacuation order was lifted.
And there they are likely to remain, Colleen Bechtel said.
The house was packed with meaningful memories. There were Frank Moore's World War II medals, photographs of famous visitors who came to fly fish with him, family photographs and even a bill naming a stretch along the North Umpqua River after them.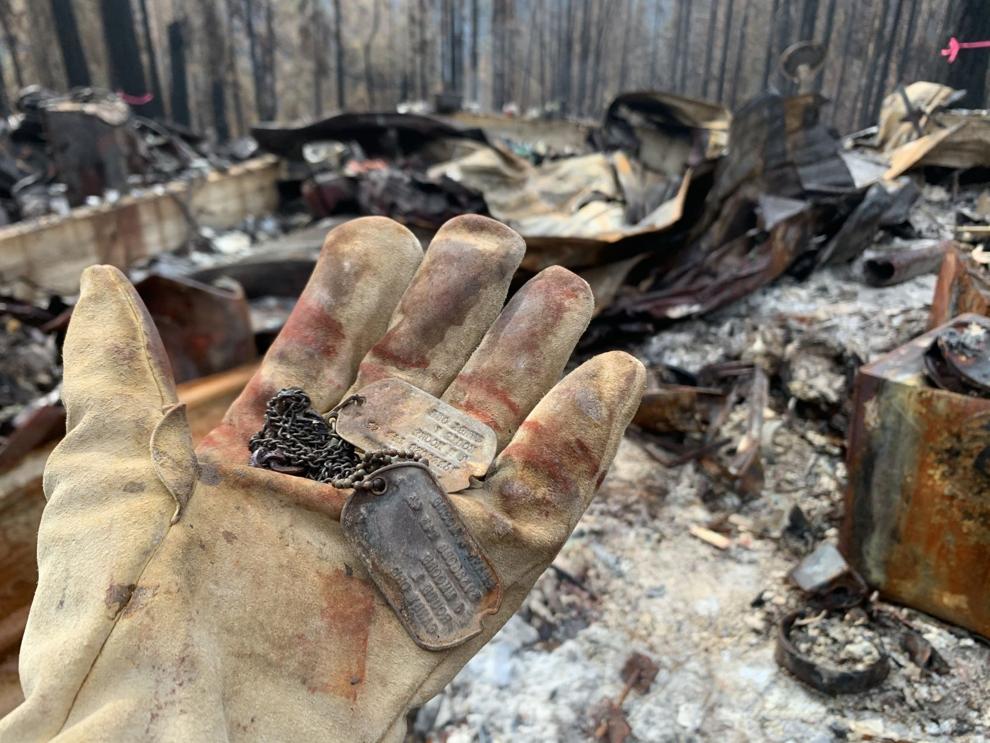 After the fire, just tiny fragments remained. One of these was Frank Moore's Army dog tags.
"They went through the fire, and you could read them," Colleen Bechtel said.
Some ceramics were also spared, including a hawk head sculpture made by a close friend out of clay from the property.
Other items were temporarily preserved.
Bechtel recalled that they found one of her mom's botany books. It was pure ash, but she could still read what was on the page, until it was touched and it disintegrated.
"It was very surreal," she said.
Frank Moore said last year that the one item he most wished he had brought from the house was a picture of an auburn-haired Jeanne Moore at 17. It's the way he remembered her during the war.
But he said the most important thing was that Jeanne Moore — his wife of almost eight decades — was with him.
"I have the treasure with me. That's my treasure," he said.
Still, it was a tough moment when Frank and Jeanne Moore were finally able to visit and survey the burnt landscape where their home once stood.
"He goes, 'Jeanne, our dreams are dead,' and I remember saying, 'Daddy, let's make new dreams,'" Colleen Bechtel said.
Frank and Jeanne Moore are inseparable and neither likes to go anywhere without the other.
"They love sitting next to each other on the couch and they'll cover up with a blanket and talk to each other and hold each others' hands," Bechtel said.
The pair have continued to receive love and affection from well-wishers saddened that they've lost their home and possessions. Some of them have helped the Moores find replacements.
Alek Skarlatos of Roseburg, a French Legion d'Honneur recipient himself, helped Frank Moore obtain a replacement for his own French Legion d'Honneur medal.
A friend from Luxembourg got his Luxembourg Medal of Honor replaced.
A retired military friend of the family on the East Coast was able to get his insignias and medals from the U.S. Army replaced.
John Waller, who had produced the movie "Mending the Line," had a high resolution copy of that photo of young Jeanne Moore with her auburn hair and brought it to them.
Waller also contacted the French fly rod maker who had made him a special rod, and he sent a new rod.
Sen. Ron Wyden, D-Oregon, traveled to the Bechtels' home in Glide in October 2020 to present the Moores with a replacement copy of the bill that set aside a 100,000-acre stretch along the North Umpqua River as the Frank and Jeanne Moore Wild Steelhead Special Management Area.
And a GoFundMe fundraiser organized by Waller set out to raise $50,000 to help offset their fire-related expenses, including the loss of five rental properties on their 80-acre property.
To date, the fundraiser has raised $75,910. /