Brewers hid under pop-up tents to get out of the sun at the first Oakland Brewfest on Saturday. The constant breeze kept locals and visitors moving across Locust Street and between vendors.
Vern and Patty Munion from Roseburg popped into town for dinner at Tolly's on Locust Street and were pleasantly surprised to find an event happening in his hometown.
"It's actually kind of nice that they have something going on," Vern Munion said. "I know Oakland tries really hard to get everyone interested. It's a good thing for Oakland. I can see a lot of neighborly stuff going on."
They wandered through the streets that were closed off for the event with about a dozen vendors on either side.
"I think this is exciting, we like to see this kind of stuff," Patty Munion said. "I love this little town, actually — the fact that it's been kept historic. We just wandered in because we were going to have lunch at Tolly's."
Vice President of Oakland Economic Development Shelly Funk said about 75 people bought tickets within the first two hours of the brewery part of the festival.
"I think, for our first annual brewfest, it's going well," Funk said. "We just wanted to see if Oakland could actually do a brewfest. We have tremendous support from local breweries to throw an event like this so we went ahead and kicked her off. An all-day event like brewfest, people just trickle in."
She said the money raised will go to scholarships for students in Oakland and maybe, later, Sutherlin.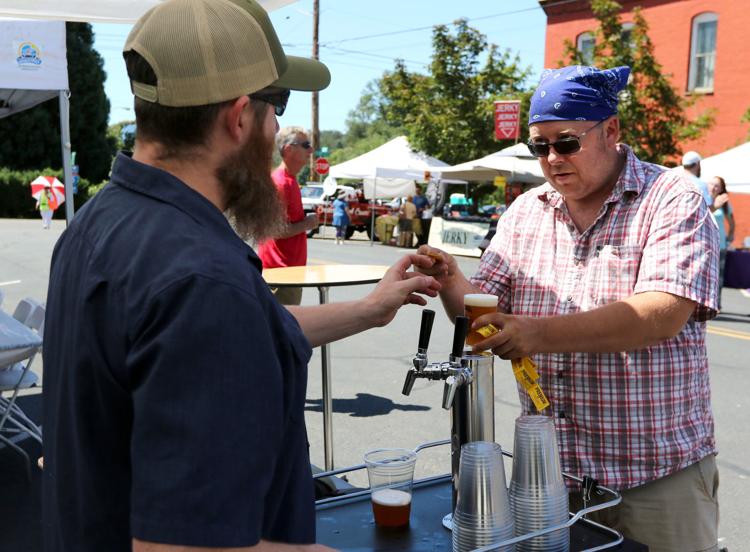 Geoff Faraghan and his wife, Betty Tamm, took the opportunity to expand their wine tasting storefront a few feet and set up a table and pop-up tent to lure people inside the Triple Oak Wine Vault.
"I'm just out here to give people tastes and to get them to go inside where it's air conditioned and they can taste more of our wine," Faraghan said. "Why have someone put beer right in front of our tasting room when we can put wine?"
The handful of breweries set up on the streets from noon to 5 p.m. according to the website and the celebration shifted to a dance from 6 to 10 p.m. at the Speakeasy, which is owned by Funk.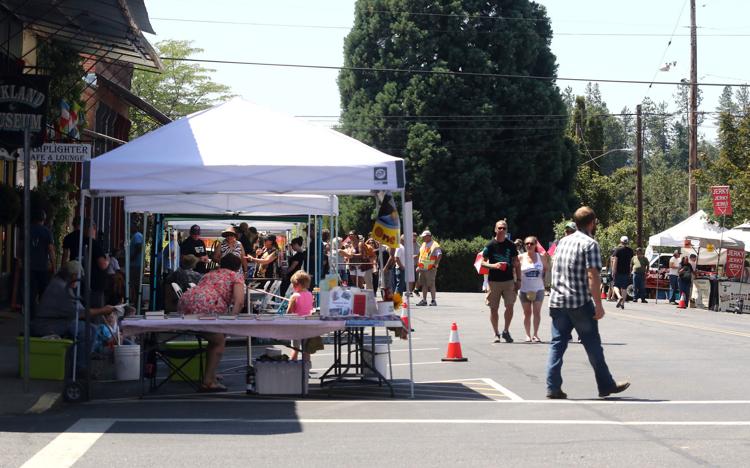 R.J. Mills, who owns North Forty, came to the event with the "dregs" of his equipment since the brewery also had a presence at the Hesh Moto Show in Roseburg from 2 p.m. to 9 p.m.
"Gotta represent and be out here serving beer," Mills said. "I think it's a fun event. I really like that Oakland closes down the streets and lets people walk around with beer. It makes it really relaxing."
He served a glass of IPA to Oakland local Miles Bratton who walked around with a handful of yellow tickets and took note of how many visitors there were from out of town alongside people like his boss and old friends.
"Stuff like this, I really like it. I think it has the potential to grow if people show up, which would be really awesome," Bratton said. "I think it's a good thing for the town and the community everywhere. It's cool seeing a lot of out-of-town people coming in — a lot of different people, not just natives."