Roger Morey and Harry Miller are hoping to use a budding auto detailing business as a vehicle to support people coming out of alcoholism and drug addiction.
When Miller started the process of recovery two years ago, he asked to help open a sober-living house, where he met Morey. They clicked and, after talking about creating an auto detailing business for a year, they decided to start Mirror Image Auto Detailing.
"We do a thorough overhaul," Miller said. "Whatever material it is and what kind of car it is, we have everything there is to make it shine like new."
Shiny cars and business paperwork are keeping the business partners and friends focused on the good in life.
"I am far too busy, but it keeps me out of here," Morey said, pointing to his head. "I don't need to be up here as a recovering alcoholic and drug addict."
Morey has been in recovery for nine years and has sponsored several men in supporting them on their path. He also created the Brotherhood of the Flame which acts as a family group for men in recovery.
"The reason it started is because one of our brothers died of an overdose," Morey said. "He used to call us the Brotherhood of the Flame because whenever we met we would light a candle. That's where the brotherhood came from, and that evolved into what Harry and I are doing."
Morey helped get Miller's business dreams running which Miller said changed the game entirely and gave him freedom and independence he didn't have in his past.
"Being in recovery is a big change and life is so much better," Miller said. "It's all about giving back to the community and helping out in any way you can."
Morey said he's been through the dark times and he wants to help other people like Harry start their own businesses and get back on their feet to help them be self-sustaining because they "relied on a lot of people" during their addictions.
"For a lot of people here in Douglas County — homeless, veterans, addicts, alcoholics — there's really no light at the end of the tunnel, unless they can get some help once they decide they need it," Morey said. "It's about bringing people back into society and making them a valued member of it. That's been my goal; to help people get self-sustaining and feel good about themselves so they don't have to go out and do that stuff any more."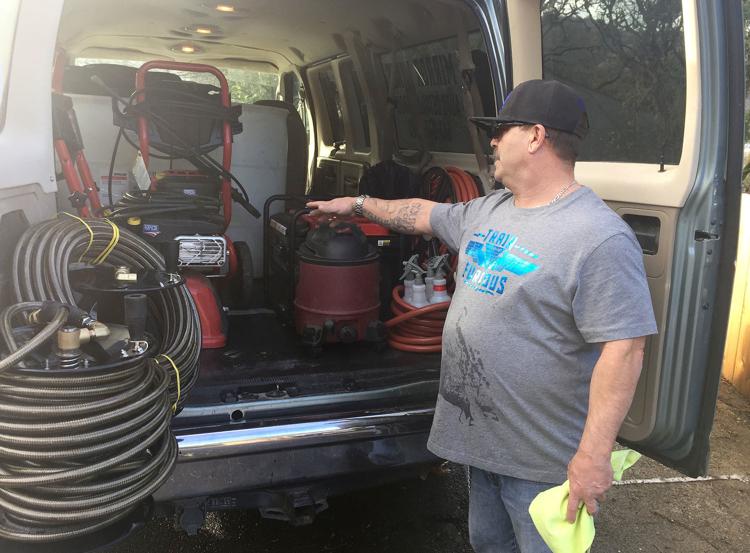 Once the business is self-sustaining and Morey has his investment back, Miller will try to keep prices low and put positivity into the community and Morey plans to help another person he sponsors in recovery get their business off the ground.
"In recovery, so many people come from what life they had; broken, down and out, a lot of them have no place to live," Miller said. "Starting your own business gives you an opportunity to grow, not only physically, spiritually, mentally, but also financially. It teaches the skills of management and how to deal with the public in a positive way. And most of all, responsibility, instead of being a burden in your own shell."