When Zak Otjen stepped into a grocery store during the recent snowstorm, he saw a flock of people unprepared for any sort of disaster, despite having a disaster food company in the city.
Otjen is the operations director for Northwest Fork, a locally-owned and operated emergency food company. Otjen said the crowded stores didn't surprise him, but he didn't have a single person from the area call him about emergency food supplies until he started telling people.
"We usually see that a lot after a storm, especially with hurricanes," Otjen said. "Hurricane season, every year, we see an increase in that particular area. There were a number of people who had no idea we were here. I saw people running around like mad trying to get food. I heard from a number of people that they were not prepared. We are here for them."
Otjen said he did his best telling people that there was a local emergency food supply company, but was limited by the nature of the disaster.
"I wish I could have reached out to more people," Otjen said. "In my experience here at this company, I've run into a number of people who either aren't prepared at all or want to get prepared, but don't know how. If grocery stores are without power for X amount of days, they're not going to have food for you either."
Stores like Grocery Outlet and Sherm's Thunderbird were open intermittently during and after the storm, but thousands of homes were without power for up to a week after the storm started and couldn't get to a store or keep cold foods.
Many people who found themselves unprepared fought crowds at busy stores, asked for help from neighbors who could still cook or had generators, or went to pop-up shelters.
"Emergency food is extremely important in any kind of survival situation," Otjen said. "It's important to have that stock of food in your home so in the event of a power outage like the one Roseburg had, you can just reach for a gas-related heat source and add some hot water and you're ready to go."
Northwest Fork foods have a 10-year shelf life unopened and come in a dry, gluten-free, vegan, allergen-friendly powder that simply requires hot water to activate. It is available at major retailers such as Amazon, Walmart and Umpqua Survival.
"It meets the nutritional and caloric needs of an individual when access to food or meal preparation is not possible, such as during a flood, mandatory evacuation, or in a survival situation. It is ideal for everyday eating, backpacking, camping, 72-hour kits, and other emergency supply preparations," according to the company's website.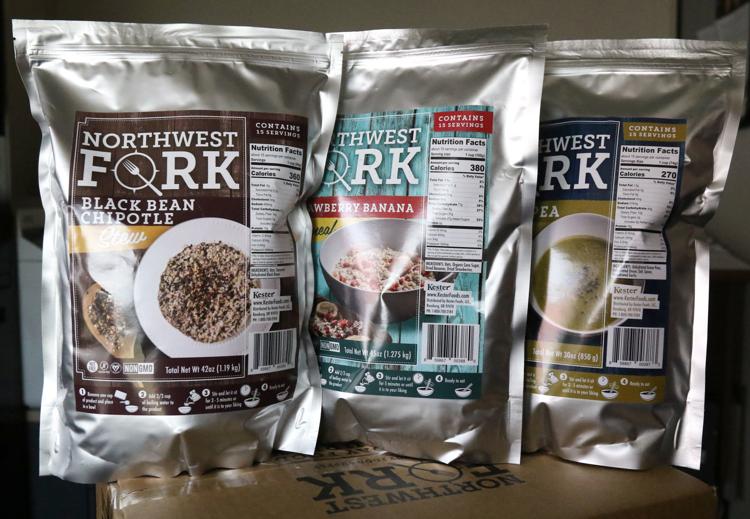 Otjen said the company's products are designed not to hurt customers guts like the emergency foods he and his dad would take hiking. Instead, it's food that is going to last, be accessible in an emergency and be good for people's health.
"We were wanting to create something that was a little bit different," Otjen said.
Otjen said the company has grown by "leaps and bounds" since it started in 2016 with owners Christopher LaMont and Joshua Murphy, mostly through the company partnerships with the large retailers.
"It goes back to why so many people aren't prepared for a disaster," Otjen said. "I think it's just not something they are thinking about. It's just not something that's on the forefront of their minds. Education is an extremely important part of the process."