Pete's Drive-In has reversed roles. Instead of walking to customers' cars, employees will stay in the trailer while the customers walk up to the window.
On Jan. 21, Pete's opened up shop in a white trailer at The Lot at 444 SE Oak Ave., with Charley's BBQ smoking in the back.
"I had been looking for (a trailer) and I couldn't find anything affordable, then all of a sudden, someone approached me. They were bringing one up from California and they didn't have a place to store it so they asked me if I would be interested in renting it until I got my building going," owner Darrell Orth said.
On Sunday, Dec. 2, a car crashed into Pete's Drive-In at 1270 W Harvard Ave., and "destroyed every piece of equipment, Orth said. He initially estimated the restaurant would be closed for about three months, but now thinks it could be longer. In the meantime, he is selling burgers, chicken sandwiches and fries from the trailer.
A Roseburg man was cited for reckless driving after allegedly falling asleep and crashing in…
"We had thought about doing a truck as soon as the building was down, but we couldn't find anything that was in our budget at the time," Orth said.
When the restaurant had to close, Chris Lavington offered to hire some of Orth's employees at his restaurant, Charley's BBQ. Just a few months later, the property owners ended the lease and Orth came to Lavington with the reverse proposal.
"It kind of came as a shock to me," Lavington said. "We've been here 18 or 20 years and I've owned it for six. When Pete's moved into the truck and it had a smoker on it, Darrell said, 'do you mind if I absorb some of your employees and I'll serve Charley's out of there?'"
Another person is interested in Charley's as well, so Lavington said he is operating it as sort of a franchise and there will be two businesses selling Charley's BBQ, one in Roseburg and one in Medford.
"We have a lot of customers that are pretty sad about it," Lavington said. "We were like their regular stop. I'm working with (Orth) to make sure it comes out the same way. It gives me the opportunity to catch up. He and I will get to work together on catering and stuff like that. Harvard boys have got to stick together."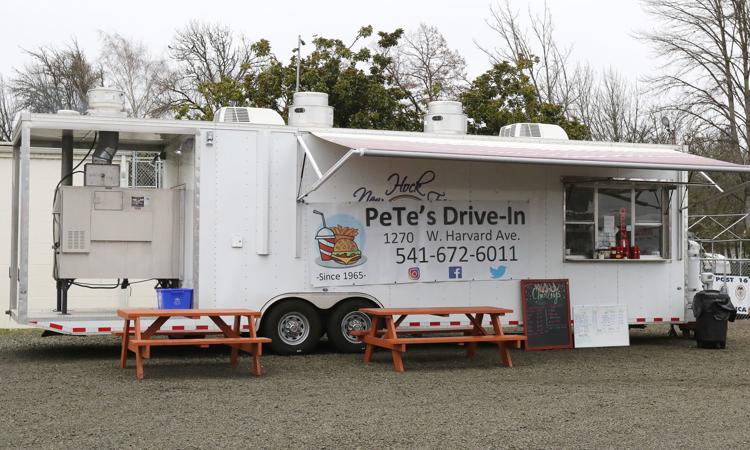 Orth said because he has to rebuild the entire kitchen, he is able to make all of the changes he wanted to make when he bought the business two years ago and include the additions needed for Charley's BBQ.
"It destroyed every piece of equipment when the car went in, so it will be Pete's 2.0," Orth said. "Most of the changes I wanted to do are going to happen all at once. It's a process."
Pete's was built in the 1960s to the code requirements of the time and hasn't closed since. Because Orth closed it for renovations, the City of Roseburg requires the building be brought up to current standards, almost 60 years worth of updates. In the meantime, Pete's will be at The Lot serving up a limited menu from the drive-in and from Charley's.
"Both business numbers are active and come to us at this mobile site," Orth said. "We will have our own mobile unit here within the next couple of months. We've learned what we need to have in our trailer so we can start building that. The trailer, it's a different animal because you can't keep as much stock on hand so you really have to watch your inventory."
Once the drive-in is back up and running, Orth said he is planning on getting another truck since the current one is on loan, and eventually building a brick-and-mortar store for Pete and Charley's Barbecue.