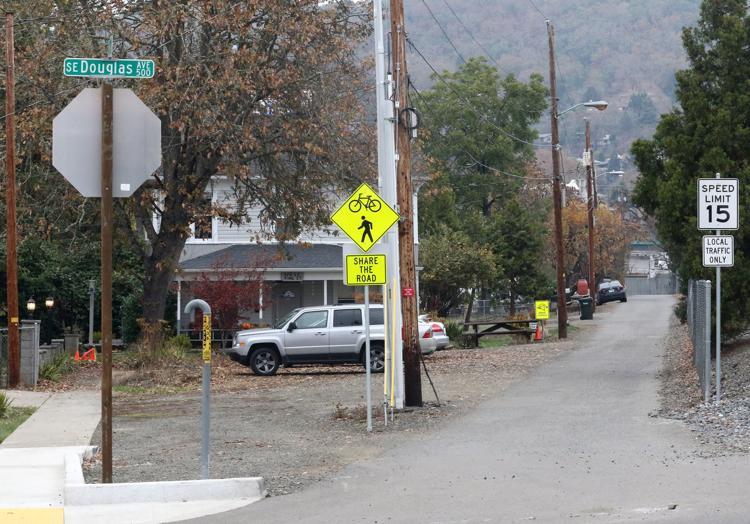 The City of Roseburg has drafted a plan that would change city zoning codes to promote development between Southeast Pine Street and the riverfront.
The plan, known as the Pine Street Overlay, has received both support and opposition from residents and potential developers.
The city held a community open house for more than 20 people to discuss the plan Wednesday night at city hall. Several audience members questioned whether the plans, which don't contain new city construction projects, will incentivize current or future property owners enough to develop.
The Overlay has its southern boundary at Southeast Douglas Avenue and its northern boundary at Deer Creek. It's the only area of town along the riverfront that is zoned for commercial development. That's why the city saw it as an area to promote development.
With buildings on the national historic registry, railroad property and the river nearby, the area has long been subject to an unusual number of zoning regulations that have prevented development, according to city officials.
The city has been working with an urban planning company and an engineering company for over a year to develop a plan that would attract new businesses, create a community gathering place and maintain the area's historic buildings, according to Community Development Director Stuart Cowie.
The plan changes zoning codes to make it easier for property owners and developers to achieve those goals, according to city planning officials.
Property owners who don't choose to develop will be unaffected by the changes, Cowie said.
John Lazur, an associate planner with the Roseburg Community Development Department, told the audience of residents, developers and city councilors what his department saw as the central questions of the project.
"How do we make this area more attractive to developers? How do we remove those hurdles that are an issue with future development," Lazur said.
No public funds will be used on the project, because development will be left to existing or future property owners. The plans create the regulatory framework that property owners and future developers will have to abide by.
The city received grant funding from the Department of Land Conservation and Development to contract with Portland-based urban planning company Urbsworks for the project.
Components of the plan would require property owners to develop in a way that slows car, foot and bicycle traffic along Pine Street, which is zoned as a multi-use path. The purpose would be to promote walkability and commercial activity.
"While we're not trying to create a downtown here, it's important that it is kind of a sub area of the very distinctive character that could be part of the walkability of downtown," said Marcy McInelly of Urbsworks.
One open house audience member voiced her concern about how future developments in the area would raise property values and in turn raise property taxes. Bonnie Ogle said her son, who has multiple sclerosis and doesn't work, owns property in the Overlay zone and already has trouble affording property taxes.
"How much in taxes are going to be added on to him?" Ogle asked Cowie.
Cowie said the implementation of the Overlay zoning changes won't affect property taxes immediately, but he acknowledged that if property owners choose to develop around Ogle's son's property, his property taxes would increase as a result of greater property value.
The Community Development Department aims to adopt a draft of the plans and submit it to city council for approval by March 2019.
The plans are available to the public on the city's website.