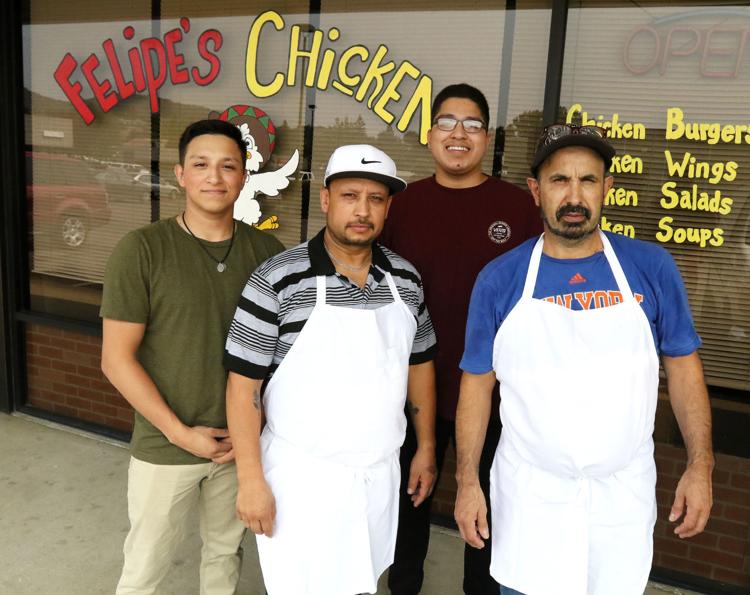 Twelve years ago, Felipe Escobedo closed up his food truck, Tacos Jaliscos, when his right-hand helper and wife quit the business to stay home with their three children including a newborn baby girl. Today, he is opening Felipe's Chicken.
Felipe Escobedo is running the business with his partner Gilberto Gutierrez and plans to pass the business down to his sons Diego and Chris Escobedo.
Felipe Escobedo has worked in kitchens his entire life as a busser, dishwasher, bartender and food truck owner. Felipe's Chicken, however, will be his first brick and mortar store and it's all things chicken, from "flat wraps," commonly called quesadillas, to chicken burgers and chicken a la king.
"People always liked my food (at the taco truck)," he said. "They always asked when I'm going to get a place like this, where you can sit down and enjoy your food."
He said people offered to help him, but it didn't work out, and after closing his food truck, Escobedo started working for other people in their restaurants.
"I never thought we'd have a cool actual restaurant like this," Diego Escobedo said.
Felipe Escobedo was helping a friend work on a different restaurant that was supposed to occupy the space for more than six months, but when plans to open fell through, his friend sold the space to Escobedo and the team has been working on it ever since.
"He's doing this for us," Chris Escobedo said. "It's awesome. I put a lot of money into this myself."
Felipe Escobedo loves to cook and said Diego Escobedo is always wanting more food, but his other son, Chris Escobedo, is in the one in the kitchen asking how recipes like chicken chile relleno or the vegetable soup are made.
"Watching him cook was entertaining," Chris Escobedo said. "I've seen everything, but I don't know how to make everything yet. I think about the future and how am I going to do that."
There aren't recipe books, just what Felipe Escobedo has created and what he is teaching his sons to make in preparation for them to take over the newly-formed family business.
"I like to show my life," Felipe Escobedo said. "Not myself, but my family. I try to show who I am and I trust what I do and I hope the people like the food."
Felipe's Chicken is open and located at 250 Northeast Garden Valley Boulevard, Roseburg.