Costs top $11.1 million to public entities in Douglas County from February snowstorm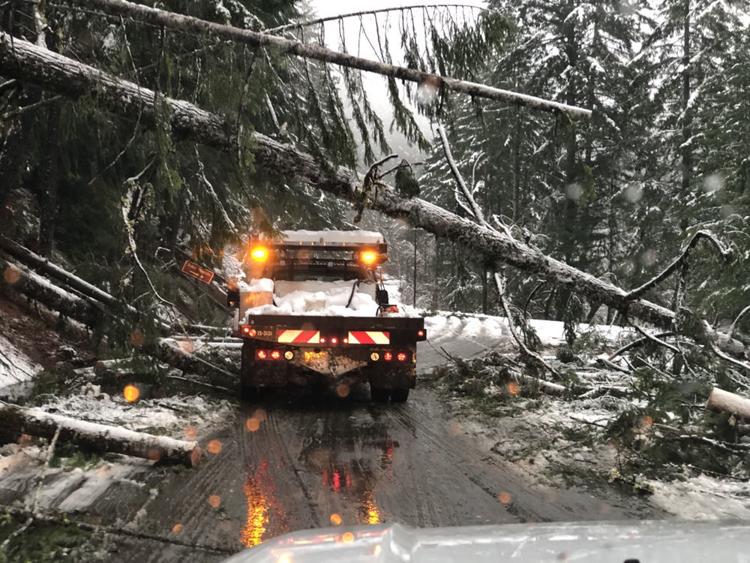 Storm damage passes $11.1M
{child_byline}MAX EGENER
The News-Review
{/child_byline}
Damage to local public agencies from the devastating February snowstorm topped $11.1 million in Douglas County, according to an assessment from the Oregon Office of Emergency Management.
The snowstorm dropped more than one foot of heavy snow in some areas of the county, taking down trees and utility poles, blocking roads and collapsing structures. Many residents in the more rural areas of the county were without water for weeks as local pump stations also lost power.
Costs to Douglas Electric Cooperative for utility repairs made up $9.4 million of the county's total. Thirteen public entities in the county, including five cities, the Cow Creek Band of South Umpqua Tribe of Indians and the Sutherlin and South Umpqua school districts, reported damage.
"The Douglas Electric Co-op was one of the hardest hit with power outages affecting the entire population of Douglas County with some residences without power for almost a month," read a letter sent by Gov. Kate Brown to President Donald Trump on April 16. "This was the worst outage in the utility's 81-year history."
Brown's letter requested the President declare a major disaster for the state. The declaration would allow public entities to be reimbursed up to 75% of the cost.
On Feb. 28, Brown declared a state of emergency, which included Coos, Curry, Deschutes, Douglas, Jackson, Josephine, Klamath, Lane, Linn and Marion counties. Coos, Curry, Douglas and Lane declared local emergencies.
Costs to Lane County were the highest at $17.3 million. But Douglas County had the highest per capita costs at $103.71, compared to $49.30 and $40.10 in for Lane and Curry counties.
Wayne Stinson, emergency manager with the Douglas County Sheriff's Office, said the county tried to paint the most accurate picture as possible of the destruction, including damage to homeowners and businesses, in its preliminary damage assessment. Additionally, the only death in the state that occurred as a direct result of the storm was in Douglas County, according to Brown's letter.
The damage doesn't qualify for FEMA's reimbursement for private citizens or businesses, he said. That classification is reserved for more severe disasters in which homes are completely destroyed by a tornado or hurricane, for example.
He said that distinction is often difficult to tell people who experienced damage from the storm.
"If you're struggling paycheck to paycheck, and you have something significant like that happen to your home, and for whatever reason you didn't carry homeowner's insurance, it's tough," Stinson said.
{child_tagline}
{/child_tagline}