Dixie Henderson begins to jump up and down with excitement as the truck makes its approach to her home in Green. An instrumental rendition of Johnny Nash's "I Can See Clearly Now" is played over the white van's speakers as Carolina Holloway opens the doors. Inside is a treasure trove of ice cream, chips, Mexican candies and other sweets.
Fred's Snacks and Ice Cream has been driving through the streets of Roseburg since May. Started by Carolina and Nick Holloway, the couple plans to bring ice cream treats to people all over Douglas County this summer.
"Makes me feel like a little kid again," Henderson said about the ice cream truck. "We've needed one for a long time and I wanna give her a lot of support so she sticks around."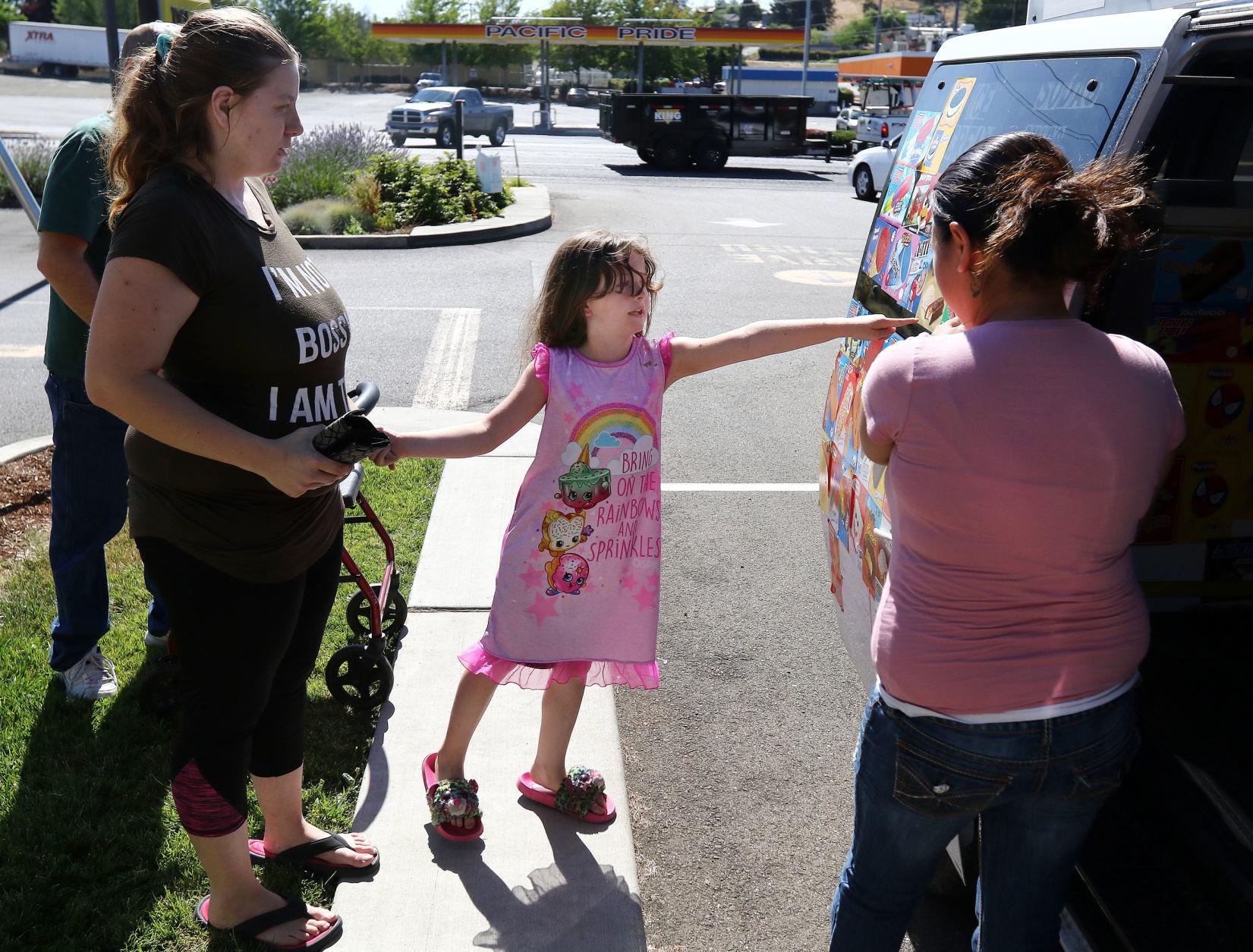 The Holloways moved to Roseburg in December of 2012 from San Diego. Carolina Holloway said they wanted to live in a smaller, more tight-knit community. The idea for the business came when she noticed a lack of ice cream trucks in the area.
The business is named in honor of Nick Holloway's father who passed away last summer. His passing kickstarted the couple into action.
"We decided to do this because it's something new to Douglas County," Carolina Holloway said. "We wanted the kids to feel what we felt as children."
When they first started, Carolina Holloway said people were skeptical. With ice cream trucks being rare in the area, kids were unfamiliar with the concept. Some people even called the police on them, suspicious of the truck's intentions. But Nick Holloway said once people got the chance to know them, they were quite supportive.
"The way the community just warmed up to us, I was surprised, I was shocked," he said. "People welcomed us with open arms."
Henderson buys a frozen treat from the truck three to four times a week;. Her favorite is the fudge bar. She said Fred's was one of only three ice cream trucks she's seen in Green in the past 12 years. The other two were only around briefly for one season.
Cassie Powell and Tracee Frank, of Green, are also frequent customers. Powell said the last time she saw an ice cream truck in the area was when she was 4. Frank said she likes how you can message Fred's on the truck's Facebook page and they'll make a stop on your street, even giving you a heads up on what time they'll arrive.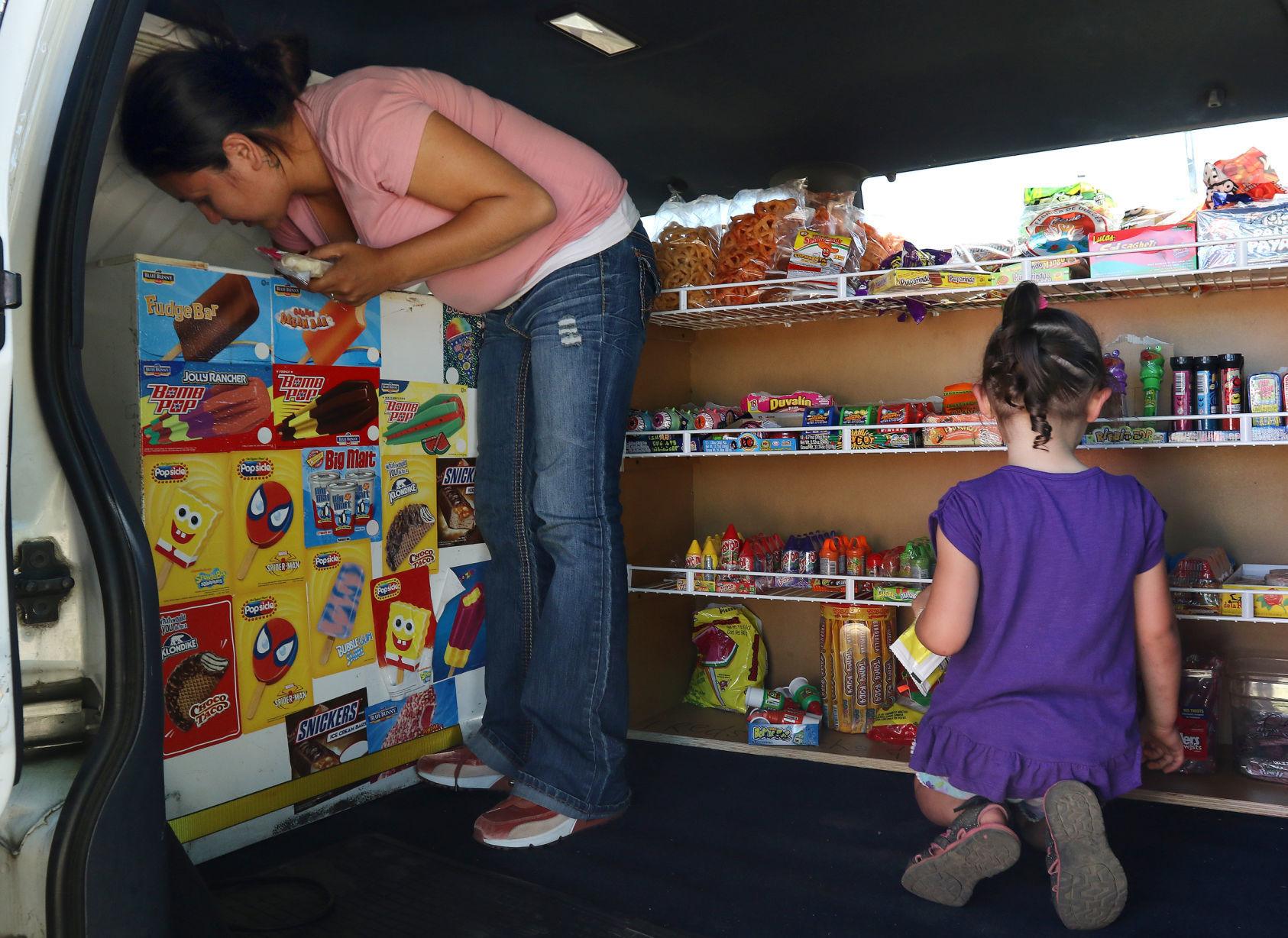 "We're ice cream fanatics," Powell said. "They're definitely filling a void."
"We feel like they're a part of our family," Frank said. "We sit here and wait for them like, every day."
Originally selling six different ice creams, the truck has since expanded to sell over 40 different ice cream products. The couple travels three hours to Portland to pick up a large part of their stock, such as their character themed ice creams and Bomb Pops. The rest come from Umpqua Dairy in Roseburg. Nick Holloway said they usually sell out of ice cream within three days.
Fred's accepts debit, credit and will soon start accepting food stamps. The truck also offers a discount to all veterans and military personnel. Otter Pops are given out for free because Carolina Holloway said they don't want any kids to feel left out.
The Holloways are looking to expand their route to cover Winston and want to buy a second truck. "Big Fred's Ice Cream and Snacks," will come equipped with a kitchen that will help the couple cover additional areas. They also plan to use the additional truck to sell cold weather treats, such as hot cocoa, danishes and donuts in the winter.
"This was just our first baby and we wanted to see how it would do," Carolina Holloway said. "And it blew up."