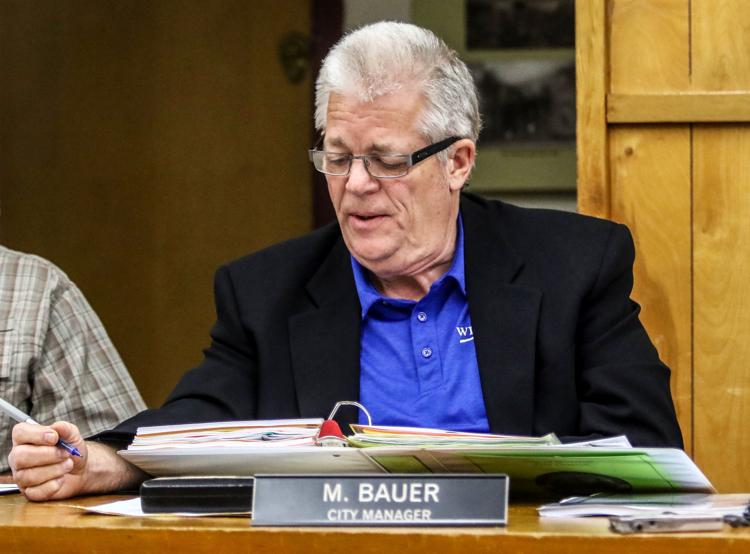 Winston residents are still divided on whether or not the city should allow marijuana dispensaries.
About 15 people showed up to a City Council workshop Monday to discuss whether or not the city should change regulations that have prevented dispensaries from opening in Winston since recreational marijuana was legalized statewide in 2015.
The city held the workshop to explore potential revenue sources that wouldn't be a tax on all citizens, according to City Manager Mark Bauer. In April, the city adopted a $3 monthly public safety fee to help pay for three new police vehicles. City officials said the police department desperately needed the vehicles, and the fee was the best way to make funds available.
"What other activities out there can we raise money from via taxes other than taxing our own citizens for it," Bauer said. "So the only one that could be is a commodity tax like marijuana."
After recreational marijuana was legalized, Winston didn't ban the product like many local governments around the state did. Instead, the city implemented more stringent restrictions than the state.
Oregon law requires marijuana shops to be in a commercial zone and at least 1,000 feet away from schools, day cares and other dispensaries. Winston requires them to be 500 feet from churches and 200 feet from residential and parks/public reserve zoned property.
Bauer said if the city's regulations were lifted, properties would become available for marijuana businesses, but the city hasn't determined exactly how many. He said each marijuana shop could generate between $20,000-$40,000 per year in tax revenue for the city.
City Councilor Dave Cunningham said someone has expressed interest in opening a dispensary in Winston.
About an equal number of supporters and opponents of changing the city's regulations addressed the City Council at the workshop. Supporters talked about the potential economic benefits to the city, while opponents said dispensaries would negatively impact citizens' health and they would hurt the city's family-friendly aesthetic.
Christie Glen-Knutson, a former Winston city councilor, said state laws adequately regulate dispensaries, and the city is missing out on revenue other towns in area are receiving.
"Winston is shorting themselves," Glen-Knutson said. "It's time to take prohibition off of marijuana. You don't see people outside smoking a joint. People who use this are usually on their own front porches or inside their own homes."
Nanci Staples asked city staff what impact marijuana being sold in Winston would have on policing costs and whether or not those costs would outweigh tax revenue.
"It's a gateway drug," Staples said. "It's going to lead to something else for some people. Yes, it will help some people. But I want to know what the cost of the policing is going to be because our police department costs right now are just out of sight."
Bauer said the city asked other police departments in the area whether they've seen an increase in crime since dispensaries opened.
"Basically what we've heard is they aren't seeing any problems with them," he said.
Renée Morgan said marijuana alone doesn't cause people's addiction to other drugs.
"Addiction is a disease, and you cannot just say that marijuana was the gateway," Morgan said. "My brother-in-law committed suicide last September. I can't blame marijuana because he had so many issues with drugs. It didn't just start with marijuana. He had trouble with anything he took. He was an addictive personality, and I hate that I miss him so much, but you can't blame marijuana for his issues."
Some people spoke against dispensaries from an emotional position.
"I don't have any facts, I don't have any information, I can just tell you how I feel," said Kathy Lawrence. "I don't feel good about our community having a dispensary."
Sandra Thorn said she wants the city to be business-friendly, and she hopes that regulations on businesses would be informed by data showing a need for them.
"To deny a particular type of business in this community, there should be rational, data-driven, specific reasons," Thorn said. "If it's simply based on fear, misunderstanding or a feeling that you don't like pot, to me that is not a rational reason to deny a legal business to operate within this community."
Redbarn Dispensary owner Todd Theiss said his dispensaries in Myrtle Creek and Roseburg have contributed a lot of money to those cities. He also offered to give city councilors a tour of his facilities.
"In 2018, we contributed $41,000 to the city of Myrtle Creek," Theiss said. "The same year, we contributed $230,000 to the state of Oregon. Now, a snippet of that came back into Douglas County for drug and alcohol counseling, it went to the school districts, etc."
He added he and four other donors contributed to the Myrtle Creek Police Department so it could buy a new police vehicle.
Theiss doesn't know whether Redbarn would be interested in opening a dispensary in Winston if the city lifted its restrictions, he said in an interview.
City councilors showed mixed opinions on the issue.
City Councilor Scott Rutter said he wouldn't address it because he has an "ethical dilemma" serving on the board of directors at Adapt, an addiction and mental health treatment organization.
City Councilor Dorie White said, as a retired registered nurse, she doesn't think marijuana is a gateway drug, and that she has seen it reduce patients' pain.
"If people in this community want to smoke marijuana, they can get it right now," City Councilor Allen Hobson said. "We're not going to induce anyone else to smoke marijuana. On the other hand, to introduce a marijuana dispensary just for a money resource, I don't think that's necessarily a good idea either."