Barry Steps was watching TV Friday afternoon in his home in Green when suddenly he heard his neighbors yelling in a panic, and he ran outside to find the grass field next to his home in flames.
Steps grabbed a hose and aimed it at his shed, but the wind changed directions and before he knew it the shed was on fire. Steps threw his two dogs in his car and parked it around the corner, then ran back, grabbed a hose and tried to save the mobile home in the 2700 block of Landers Avenue. His neighbors were there too with hoses and shovels — one even hopped in a tractor to try and dig out a fire line — but it was too late. In less than 10 minutes the home was gone along with everything Steps owned, including at least 15 guitars and other musical equipment. His roommate lost about $6,000 she had in the house.
"It all happened so incredibly fast, it was scary," Steps said.
They were not the only people to be affected by the fire, which swept through the Rolling Hills Road area of Green on Friday. Altogether two homes, four vehicles, several sheds and other outbuildings were destroyed, along with 20 acres of grassland burned. But it likely could've been worse were it not for the quick thinking and selfless actions of close neighbors and complete strangers.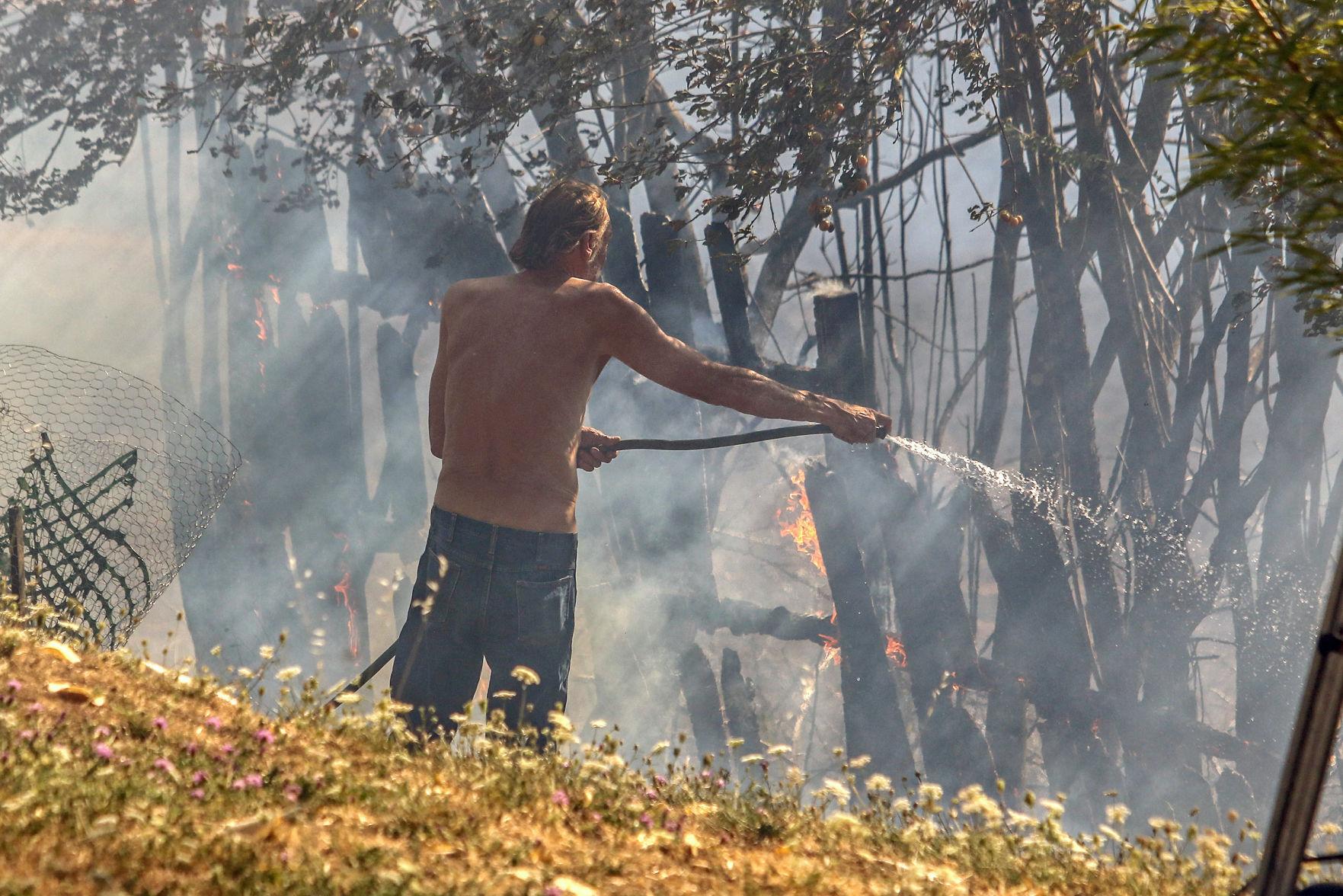 The fire was reported at about 4:30 p.m. and when firefighters arrived they encountered a blaze that was about 1 acre in size but threatening multiple homes in the area. More than a dozen agencies responded to the fire, which was doused shortly after 7 p.m.
Authorities said Saturday that the fire was accidentally started by a 13-year-old who was playing with a lighter.
As investigators were working to determine the cause of the fire, three teens were identified as having been in the area immediately prior to it starting, according to the Douglas County Sheriff's Office. The teens were contacted by detectives and interviewed about the incident.
The teen with the lighter allegedly pulled a clump of dead and dry grass from the ground and lit it. It became too hot and the teen dropped it to the ground, igniting the fire, according to police.
The teens attempted to put out the fire and stop it from spreading, but couldn't. At least one of them went to a nearby residence and alerted the homeowner, who called 911.
The 13-year-old who was playing with the lighter was arrested and charged with reckless burning. The investigation is ongoing and detectives are requesting homeowners in the area to review any security camera footage which may shed light on the incident.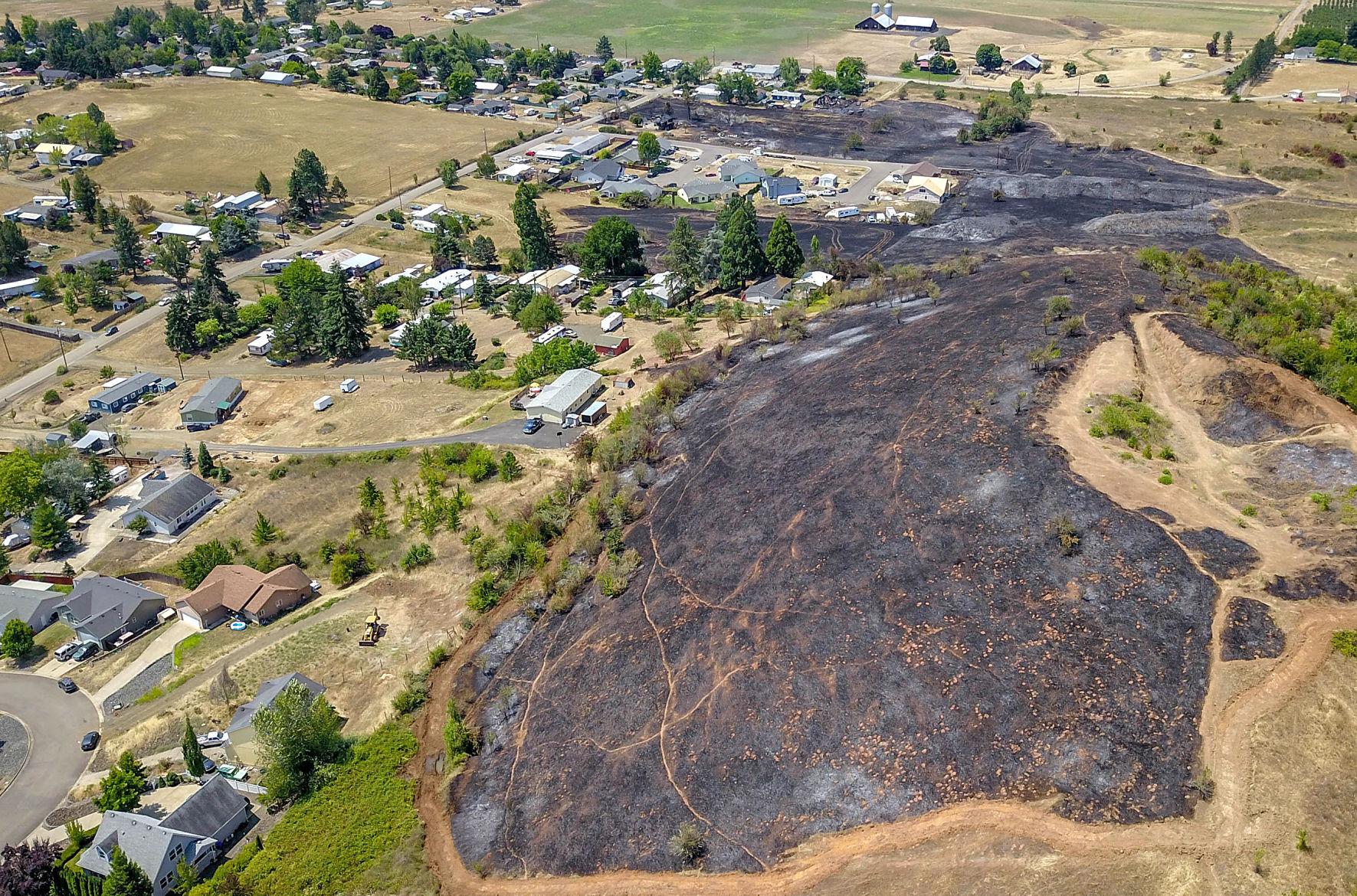 On Saturday, the carnage of the fire was evident. Several fields were burned completely black, as was a hillside nearby. A yellow, wood-frame house around the corner from Steps home, which also burned, had its roof caved in.
There was a steady stream of cars driving by and neighbors walking by to get a look at the destruction.
"Thank goodness no one was hurt," one woman said from inside her SUV.
Nearby, sprinklers were watering a brown lawn, trying to bring some color back to the parched grass.
The scene was a far cry from what transpired less than 24 hours before, when people were scrambling to save their homes and that of their neighbors, using anything they could, including garden hoses and tractors.
PITCHING IN
Lacey Lambert was kicking back Friday, enjoying a book in her family's Clellon Court home and looking forward to the celebration of her 17th birthday, which was less than a day away.
At around 4:30 p.m., someone started banging on the door. Home alone, she saw it was a neighbor, telling her she had to get out of the house immediately. There was a fire.
"I was just trying to grab and go, and I called my dad to let him know things were going down," Lambert said.
Her father, Jeremy Lambert, left his job at the Nordic Veneer plant just east of Roseburg. Lacey Lambert also called her mom, Robin Lambert, who came racing home from her job at the Douglas County Planning Department.
"My daughter was home alone with the dogs, and all I could think was I had to get home to save my baby," Robin Lambert said.
But Friday afternoon, help came pouring in from everywhere.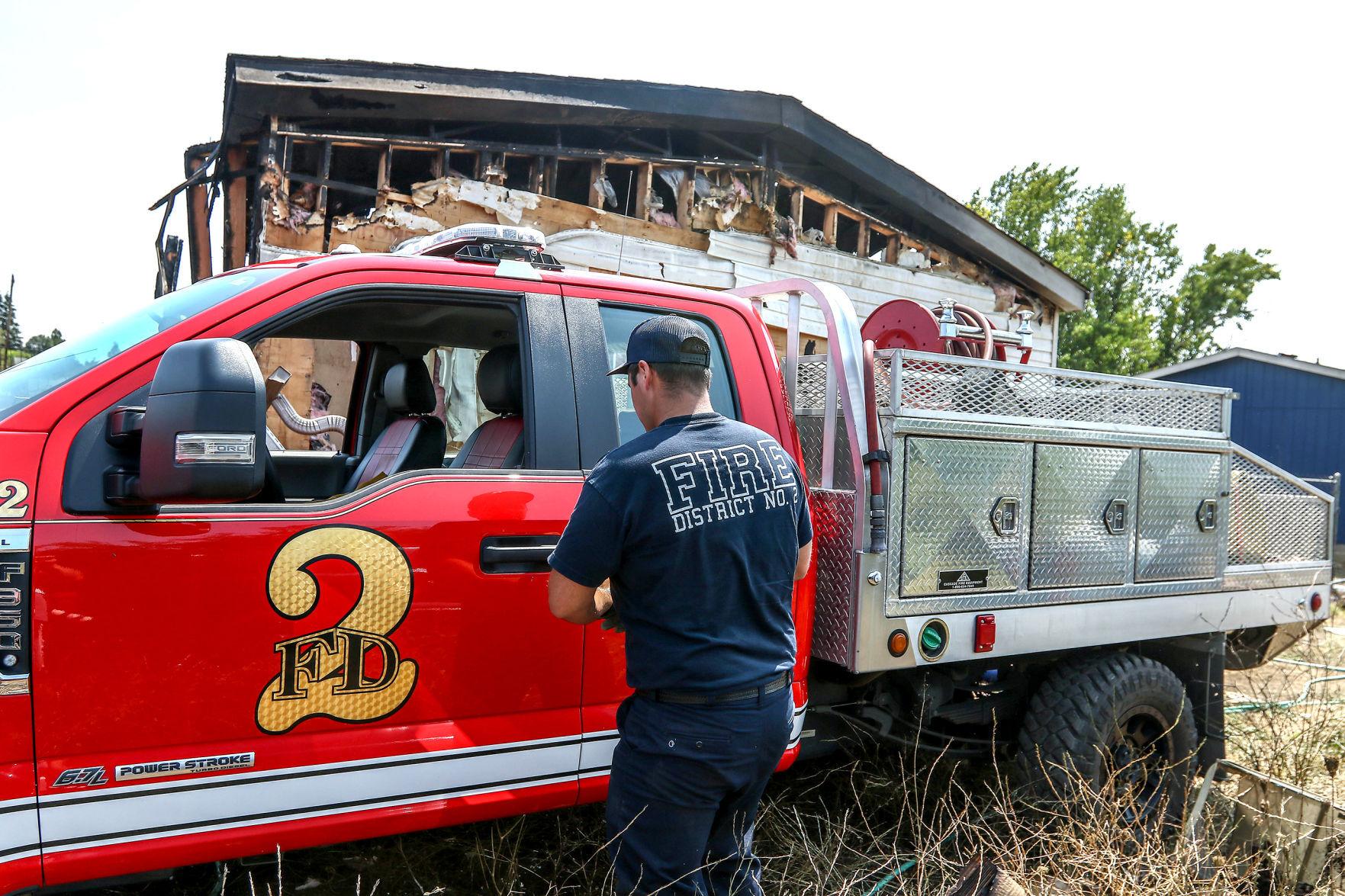 More than a dozen Douglas County fire agencies responded, as did the Oregon State Police, the Douglas County Sheriff's Office, the Winston Police Department and the Roseburg Police Department. While law enforcement representatives shut down access into the area, firefighters continued to flow in from all over southern Douglas County to offer whatever assistance they could, especially with the two structure fires.
A two-man engine team that had just been dismissed from the Jack Fire heard the radio traffic and stopped to see what they could do to help. By the time they arrived, the grass portion of the fire had been largely contained. The two men were owed a couple of days to rest and recover but were ready to jump in if needed.
So were many neighbors in the area of Landers Avenue, Rolling Hills Road, Fisk Lane and Melody Lane.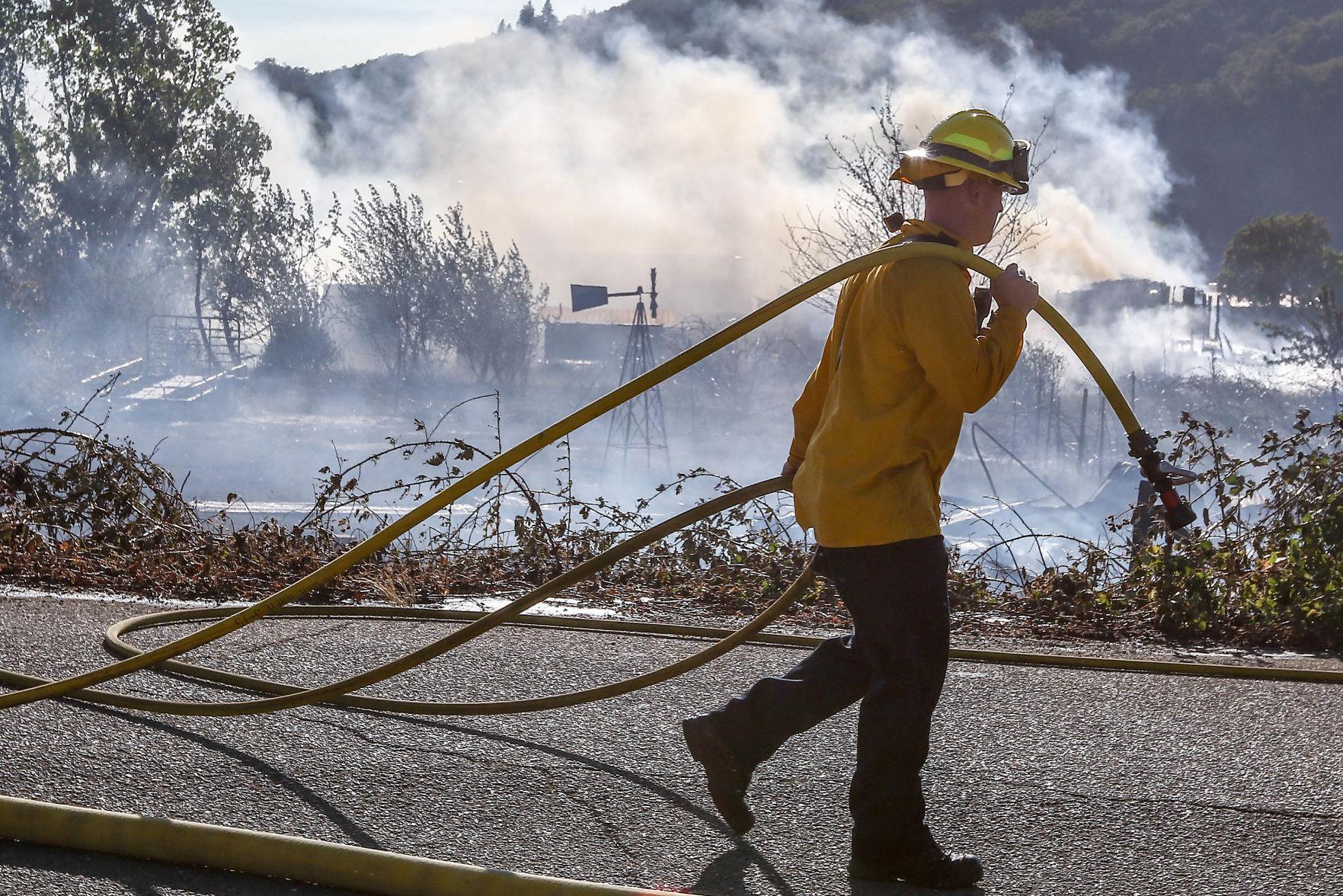 Denise Weathers was driving home on Interstate 5 when she noticed smoke off in the distance.
"That's near my home," she remembers thinking. Sure enough, the two homes that were burning were both close to hers.
Weathers and her husband Josh Weathers are both trained as wildland firefighters. Denise Weathers got her training while she was on probation about 11 years ago. The couple, along with their 18-year-old son Justin Weathers, jumped into action when they saw Steps' home on fire.
"We got busy with it. We knew exactly what to do," Denise Weathers said.
Denise Weathers grabbed a hose and Josh Weathers hopped into his CAT in an effort to save Steps' house. During the battle, Denise Weathers said she ran into her old wildfire crew boss from a decade ago.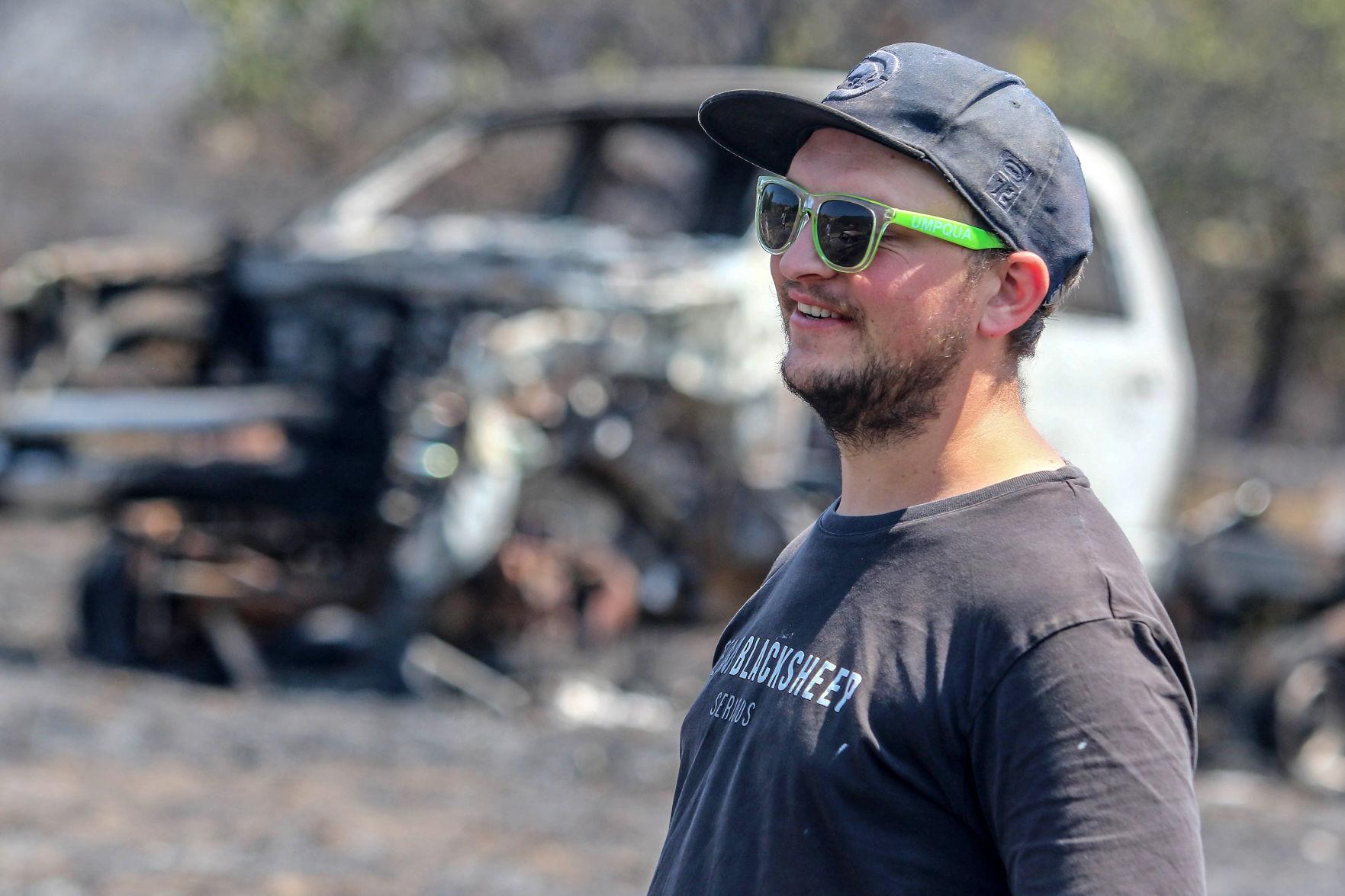 Meanwhile, other neighbors were also doing what they could to help. Nathan Felgentrager and Kortney Wells were among them.
Like Denise Weathers, Wells said she saw the smoke in the distance when she was driving on the interstate and had a bad feeling about it.
"I remember thinking, 'Oh my, it looks like it's coming by our house,'" she said. "I called Nathan and told him to get our dogs and my mother's ashes."
Their home was OK but Steps' home was clearly in danger. Felgentrager grabbed a hose and tried to battle the fire, but it was no match for the wind-fueled fire.
"It just took over. It was pretty quick. Quick and hot. It was pretty intense, to say the least," he said. "I didn't expect to come home and play firefighter. It could've been a lot worse for sure."
NOW WHAT?
Despite the losses, the common theme among the neighbors who tried to help and Steps, who lost his home, was how so many people stepped up immediately to help, without being asked.
Denise Weathers said she and others stayed despite police cars driving through the neighborhood telling people to leave. She has mixed feelings about that.
"It's very emotional because if we would've all left, our homes would all be gone," she said.
People simply wanted to help, not just to save their own homes, but those of neighbors, Weathers said. In a strange way, the fire brought the neighborhood together, she said.
"Now everybody knows everybody. It's sad it takes something like this for that to happen," Weathers said.
Steps, meanwhile, said he is still trying to make sense of it all and plot his next steps.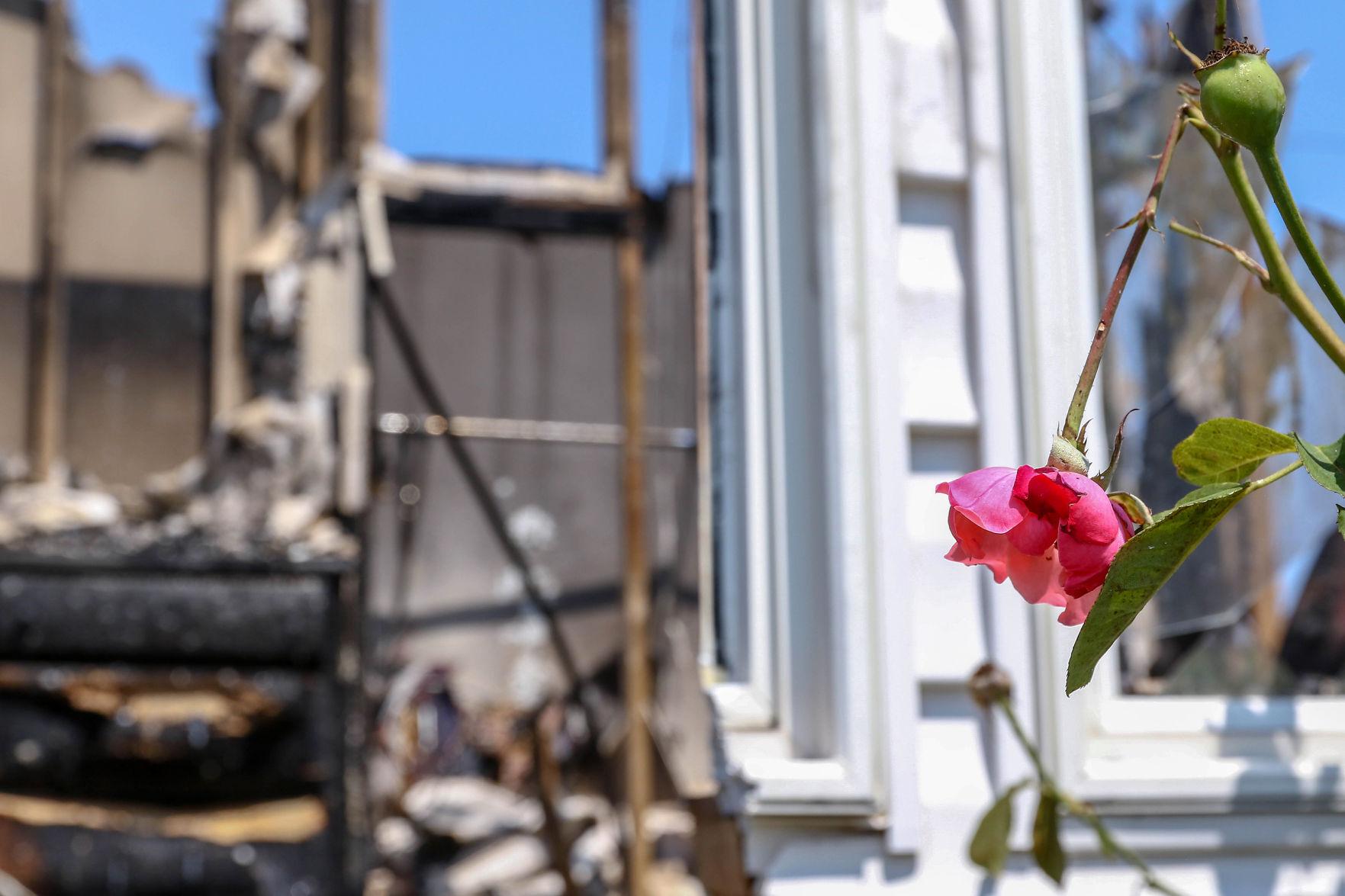 "The first thing I had to do was buy underwear and socks," he said. "I ran out with the clothes on my back."
He has gotten some help from the Red Cross and had booked a room in a local hotel for a week, one that allows his Husky and Chihuahua to stay with him.
Much of what Steps lost in the fire cannot be replaced, he said. Among the 15 or so guitars he lost was a 130-year-old Regal that he got from his grandfather more than 20 years ago. Steps said his cousin also wanted the guitar "really bad," so the two had a musical battle for it.
"We had a contest at the mall to see who could get the people moving the most, and I won," he said.
Steps also lost his go-to guitar, a 1980 Gibson that he bought when they first came out.
I wouldn't put a price on it, but if you did I would say it would be worth about $20,000," he said. "The biggest thing is I'm a musician and I lost all my guitars, my keyboard and all my gear. So I'm no longer a professional musician any more."
Despite the upheaval and loss, Steps said he remains hopeful insurance will at least help him replace the 1,500 square-foot home, which he had been living in for about five years.
And he remains touched by the outpouring of support he got from neighbors, both those trying to fight the fire and those who reached out after his home was destroyed. Several neighbors handed Steps cash to pay for a motel room, including one who stuffed money into his pocket.
So despite losing everything, Steps said he is grateful.
"I'd like to say that my neighbors are great. I suspect that everyone's neighbors are great, but they don't get a chance to prove it like mine did."