Douglas County public health officials say they have seen an increase in the number of parents who have declined to vaccinate their kids.
Douglas Public Health Network Director Bob Dannenhoffer says Oregon has a relatively easy method to decline vaccinations, and the unvaccinated rate had dropped in the county from about 7 percent to near 6 percent last year, but this year, it has gone back up to 7 percent. And that, he says, is a concern.
"One percent is not a huge drop, but the fact that we're not above the 95 percent vaccination rate in the schools is a worry," Dannennhoffer said. "It's a little disturbing because it's an increasing trend, and every time the rate drops a point it makes it a little more of a risk for a sustained outbreak."
Officials are concerned because some of the diseases, like pertussis and measles could continue to spread if the immunization rates drops much below 95 percent.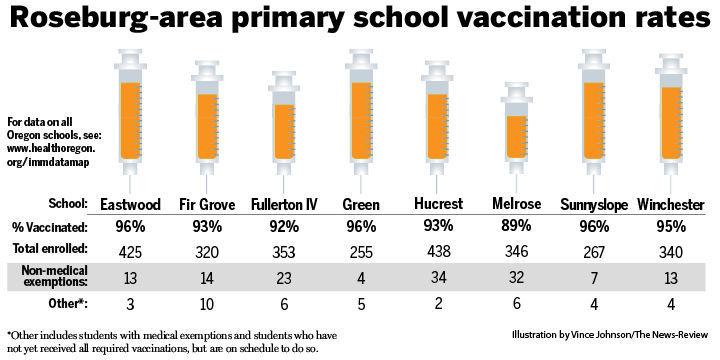 In the Roseburg School District, Eastwood, Winchester and Sunnyslope schools had the best immunization rates at 96 percent. Melrose Elementary School had the lowest rate for students with all of the required shots, with just 89 percent. Hucrest and Fullerton IV schools were both at 92 percent.
South Umpqua had the highest vaccination rate for county high schools with 98 percent and Sutherlin and Oakland High Schools were right behind with 97 percent. Glendale High School had the lowest rate out of county high schools with 89 percent.
"The number of kids that can't get a vaccination because of medical reasons, has continued to drop and is now very, very low ... less that one-in-a-thousand," Dannenhoffer said. "All of the vaccinations that kids haven't gotten have been from parental choice."
Those students that declined the vaccinations, he said, are allowed to attend school, but if there is an outbreak of a disease, those that are under-vaccinated will be excluded from school until the threat is no longer there.
"Recently there was an outbreak of whooping cough (pertussis) in north county, and there were 14 kids who were under-vaccinated who were potentially exposed, and those kids were all not vaccinated by parental choice, so they could not re-enter school until they got vaccinated or until the disease was out of the school," Dannenhoffer said.
Shots are required by law for children in attendance at public and private schools, preschools, child care facilities, and Head Start programs in Oregon, according to the Oregon Health Authority website. Nearly every place that provides care for a child outside the home requires shots or a medical or non-medical exemption to stay enrolled.