On the first day of school, Jo Lane Middle School seventh grade language arts teacher George Graham hands out a test to his students that's all about getting to know Mr. Graham.
The "Mr. Graham" test asks kids to guess the height, age and weight of their teacher.
"It is so much fun, because they have no idea," Graham said, adding that the students have guessed the 6-foot-4 teacher is just 150 pounds.
He also asks them to guess how long he served in the military and what branch?
It's a way for Graham to start the conversation about the nine years he served in the U.S. Army, and to inspire the students to talk to their parents or grandparents about their military careers.
Fremont Middle School teacher Tim Sensabaugh has a poster in his classroom to start the conversation about his time in the U.S. Air Force, and Roseburg High School teacher Kevin Wicks proudly displays the pictures of former students who have gone on to serve.
Wicks enlisted in the U.S. Air Force right after graduating from Douglas High School in 1994, because he wanted to get out of Douglas County but didn't feel ready for college yet.
"I can't tell you how many times kids come up to me and talk to me about 'I think I'm going in the service, what can you tell me?'" Wicks said. "As a teacher, they see me as someone who served in the military, but you don't have to make it a life. You can go to school after you get out."
Kathy Harris, an administrative assistant at Roseburg High School, has also served as a sounding board for students thinking about joining the military. Although students are often surprised to find out she was in the U.S. Navy.
"They think of me as Kathy the office lady," Harris said. "And then it's, 'You did what?' and it's kind of fun."
Hucrest Elementary School teachers Colin Hurowitz and Irene Noyes talk less with their students about their former jobs in the military because the students are younger. However, the lessons they learned continue to shape them as educators.
"I don't ever want these kids to guess whether I care about them or not," Hurowitz, a former U.S. Marine, said. "I know our drill instructors care about us. They let us know. It was kind of in a strange military way, but they were trying to prepare us for combat, for war. They cared about us to the extent that they made sure every single person learned everything that was important.
"In here, if a kid's having a bad day, I might discipline him. I'm not going to let him get away with it, but I indirectly show him that I care, by not letting him get by," Hurowitz said. "Every single kid gets my attention. And in the military, we don't let anyone slip under the radar. Everyone's under watch all the time."
Noyes, who now teaches third grade, joined the U.S. Air Force as a reservist and stayed on for 22 years. During her time she was deployed to Turkey and Africa. She continues to use photos she took of her time there in her lesson plans.
"They respond with so much more understanding when they can hear, and kind of imagine smelling or seeing things," she said. "I have those experiences I can share with them."
Although all six of these teachers served their country, their stories are vastly different.
"It's important for people to know and understand that our veterans do have a place in society," Noyes said. "We hear a lot about veterans who have trauma and veterans who are struggling. And there's a way through for them."
Here are the stories of six military veterans who now teach in Roseburg Public Schools.
After earning a business degree and competing in track and field at the University of Alabama, Graham felt that God was leading him in a path that didn't include taking over his father's business.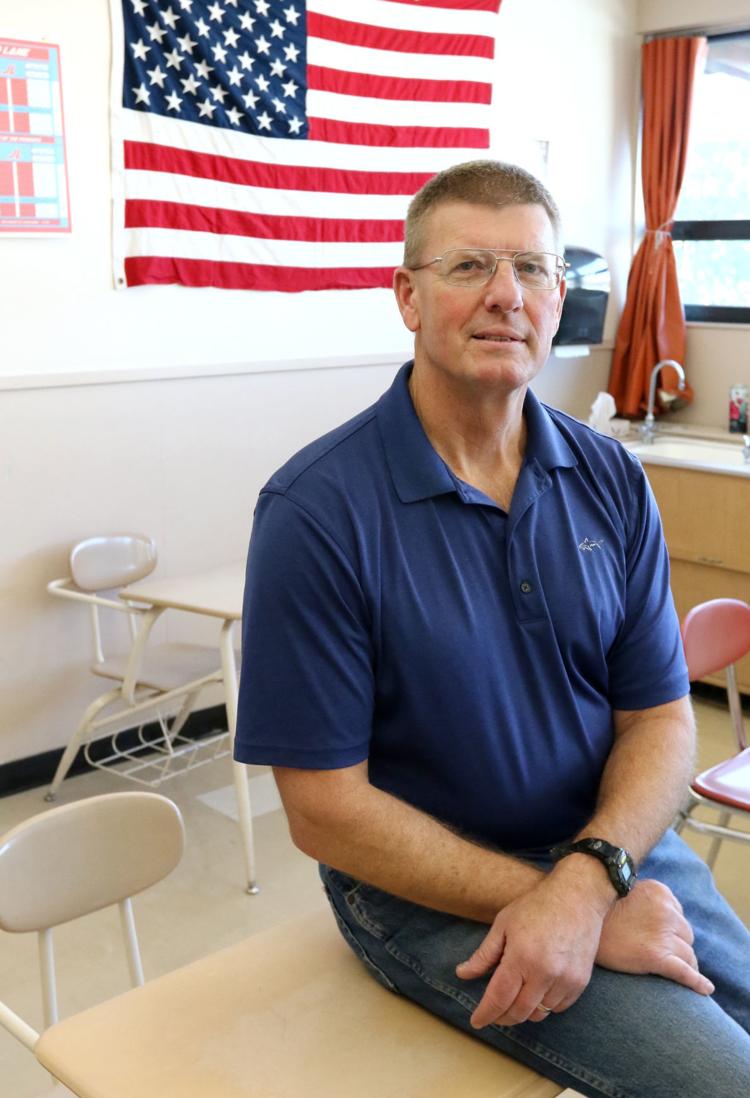 He enlisted in the U.S. Army in 1983 and joined the Alabama Reserves three years later and the Oregon National Guard three years after that. After nine years he left the service as a second lieutenant, having worked his way up through the enlisted ranks.
"When I was a platoon leader, my platoon was made up of all enlisted," Graham said. "When they know that I was enlisted, when they know I was one of them, they appreciated it."
But in those nine years things had changed for Graham. He met his wife while stationed in Italy — she was a Roseburg native on vacation — had children, became more involved with the church and he felt it might be time for a change.
"At the time I was married, had two kids, I was teaching school, I was the children's director at my church. I was doing nothing well," he said. So he looked for guidance from his family and spiritual advisers.
Graham had always wanted to coach sports, but realized he'd probably have to be an educator to do that. He now coaches volleyball and basketball at Jo Lane Middle School where he teaches seventh grade language arts.
He and his wife, LeAnn Graham, have four children, two of whom served in the military.
"It's made us proud to have two of my boys in the service," George Graham said.
He hopes to enjoy the Veterans Day parade with his oldest son and grandson by his side.
"The office lady" at Roseburg High School has quite a few stories to tell. She's met Tom Cruise, was taken prisoner in a friendly war game, and was sometimes loaned out to the San Diego Police Department simply because she was a woman.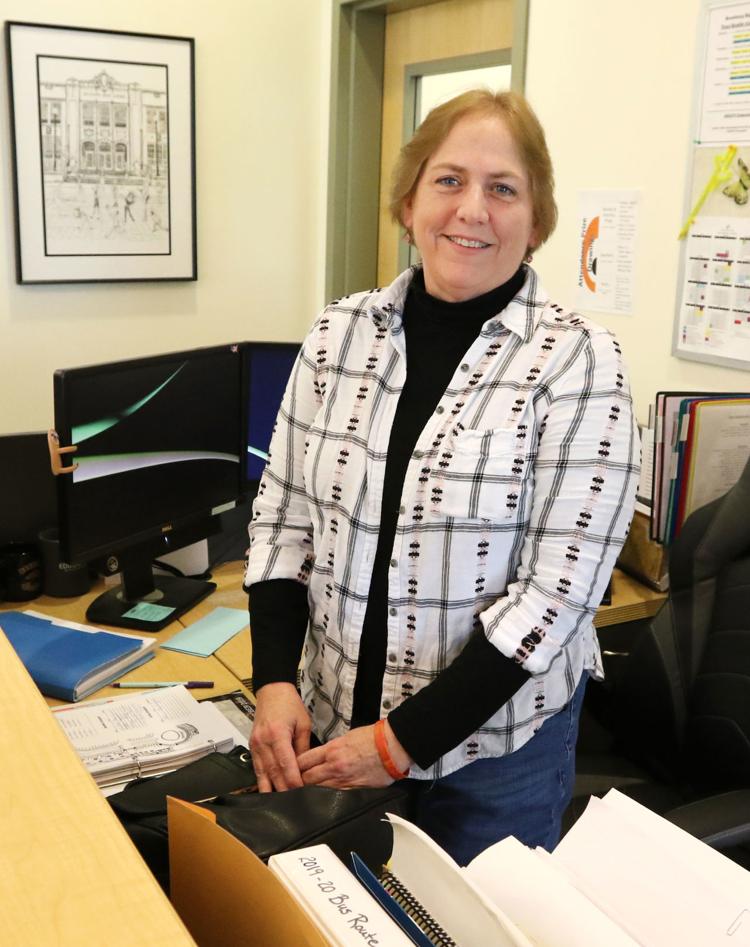 Harris was a U.S. Navy petty officer third class, an air traffic controller, shore patrol officer and Navy campus assistant from 1982 until 1987 at Naval Air Station Miramar in San Diego, California, which is now a Marine base.
While she was there, the movie "Top Gun" was filmed on the base.
She was also one of only a few women who served in the military at the time.
"My recruiter told me I had to cut my hair, which wasn't actually true," Harris said. "But that was the big joke. Every time my company commander would look up, he'd say, 'Get a haircut.'"
As a woman, she was asked to help the San Diego Police Department on cases.
"If they were going to be doing searches and stuff, they'd loan me out so they could have a female if they needed one," Harris said.
Harris enlisted in the Navy after high school, because she didn't want to go to college.
"It was definitely different," she said. "I'd been raised pretty much my whole life in Roseburg. It was quite a culture shock. My boot camp was in Orlando, Florida, with people from all over the country. It was really diverse and that was my first experience with that and I really enjoyed it. It opened my eyes a little bit."
It wasn't until her children were in elementary school that she decided to become a teacher.
She studied to become an elementary school teacher but instead was hired as an English teacher at Phoenix Charter School. She worked there for eight years before applying for the job as the administrative assistant at Roseburg High School.
Hurowitz went from playing in punk rock bands in the late 1990s to joining the U.S. Marines to now teaching music to students at Hucrest Elementary School.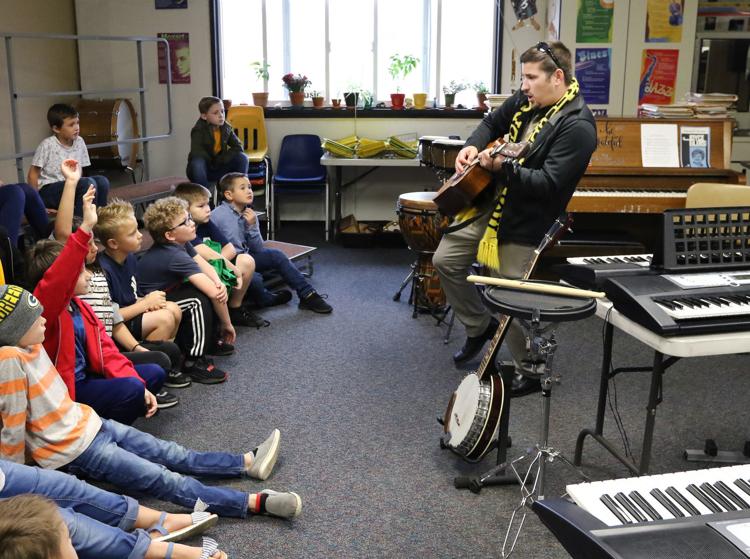 He grew up in Sutherlin, but attended Roseburg High School his junior and senior year to learn German and be a part of the marching band, concert band, jazz band and percussion ensemble.
"Marching in the Roseburg marching band kind of ignited my interest in the military," Hurowitz said. "I wanted to be a professional drummer and a lot of professional musicians enter the military. Elvis Presley was in the Army, Johnny Cash was in the Air Force. I learned all these things in high school, so I thought I'd join the hardest branch so I could become a great musician because they would teach me and train me to be an even better musician than I was."
He joined the Marines in 2006 and was a member of the 3rd Marine Aircraft Wing Band until the end of his service in 2010. As a member of the band, he walked in the Rose Bowl Parade three consecutive years and performed at several big venues across the United States.
After he'd served his time in the military, he earned two bachelor's degrees: one in music education, another in percussion from the University of Oregon. He then went on to earn his master's in music education from the University of Oregon as well.
Teaching music became his passion and his military background has helped him be short, sharp and fast with his instructions.
Hurowitz got a job as the music teacher at Reedsport Community Charter School after earning his degree, but left the coastal town in 2018. He now teaches at Hucrest, but also runs the after school program, is a member of several bands and works freelance as a conductor.
Noyes joined the U.S. Air Force as a reservist and stayed on for 22 years, working as an aircraft mechanic and in combat search and rescue.
"I didn't actually go in and save the day for people, I just sent others so they could save the day for people," she said. "I had a behind-the-scenes job and that was OK for me. Because taking care of people who do the hard stuff, that's important, that's the key.
"I think we do that with kids," she said. "They do the hard stuff, they do the learning. Our job is to make sure we present it to them in a way that they can do that effectively. It's not easy to learn multiplication, trust me."
Noyes, who started teaching in 2010, sometimes uses her experience in the military to inspire her students through her photographs and stories of different places in the world.
After graduating from Sutherlin High School, Sensabaugh went to Oregon State University on a Reserve Officers' Training Corps scholarship, which meant his school would be paid for and he would serve four years in the military after his graduation.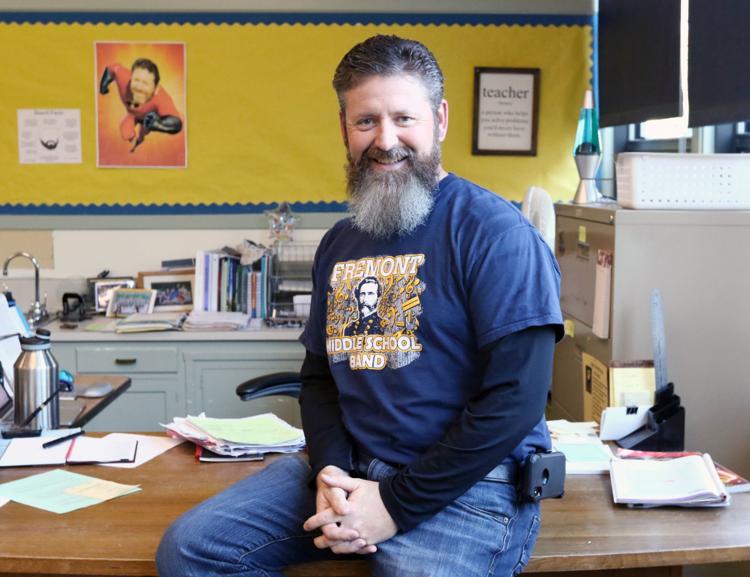 Sensabaugh started with Navy ROTC but, after two years, switched to Air Force ROTC.
He graduated with a bachelor's degree in music in 1997 and spent the next four years as an Air Force captain in Alaska in charge of logistics.
Once he was done serving the four years, he made the decision to join the ministry in Alaska.
"I had been thinking about ministry since my first or second year in college," Sensabaugh said, adding it wasn't an easy choice to make.
He served in the church for seven years before his family made the decision to move back to Douglas County.
When he got back here he opened Liberty Tax Services businesses, and later managed InPrint and Photo Frogg before pursuing a career in education.
"You take stock of how you're moving in life and my greatest success and joy came in team building," Sensabaugh said.
He had been a football, basketball and baseball coach for his children's teams, which is how he met Fremont Middle School Principal Ben Bentea. Bentea was an assistant coach for the football team and asked Sensabaugh to consider applying for an open position at the school.
Sensabaugh got an emergency teaching license and worked toward his master's, which he obtained last December.
"We become different people, different citizens of the world, when we see different aspects of the world," he said. "You think about the world and not just your backyard."
With a cousin as a recruiter for the U.S. Air Force and a strong desire to leave Douglas County, Wicks' faith was sealed.
"I'm grateful that I chose that path," Wicks said. "I know that if I would've gone to college right out of high school I would've failed and I would've never tried again."
Because of his eagerness to leave, he took the first job that became available — munitions. And although the job itself wasn't of much interest to Wicks, he did make lifelong friendships along the way.
He stays in touch and sometimes forwards questions from students about current military procedures and positions to his friends who continue to serve, to better answer his students.
Wicks served for two years and joined the inactive reserves when the Air Force downsized in 1996.
He's always wanted to be an educator, but life threw some curveballs and delayed his plans. Wicks worked at a mill and later drove truck for UPS for 15 years.
Wicks has taught world history at Roseburg High School since 2014 and is now also teaching native American history.
"My father passed away when I was a freshman in high school and I have great family support, but there were some teachers that really stepped up and took care of me," Wicks said. "I'd like to be able to pay them back by helping some other kids out."
And while he was eager to leave the Roseburg area, he's also happy he returned.
"I tell all my students this, 'I don't know if you're going to military or college, but you need to get out and experience. If you come back here, great. But you need to experience the world,'" Wicks said. "I tell my own girls that too."
Wicks is a father of three daughters, and although none of them have shown any interest in joining the military, he said he'd support them if they do.