The Myrtle Creek man accused of murdering a Tri-City man in 2013 will serve 20 years after pleading guilty to a reduced charge of first-degree manslaughter last Monday.
William Christopher Aguayo, 26, pled guilty during a settlement conference presided over by retired Oregon Supreme Court Justice David Brewer, according to Aguayo's defense attorney Don Scales.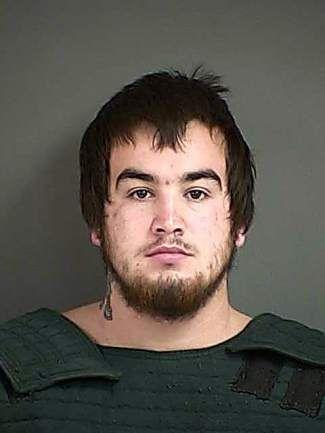 The original murder charge was reduced to manslaughter on Feb. 26.
Scales said Aguayo, who was 21 years old at the time of his arrest, will receive credit for time he has already served.
Aguayo was one of several men who were involved in an incident that ultimately led to the death of 57-year-old William Bruton in his Tri-City home.
One of the participants — Buford Thomas Harper — pleaded guilty to murder a year after the crime.
According to court documents, Aguayo, Buford and Jarrad Ramsey went to Bruton's home in October 2013 to rob him of medical marijuana.
Buford told police he repeatedly struck Bruton in the head while trying to restrain him during the robbery.
Aguayo told police he was in and out of the room while Buford was beating Bruton.
In 2016, Douglas County Circuit Court Judge Randy Garrison declared a mistrial after jurors were unable to arrive at a unanimous verdict for felony murder against Aguayo. However, Aguayo was found guilty of first-degree burglary and second-degree robbery.
During Aguayo's second trial in August 2017, another mistrial was declared after jurors came in contact with Aguayo's family members.
What would've been Aguayo's third trial was scheduled Tuesday, but the case was instead settled by his guilty plea last week.
"It was an appropriate resolution given the circumstances of the case," Scales said, "He was not the person who actually caused the death of Mr. Bruton."
Scales said Aguayo was charged under a felony murder theory in which "everybody is on the hook so to speak."
The defense attorney said Aguayo has made the most of his nearly five years in jail and is very remorseful of what happened.
"I've handled over 40 murders in my career," Scales said, "Mr. Aguayo has really taken advantage of his time to reflect on his behavior."
Aguayo, who has remained in the Douglas County Jail since his arrest, will be moved to a state corrections facility.
"I hope people know that he's not just some piece of crap," Scales said, "There's hope for him when he gets out."
Aguayo will be 41 years old when he gets out of prison.