Devin Lee McNamara has entered a no contest plea on a charge of second-degree murder in relation to the Feb. 23, 2021, fatal shooting at the Budget 16 Motel in Roseburg.
McNamara, 34, entered the plea in Douglas County Circuit Court on Tuesday. Through an agreement with the district attorney's office, McNamara will serve 25 years to life on the murder charge. He also pled no contest to two counts of first-degree assault with a firearm.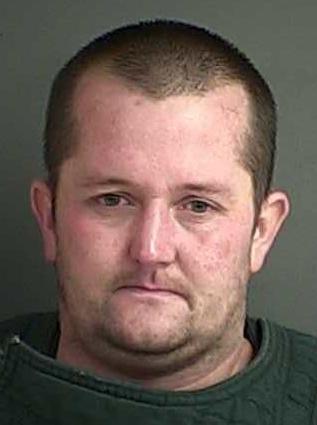 The Roseburg man was accused of opening fire on a group of people standing outside one of the rooms at the Budget 16, killing one and injuring two others.
Michael Benson, 36, was killed in the shooting, while Spring Mack, 41, and Jessica Ashley, 45, were both seriously injured, with Ashley transported to a Portland hospital with life-threatening injuries. Another individual was uninjured in the shooting.
McNamara was also sentenced to two separate 90-month sentences, to be served concurrently to the life sentence, for the shootings of Mack and Ashley.
McNamara reportedly first opened fire on the three victims with a handgun, then fled to a nearby home across from the motel and returned with a pair of rifles. McNamara admitted to an investigating officer that he had walked to the motel "in a rage" and fired the pistol into a group of people gathered outside one of the rooms.
McNamara, who told investigators he did not know the victims, allegedly fired the shots from between 5 and 6 feet away, according to a court document. After running out of bullets, he left and returned with two rifles.
McNamara reportedly attempted to get into two separate vehicles at OK's Auto Supply, located directly across Northeast Stephens from the Budget 16, including the truck of an off-duty Roseburg police officer.
When McNamara exited the second vehicle, he no longer had the rifles, according to a release from the Roseburg Police Department. That was when he grabbed a fuel nozzle and began dispensing fuel. Tony MacDonald, an employee at the fuel station, quickly flipped the emergency fuel shutoff switch to prevent any further threat to public safety.
Ultimately, Roseburg Police Sgt. Doug Walton was able to catch McNamara off guard and take him to the ground, holding him until patrol officers arrived and took him into custody.
Roseburg Police Department Sgt. Doug Walton was presented the Medal of Honor for his work in…
As a result of the plea agreement, two counts of first-degree attempted murder were dismissed.