Tyrone Powell, who authorities have been looking for since he missed a Nov. 15 court appearance, has been arrested.
Powell, 41, is charged with five felonies, including aggravated theft, identity theft and perjury, in connection with the purported theft of land from an Elkton woman. He also faces one misdemeanor charge of initiating a false report.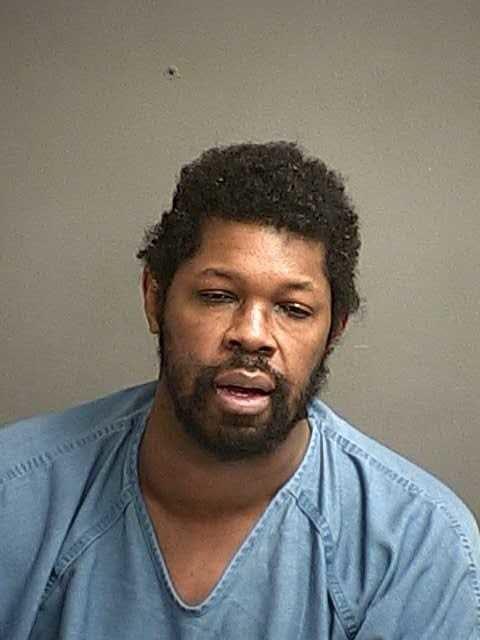 He was lodged in the Douglas County Jail on Wednesday on $500,000 bail. Powell's trial had been scheduled to begin on Dec. 7. When he missed his court appearance Douglas County Circuit Court Judge William Marshall issued a warrant for his arrest.
Authorities say Powell stole 30 acres of land in Elkton from Janet Grosz, 67.
Grosz said when she met Powell in 2019, he went by the name John Paul Hope. He told her about his plans to create a place where disabled veterans could live in dignity. Grosz agreed to give him 3 acres of her 55-acre ranch in Elkton for his plan to build housing for those veterans.
But authorities now say that nothing Powell said was truthful. The veterans housing project he proposed was fiction and instead of using 3 acres of Grosz's ranch he forged documents and took possession of 30 acres, authorities said.
Powell was arrested on Feb. 26, and bail was initially set at $300,000. He was released from the Douglas County Jail on March 31 without having to post any bail, despite the fact that authorities said Powell is a longtime con artist who repeatedly created fake identities.
Powell told jail authorities he was ill, and signed a one-page conditional release agreement in which he agreed to "seek immediate medical treatment." Powell also agreed to appear in court when directed.
Powell has reportedly been homeless since then. At least two letters sent to Powell's last known address, in conjunction with a civil complaint filed against him, were returned as undeliverable.
Janet Grosz simply wanted to help. So when a man named John Paul Hope told her about his pla…
Authorities said Powell has been swindling individuals and corporations for years, often through phony nonprofit organizations he claimed to run. He operated at least a half-dozen fraudulent nonprofit organizations under such names as "The Missing Piece Foundation," "True Story World," and "Love," authorities said. Those fake nonprofits accepted donations from individuals and corporations, but Powell either kept, discarded or sold them, police said.
Powell was initially scheduled to stand trial in July, but his attorney said she needed more time to prepare for the case, including time to bring to the trial a key witness who lives in Alaska. Marshall agreed with the request for a continuance and set a new trial date for Dec. 7.
The Nov. 15 hearing Powell missed was supposed to be the last one before the trial. It is unclear when Powell will go to trial now that he is back in custody.