A former employee at CHI Mercy Medical Center said she's concerned that a convicted sex offender was an employee at the hospital.
Caleb Richard Jeske, 24, of Days Creek, was initially charged in 2017 for using the internet to solicit a child to engage in sexual contact.
The employee, who wished to remain anonymous because of pending litigation, said part of Jeske's job is to draw blood from children and infants.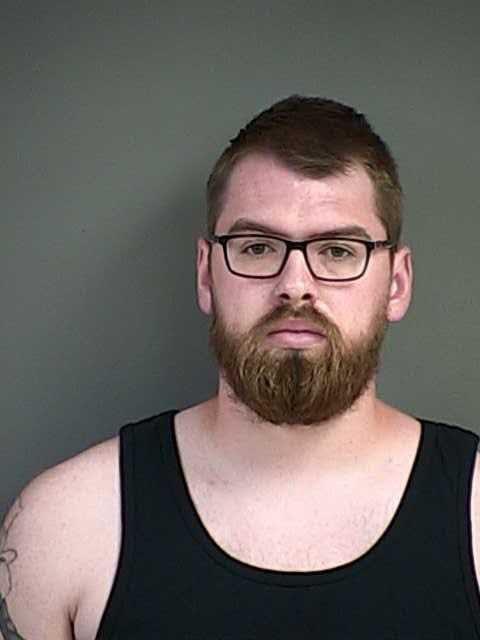 She recalled feeling sick after she found out about Jeske's charges because she left her children alone with him at a company Christmas party.
"I left my children alone with him while he was drunk," she said. "This was before I knew about any of these charges and I felt awful — like, throw-up awful once I found out about this."
Kathleen Nickel, a spokeswoman for the hospital, said the hospital conducts background checks on employees before they are hired and also conducts post-hire background checks based on regulatory requirements. Jeske was given — and passed — a background check prior to his employment. 
When asked what kind of employment procedures the hospital follows when it comes to hiring sex offenders, she said, "Any staff member convicted of a crime during their employment is subject to our employment policies and practices. There are also federal regulations that we follow," in an email to The News-Review on Tuesday.
Nickel didn't respond to an email asking whether the hospital has any policies in place that prohibit someone convicted of a child sex crime from having contact with children at the hospital. As of Tuesday morning, Jeske was still employed at Mercy, according to the human resources department.
On Wednesday, Nickel said, "Per legal counsel," she could not "discuss or address" Jeske's employment status. However, on Thursday morning, Nickel said when the human resources department was "made aware of this situation," it did a follow-up background check and fired him on Tuesday.
In August, Jeske was sentenced to 15 days in jail for violating his probation by searching online profiles where people meet others online.
According to court documents, he "accessed forum pages on Craigslist where people are known to commonly look for casual sexual partners."
Jeske denied meeting people online for sexual purposes, according to court documents.
In August, Jeske was suspended from a court-ordered sex offender treatment program. Court documents indicated that he had been suspended because he had not been "forthcoming with his violations."
"It is clear that he is not applying treatment concepts in to (sic) his daily life," court documents stated. "Given his offense history and his current behaviors he demonstrates an increase in community risk, therefore, due to lack of progress and violating behaviors he is not appropriate at this time for Sex Offender treatment."
During a polygraph test, Jeske admitted to viewing sexually-themed documentaries and exchanging with coworkers pictures of each other's genitalia.
During the polygraph test Jeske was asked whether he attempted to meet anyone on the internet for sexual purposes since treatment had started.
Jeske answered "no," but the polygraph determined Jeske was being deceptive, according to court documents.
"Mr. Jeske's portrayal of simply going to these sites but not engaging in his past behaviors is not reflected in his polygraph results," court documents stated.
Jeske initially pleaded not guilty to first-degree online sexual corruption of a child and two counts of third-degree sex abuse in September 2017.
Three months later, he pleaded no contest to the online sex charge. The two counts of sex abuse were dismissed.
Jeske was sentenced to three years of probation and had to register as a sex offender.
Jeske, through a family member, declined to comment.
Meredith Holley, an employment lawyer in Eugene, said the hospital could be setting itself up for liability by retaining Jeske as an employee.
She described a classic negligence case as one where an employer running a daycare knowingly hired someone that had harmed children in the past. If that employee were to hurt someone at the daycare, the employer could be liable, she said.
"The way negligence works is we kind of look at whether an injury occurred and whether the people in a decision making power knew they were creating a danger and allowing a danger to exist," Holley said.
But, she said there are two sides to the story because there are laws to protect offenders who are reintegrating into the system.
This story was originally published at 11:32 a.m. on Nov. 7, 2018.