When Edward Russell stepped outside of his room at Budget 16 Motel on Monday, he was not expecting to witness a man with a gun open fire on at least three people.
The gunfire left one person dead and two others injured, including one who was transported to PeaceHealth Sacred Heart Medical Center at RiverBend in Springfield, according to a CHI Mercy Medical Center official.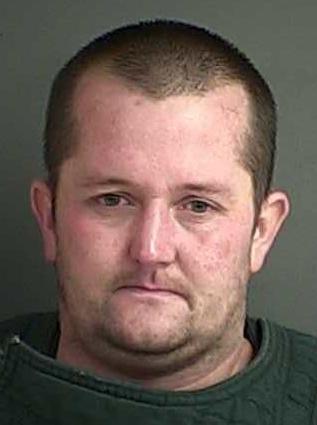 According to court documents released Tuesday morning, a man named Michael Benson, 36, was fatally shot, while Spring Mack, 40, and Jessica Ashley, 44 were both seriously injured in the shooting.
A report from Roseburg police released late Tuesday morning stated that after both women were transported to Mercy, where Mack was in fair condition as of noon Tuesday, according to a spokesperson from the hospital.
Ashley was later transferred to Oregon Health Sciences University in Portland with life-threatening injuries. Her condition was not available as of Tuesday.
Devin Lee McNamara, 33, was booked Monday into Douglas County Jail on one count of second-degree murder and two counts of first-degree assault. McNamara, of Roseburg, was being held on $750,000 bail for the three felony charges.
McNamara was scheduled to be arraigned at 1:15 p.m. Tuesday.
Police responded to the shooting just before 3 p.m. in the motel's parking lot. Roseburg Police Department Sgt. Jeff Eichenbusch said McNamara was taken into custody and taken to CHI Mercy Medical Center for treatment of minor injuries.
McNamara reportedly first opened fire on the three victims with a handgun, then fled to a nearby home across from the motel and returned with a pair of rifles. McNamara admitted to an investigating officer that he had walked to the motel "in a rage" and fired the pistol into a group of people gathered outside one of the rooms.
McNamara, who said he did not know the victims, allegedly fired the shots from between 5 and 6 feet away, according to a court document. After running out of bullets, he left and returned with the rifles. McNamara was tackled by an off-duty Roseburg police officer in the parking lot of OK's Auto Supply, where he was held until two on-duty Roseburg officers took him into custody.
The Douglas County Major Crimes Team was activated and is investigating the shooting.
Edward Russell lives at the Budget 16 Motel and had stepped outside his room when he saw the alleged shooter approach a room at the motel.
Russell said he heard the shooter yell "where's the dope," before opening fire on three people with a handgun.
"I was dialing 911 and running to my friend and she was screaming, 'I've been shot! I've been shot!" Russell said.
Russell added that he had known one of the victims for more than 20 years, including a period of time where they lived together in Montana.
Russell said the shooter moved to the opposite side of Northeast Stephens Street, where he could be seen brandishing a rifle. As soon as the suspected shooter placed the rifle in the back of a truck, two other individuals quickly subdued him until police arrived.
"We were yelling that he was shooting people, and he started walking toward two people trying to talk to them," Russell said. "One of them just socked him in the face. They got him in a headlock and started kicking the shit out of him before the cops showed up."
Police blocked off Northeast Stephens Street for more than an hour. Several people parked in a nearby vacant lot to watch the investigation unfold.
Crime scene tape surrounded a nearby house in the 600 block of Northeast Neuner Street. Police officers on the scene confirmed it was connected with the shooting.
Sanne Godfrey contributed to this report.