A Roseburg woman took a joyride in a stolen ambulance Sunday before ramming a police car and ending the day in police custody.
Christy Lynn Woods, 37, allegedly stole a Bay Cities ambulance while paramedics were giving CPR to a Roseburg woman in the 700 block of Southeast Jackson Street, Roseburg.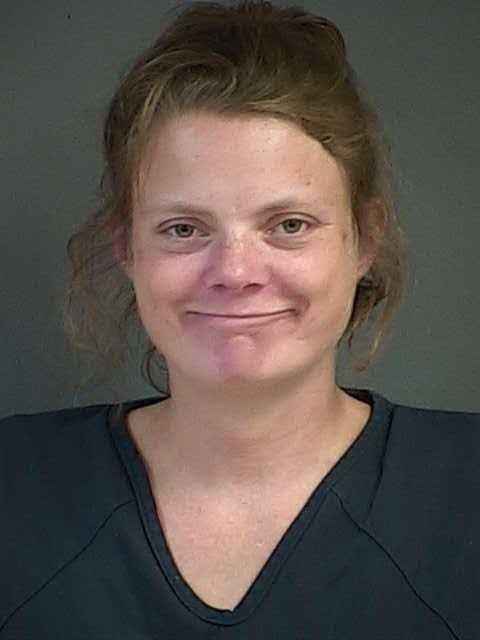 Woods stole the emergency vehicle around 3:30 p.m., and led officers from the Roseburg Police Department, the Douglas County Sheriff's Office and the Oregon State Police on a nearly 30-mile pursuit on Interstate 5.
A state trooper tried to pull Woods over while she was downtown, but she got onto the interstate with the ambulance's emergency lights on and a police pursuit began, according to court documents.
Near Winchester, Oregon State Police Sgt. Ken Terry was driving in front of the ambulance, trying to push traffic out of the way.
Woods hit the bumper of Terry's car going 85 mph, which sent his vehicle spinning through the median that separates the north and southbound lanes of the freeway.
An officer on scene reported that there was so much dirt and debris that he couldn't see the road for a minute, according to court documents.
The trooper received minor injuries, but his car was totaled, according to police.
After hitting the trooper's car, Woods continued northbound until she ran over a set of spike strips near Rice Valley. She continued on for a few more miles before exiting the highway at milepost 148. Woods then leaped out of the driver's seat and went to the ground at the Arco gas station on John Long Road, according to court documents.
Woods was arrested on suspicion of first-degree attempted assault, second-degree assault, unauthorized use of a motor vehicle, attempting to elude police in a vehicle, failure to perform the duties of a driver, two counts of first-degree criminal mischief, reckless endangering, reckless driving, interfering with a medical services provider and driving while suspended.
According to court documents, while Woods was in the back of the patrol car on the way to the jail, she said, "I wasn't trying to hurt anyone with my driving skills … I'm sorry," and "Oh my god, I can't believe I just did that."
This is the eighth time Woods has been arrested and sent to the Douglas County jail this year.
In February, Woods was convicted of second-degree disorderly conduct after allegedly trying to hit people with an alcohol bottle at a bar, yelling slurs and kicking a police officer in the arm, according to court documents.
Tim Novotny, general manager with Bay Cities Ambulance, said the company has the ambulance in the shop for an estimate on how much repairs will be.
Novotny said it will be several thousand dollars to repair, but said giving an exact amount would be speculation until the estimate is done.
When reached for comment Monday, Novotny said he's researching different mechanisms to be able to address the issue and prevent it from happening in the future.
"I'm looking at cutoff switches or remote lockouts," Novotny said.
Despite the needed repairs, he said the situation could have been much worse.
"I dread thinking about what could've happened. This is not somebody you want behind the wheel," Novotny said. "We're fortunate that the damage is only to the vehicle and nobody was hurt."
Woods is the second Roseburg woman to steal an ambulance in Douglas County in recent years.
In 2016, Jolene Marie Barnes was apprehended at gunpoint after she stole a Douglas County Fire District No. 2 ambulance while paramedics were inside a home attending to a sick child.
She was convicted of first-degree aggravated theft and unauthorized use of a vehicle and sentenced to 22 days in jail.
Barnes was later sentenced to another 60 days in jail after violating her probation.