Douglas County school nurses stretched thin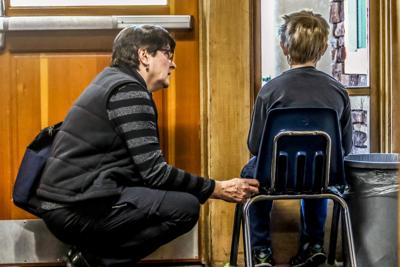 When her work cell phone rang for the second time in three minutes, Barb Hofford, a school nurse with the Douglas Education Service District, decided she better pull off Interstate 5 near Sutherlin to see if there was a problem.
"Fortunately we don't get emergency things," Hofford said. "People know to call 911."
From her 2016 Subaru Outback at the Sutherlin Starbucks parking lot, Hofford listened to a voicemail about training from a Melrose Elementary staff member, and made a note to follow up later.
The second voicemail was from a Fir Grove Elementary staff member, who wanted to know if she could administer a sore throat spray labeled as a dietary supplement to a student.
Roseburg School District's medication policy prohibits office staff from administering medications unless a Medical Protocol Form is filled out by a parent in advance. Hofford called the staff member to say the parents would have to fill out the form before using the spray at school.
It can feel like getting pulled every which way, Hofford said. But for two school nurses serving nearly 14,000 students in Douglas County, that's part of the job.
That ratio of students to school nurses is far lower than recommendations from national experts and the Oregon Health Authority. The nurses are charged with ensuring that students' health concerns don't get in the way of their education. They say more nurses are required to accomplish that goal. Research shows that students are more likely to learn if they have access to a school nurse.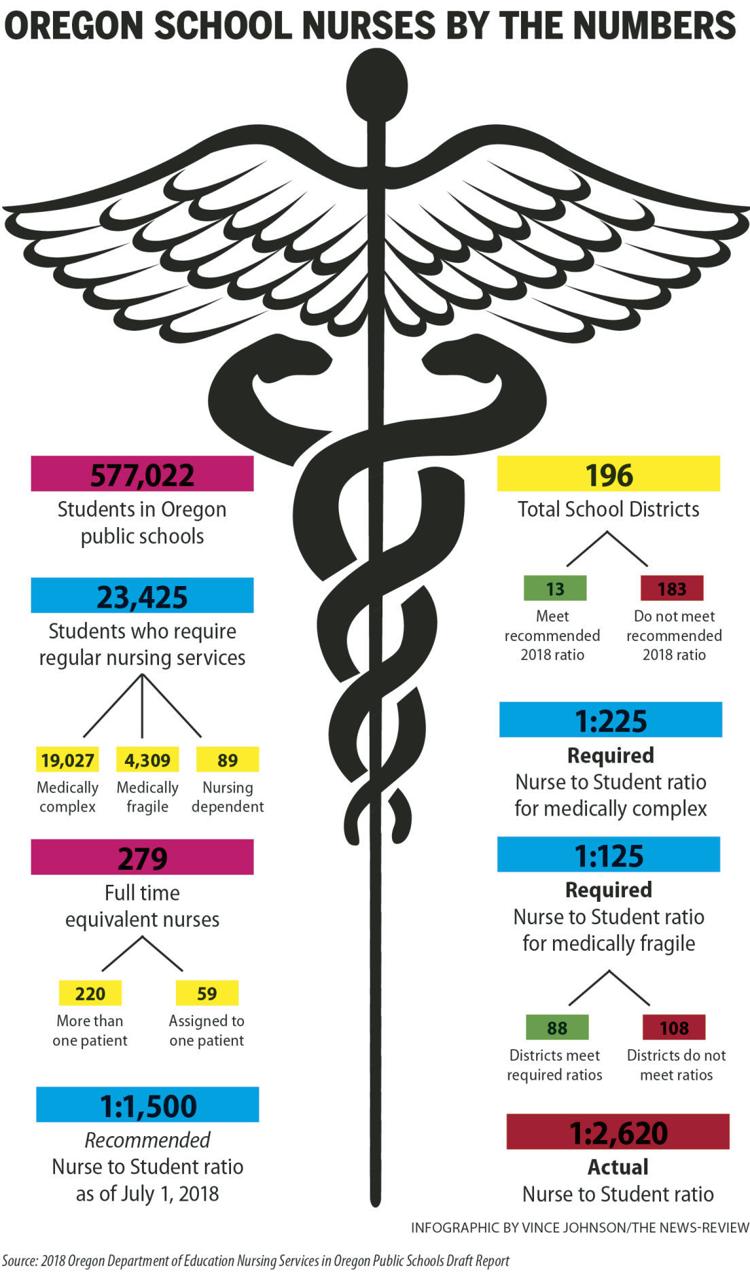 The shortage of school nurses is a statewide problem as districts with tight budgets prioritize hiring teachers. The state has taken steps to address what it has called a crisis. But as the number of students with chronic health conditions grows, the number of school nurses across the state has remained stagnant for at least a decade. Districts in counties such as Douglas are struggling to figure out how to hire more nurses.
School nurses have to manage students' acute and chronic health conditions such as allergies, asthma, diabetes and seizure disorders. Before each school year, they coordinate with students' doctors to create nursing care plans for students with conditions who may need treatment at school. The nurses then train school staff and teachers to provide care. It's illegal for anyone other than a registered nurse to delegate care to teachers or staff.
The National Association of School Nurses recommends one school nurse for every 750 students.
The breadth of the Douglas County school nurses' role is "enormous," said Rick Burton, Roseburg Public Schools Director of Student Services.
"They have to be a clinician, dietician and nutritionist," Burton said. "They have to understand all seizure protocols and diabetes in general. They have to be able to address any and all emergencies for students who move into a new district. They have to write safety plans and collaborate with special educators, physical therapists and occupational therapists. They have to be a doctor's liaison," Burton said. "I could go on and on."
Every day, Hofford drives to schools across the county. She answers questions from teachers and staff who she has trained to treat students. Hofford is reimbursed for her mileage. Even so, her Subaru Outback has more than 50,000 miles on it in two years.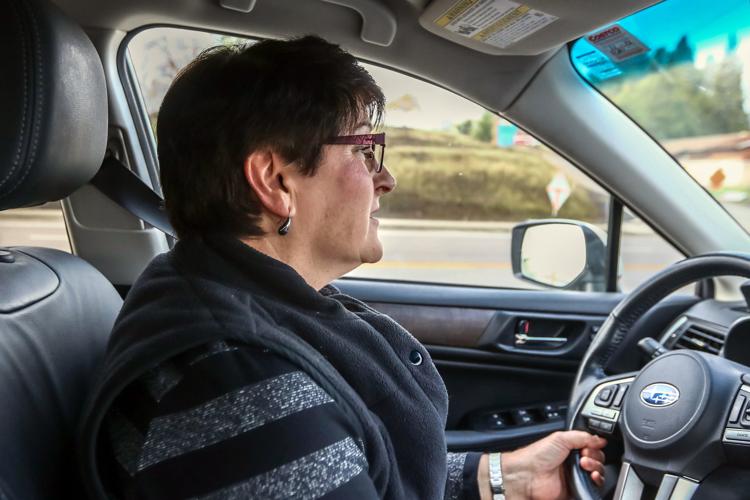 "This is a glorious day to be driving," Hofford said driving to Elkton on Highway 138. After checking in with Elkton Elementary office staff she headed to the Yoncalla Preschool to talk with a teacher about administering insulin for a student.
There are 40 students in the county with Type 1 diabetes who have care plans. Nineteen of them are too young to calculate their blood sugar levels and administer insulin on their own. School staff administer insulin for students as many as three times a day.
At Yoncalla, Hofford learned the student she was planning to see wasn't in class.
In 2015, the Oregon Legislature created a task force in response to "continued concerns over the level of school nursing support provided to Oregon students," according to the OHA website.
The task force's 2016 report showed that when there is a school nurse in the building, absentee rates decrease and students spend less time away from class for health-related incidents. The more time students spend in class, the more opportunity they have to learn, according to the report.
Teachers at Yoncalla Elementary take daily attendance by greeting students at the door of th…
School nurses are also important resources for bullying prevention, tobacco education and mental health services, the report said.
Every dollar invested in school nursing services produces a $2.20 value, according to the report's cost-benefit analysis.
"There is an immediate need for increasing the number of school nurses in Oregon schools," the report read.
Currently no state funding is dedicated to school nurses. Districts typically pay for them using general funds.
"I think it is absolutely key that we have better access to school nurses in every single one of our schools," Gov. Kate Brown said during the gubernatorial debate with Rep. Knute Buehler on Oct. 2.
Jamie Smith, the state's school nurse consultant with Oregon Health Authority, said school districts accrue substantial risk when nurses aren't readily accessible.
"Whether it be chronic health conditions like diabetes, asthma or severe allergies or whether it just be acute health conditions communicable diseases issues or injuries on the playground, I think the presence of a health professional being a registered nurse in the school setting can really help mitigate some of that risk for school districts," Smith said.
Rural school districts struggle the most to afford nursing serves because they have fewer students and smaller budgets, he said. But he added that some school districts have been better than others at prioritizing nursing services.
Districts often have to choose whether to hire a teacher or a nurse, Smith said. Districts typically choose the teacher because their success is measured by academic performance.
"It's a hard thing for a school administrator to have to make that decision," Smith said. "There's a disconnect with the role that the school nurse can play to impact those academic outcomes."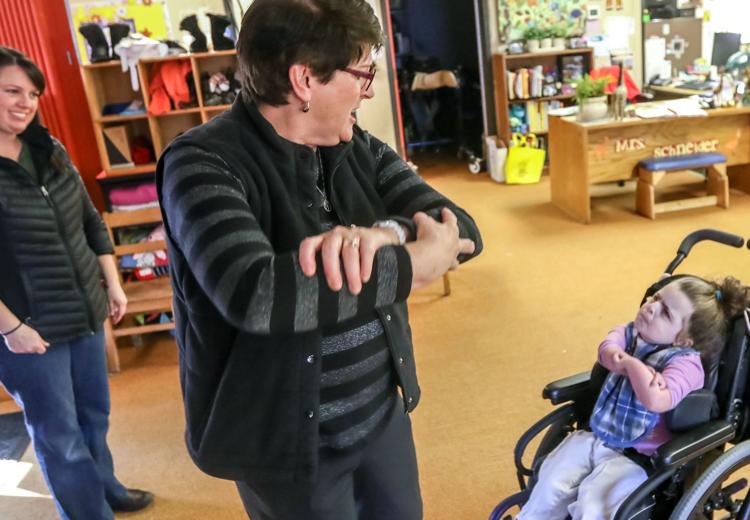 Out of 196 school districts in the state, 78 report no school nursing services, Smith said. While there are two nurses in the county, Douglas ESD contains 13 school districts.
"If there is no nurse, then the question I would ask is: Who is doing the nursing assessments that are required?" Smith said.
In 2009, the state-mandated nurse-to-student ratios for students with certain healthcare needs. It aimed to help districts prioritize allocating nursing services to the students who need it most.
For medically complex students — who are defined as students with an unstable health condition such as seizure disorder that may require daily professional nursing services — state law requires there needs to be one school nurse for every 225 students.
For students who have a life-threatening health condition, such as diabetes, and may require immediate professional nursing services, state law requires one school nurse for every 125 students who are considered "medically fragile."
For students classified as "nursing-dependent" — students who require daily, direct and continuous care from a licensed nurse — one nurse for each student is required by law.
Districts self-report health-related numbers to the Oregon Department of Education.
In Douglas ESD's 13 districts, there are 161 students considered medically complex, 103 students considered medically fragile and one student considered nursing-dependent, according to ODE's draft annual school nursing report.
But those numbers are not exact. To conform to the department's confidentiality policy, if a district's number of students in a category is less than six, the number isn't shown. Two Douglas County districts don't show numbers for medically complex students and three districts don't show numbers for medically fragile students.
Hofford says that those categories are also more fluid in practice than they are on paper.
"It's hard to know what category to put students into," Hofford said. "We have students who have never had anaphylaxis (an acute allergic reaction), but because they've had allergic reactions in the past they have EpiPens. So that kind of throws them into that anaphylaxis category even though they've never had it."
Anaphylaxis is life-threatening, so those students would be considered medically fragile.
Additionally, when asked to provide its own numbers for students in each category, the ESD's numbers were at first different than those in the ODE report.
Numbers provided by the Douglas ESD last week showed there are 65 students classified as medically complex, 52 medically fragile and 18 listed as nursing dependent.
According to the ODE report, 89 students are classified as nursing-dependent in the entire state.
When asked to clear up the discrepancy of nursing-dependent student numbers in the county, Hofford agreed the report listing one nursing dependent student in the county is correct.
To serve the needs of medically fragile students, the Douglas ESD operates the Complex Needs Classroom at Fir Grove Elementary School. It's designed to help students whose medical needs are so challenging, that traditional general education classroom might be too much for them.
With two school nurses, districts covered by Douglas ESD are meeting state mandates for students with certain conditions, according to the ODE report. The districts are not meeting the recommended ratio of nurses to all students, however.
"There's so much more we could do if we have more nurses," Hofford said.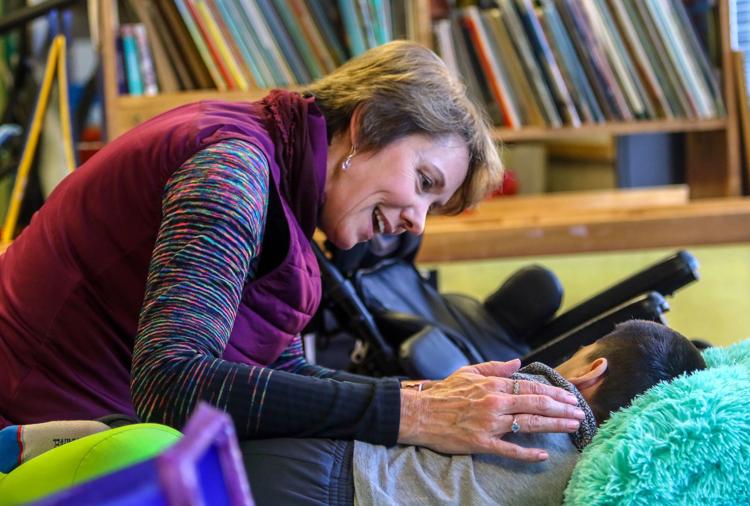 She said more nurses would allow for more preventative, mental and emotional care. She said if students are struggling emotionally, they can't focus in class.
At least some help appears to be on the way.
Superintendents within the Douglas ESD agreed to support a third nurse, who is expected to begin working in January.
She would like to see more students being given the opportunity to fill out Adverse Childhood Experiences surveys. The survey asks students yes or no questions about potentially traumatic experiences such as homelessness, whether they've witnessed violence at home or if someone around them abuses drugs.
The nurses wouldn't see what exactly the student is experiencing, only a score. That could give them the opportunity to reach out to the student and direct them to the necessary help.
"If you have a score of four or greater, you have a huge change of having some kind of physical or emotional problem that can impact your education," Hofford said.
It wasn't long ago that the county was doing more to provide school nursing services, Hofford said. There were 8 or 9 public health nurses that served schools with the Douglas County Public Health Department before it shut down in 2014. Hofford was one of them.
She and the other Douglas ESD nurse, Marcella Post, who was hired in September, said their job is often overwhelming. But they said they rely on each other for support.
Post was an intensive care nurse before she came to Douglas ESD. She said this job isn't as acutely overwhelming as intensive care can be, but that she and Hofford have to be creative to best prioritize nearly 14,000 students' needs.
"You can think outside the box," Post said. "You can explore things you want to do to help your community that you're invested in. The bottom line is: How do I keep this child in school? How do I keep this child getting an education that will help them support themselves so they're not dependent on someone else?"
Sometimes Hofford and Post can't help but take their work home with them. Post recently took food to the family of one of the students she treats because she knew they have been struggling with food insecurity.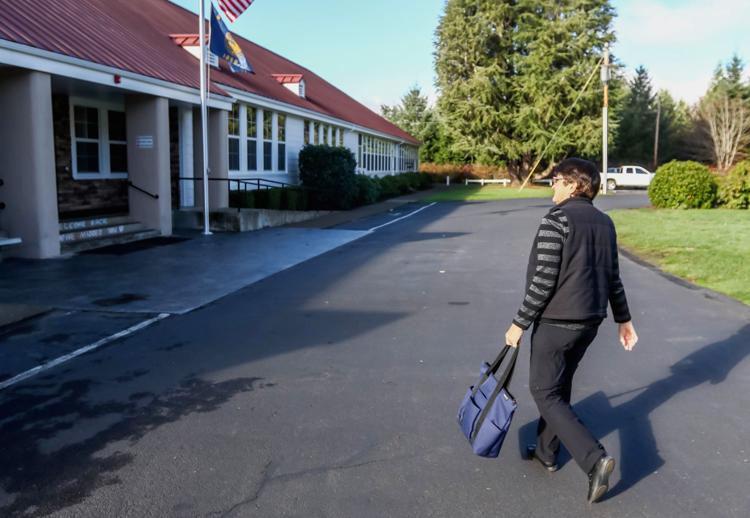 The impact the nurses have can be dependent on their ability to convince students or their parents that they can help them, Hofford said.
"Sometimes it's: How do you motivate the parent to see that education is important?" Hofford said. "You don't need to keep them home. They can come."
The nurses acknowledge that they can't help everyone. But Hofford said she hopes the state works with districts more to identify funding sources for nurses.
In 2017, ODE started a pilot program through Senate Bill 111 to allow districts to bill Medicaid for school nursing services. It identified nine districts — none of which in Douglas County — to test the program. ODE will provide a cost-benefit analysis of the program to the legislature by Oct. 1, 2020.
As Hofford spoke with other adults in the school lobby, a boy sat in the corner on a blue plastic chair with sections of tennis balls cushioning each leg. He sat there politely, rarely moving in his chair. By the look on his face, it appeared he didn't feel well. Hofford hunched down next to him, looking at him as he stared out the window.
He spoke quietly at first, until she started talking about Christmas. His face lit up and talked in detail about his family, Christmas and the things that made him happy.
Hofford patted him on the back and stood up.
It might have been Hofford's best medicine dispensed all day.
Max Egener can be reached at megener@nrtoday.com and 541-957-4217. Or follow him on Twitter @maxegener.