GLIDE — Tuesdays are Brian O'Dell's favorite day.
That's when the Roseburg Police Department officer gets to live out his childhood dream of being a DJ at Glide Elementary School.
"I do what's called Officer O'Dell Tuesday Takeover and I take over the morning announcements," said O'Dell, who is contracted to be the school resource officer at the Glide School District. "It's fun. The kids love it."
O'Dell plays a song — usually classic rock or a song from the 1980s — talks about the lunch menu and scheduled events, and then tells them "the most cheesy dad jokes you can imagine."
Glide Elementary School Principal Tammy Beard agreed the jokes were pretty cheesy, but that the kids love it.
"It's just a really impactful way for young kids to develop a positive relationship with a police officer," Beard said.
O'Dell also helps watch over morning drop-offs and afternoon pick-ups at the elementary school.
As the school resource officer, he makes it a point to be seen by all students and staff in the district and to help when needed.
Glide is one of many districts around the county and across the state that contract with law enforcement to provide security at the school.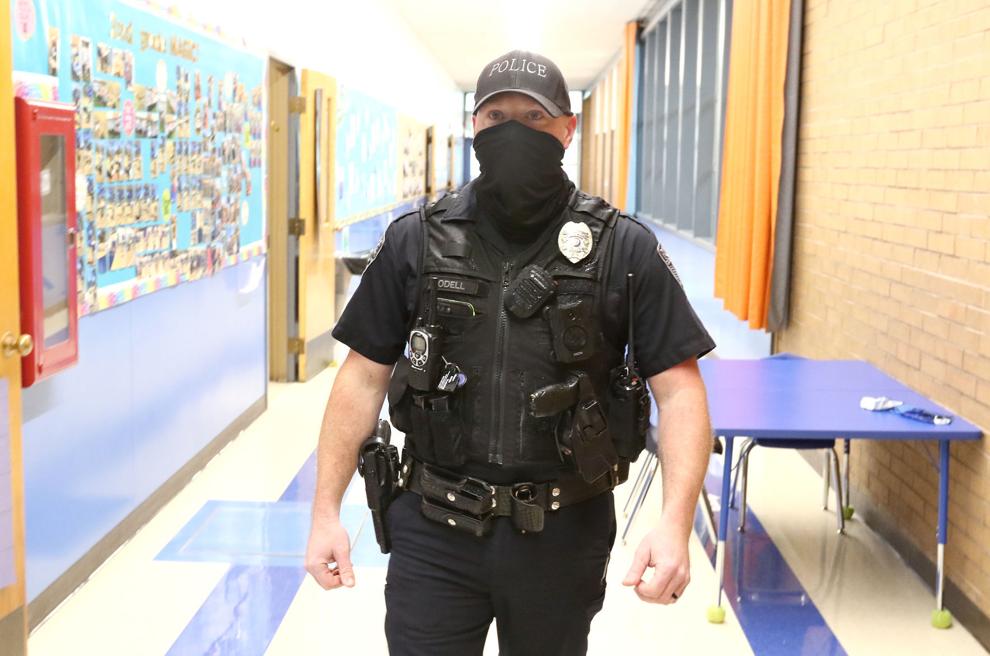 LEGISLATIONIn January, a bill was introduced in the Oregon Legislature, Senate Bill 238, that would prohibit contracts between school districts and law enforcement agencies.
The bill was referred to the Senate committee on education on Jan. 19, but no votes are scheduled at this time.
Glide school board chair Dan Metz wrote a letter to the Senate committee on education in opposition to the bill.
"Our current School Resource Officer (SRO) performs a critical role in our school district," he wrote. "Our SROs presence provides a safe learning environment, is a valuable resource to school staff members and parents, and fosters positive relationships with our youth. Our SRO role in the district includes mentoring, teaching, creating and building partnerships and ensuring the safety of our students and staff."
Metz said in an interview with The News-Review that he thinks the bill will likely not amount to anything but is worried about similar language being slipped into other legislation.
Mike Jackson, president of the Oregon School Resource Officers Association, wrote in an announcement that legislators will be focusing on Senate Bill 736, which would create a task force to study restorative justice.
The task force will be required "to make recommendations to legislature to reduce exclusionary discipline in schools, reduce juvenile incarceration, and reduce racial disparities in education and juvenile justice," according to the bill's summary. Jackson said it's likely law enforcement will be included in this discussion.
Oregon has high rates of youth incarceration when compared to other states, according to the summary of SB 736. In Colorado, establishment of a statewide Restorative Justice Council governing restorative practices in schools and in the juvenile justice system has led to improved outcomes for students.
Black students represent 31% of school-related arrests nationwide, according to the American Civil Liberties Unions. Black students are also more likely to be suspended or expelled, which makes them more likely to end up in the juvenile justice system.
"The SRO is absolutely under attack at this time in our history," Jackson said. "Other states have bills similar to SB 238, including Illinois and Maryland. The school board for the Los Angeles Unified School District just voted to remove all officers from their school campuses. People who look at the police and only see evil and racism are working to remove all police from all schools, everywhere."
Portland Public Schools announced in June 2020 that it would withdraw law enforcement from its high schools.
Metz believed the idea to get rid of law enforcement in schools came from metropolitan areas such as Portland and Salem but did not reflect the views of most of the state.
In July 2020, the Oregon student-led nonprofit Oregon Student Voice started a petition to get rid of school resource officers in all Clackamas, Washington and Multnomah county schools. The organization, as well as several other student groups, cited numerous studies that police interactions disproportionately impacted students of color and led to incarceration.
"We're not disputing that maybe there's issues in some communities," Metz said. "But to apply Portland standards to Douglas County or Lake County or Harney County — I would even argue that if Portland Public Schools doesn't want a school resource officer 'Great', but if Gladstone does 'That's their decision.' If we had the majority of parents coming to us saying 'We don't want an SRO,' we wouldn't have an SRO. It's just a case that we have the opposite of that. We have parents that are up in arms over the idea that we would lose our SRO."
SECURITY CONCERNSAs an unincorporated community with less than 1,500 residents, Glide doesn't have a designated police force and relies on Roseburg Police Department or the Douglas County Sheriff's Office for its law enforcement.
Glide is about 17 miles from Roseburg, and the high school is located right next to Highway 138 East — which means speeding and those fleeing Roseburg law enforcement come right near the schools.
"We've had a couple instances this year of people fleeing the police and they end up in Glide," Metz said. "In one instance they ended up getting stopped at the post office. Our SRO was at the elementary school and was able to lock down the schools, clear the grounds and then went to assist law enforcement that was showing up later and finding this guy, who was a bad guy."
Although major instances are few, having an officer in town helps cut down on the response time.
With the size of the school district, approximately 700 students, O'Dell said he gets to know what vehicles are usually on campus and inquires when there's a vehicle he doesn't know. And as a police officer he is able to write traffic citations for people who pass a stopped school bus or speed in a school zone — something a security officer wouldn't be able to do.
O'Dell said situations arise weekly where he's needed in an enforcer capacity, but more frequently he takes on a more friendly role.
"My take on the SRO spot is to build those connections with the kids and to gain their respect and have mutual respect," O'Dell said. "When they do make a poor decision than they get to speak to myself or the assistant principal."
Having a relationship with the students helps make those conversations a little easier.
Beard said, "We've had a couple of incidents this year and he's been right here to lead us through it, and make sure our students and staff are safe. It would be detrimental to not have him here."
In addition to his work at the school district, O'Dell is sometimes contacted by parents and community members when issues arise at home with students in the district.
"I hope that if maybe a conversation isn't going where it needs to go with parents, then maybe I can come in from another lens and help solve the problem," O'Dell said.
HISTORYGlide School District Superintendent Mike Narkiewicz said the district had a partnership with the Douglas County Sheriff's Office when he came into his leadership role eight years ago, but that shifted to a contract with Roseburg Police Department five years ago due for financial reasons.
"I looked at private security, it was expensive," Narkiewicz said, adding that insurance drove up the price and because they weren't certified law enforcement they weren't licensed to carry firearms on school property.
"The UCC thing really shook our community," Narkiewicz said. "They had security guards that had walkie talkies and flashlights. In Glide, we don't protect our kids with flashlights and walkie talkies. We have somebody that carries weapons to protect us."
Roseburg Police Department has had uniformed officers in the school since before 1996, according to spokesperson Sgt. Jeff Eichenbusch.
Eichenbusch worked as a school resource officer from 1998 until 2000 but added that the position has changed over the years.
"In the past (when I was an SRO) it was mostly focused on enforcement (minor in possession, thefts, fights, unauthorized people on campus, etc.)," he wrote in an email. "In recent years our SROs have continued to do those things, but have also started doing more positive interactions with students, like teaching classes and being more involved in school activities."
In addition to being a school resource officer, school administrators say they view O'Dell as a member of the staff. He is also an alumnus and parent in the district.
"It's awesome to see kids that I went to school with that are teachers out here, and some of my teachers are still out here," O'Dell said. "I have kids here, people that I went to high school with and graduated with have kids in the district, my cousin's kids are in the district. It's just really easy to make that community connection when you have so many familiar faces. And being able to relate with the kids, having grown up here. It's easier to relate with them and make that connection with them."
JUVENILE JUSTICEO'Dell was able to start a restorative justice program at the school district, called Juvenile Justice, which he runs with the help of Glide High School Assistant Principal Eric Savage.
Glide Middle and High School Principal Kristina Haug called it a "phenomenal addition" to the collaborative educational discipline approach.
"When a student struggles to follow our school expectations for safe, respectful and responsible behavior, we develop a Juvenile Justice plan that includes our student, parent/guardian, school staff and officer O'Dell," Haug wrote in an email. "These plans include research, discussion and written assignments about the issue along with who it has impacted beyond the student."
O'Dell explained that the program is there so students can learn from their actions and won't see criminal charges pressed against them.
For example, when two students get into a fight, they will not be charged with harassment or assault — but rather be called into the office to learn about the consequences of their actions.
Haug said the program has a 97% success rate. Success means there was no reoccurrence of the issue during the student's time in school.
"Our SRO and Juvenile Justice plays a huge role in assisting our students and their families through some difficult situations and moving forward with their heads held high," Haug said.
IMPACT"We feel that all schools can benefit from having SROs on their campus," Eichenbusch said. "We have developed and maintained an incredible relationship with the Glide School District since (we started working with them)."
Narkiewicz said that responses can vary by officer and having a designated person helps create some consistency in the expectations for students, but also helps with the bond between the officer and the people in the district.
This Halloween, several elementary school students dressed up as officer O'Dell. O'Dell himself dressed up as an '80s rock star, wearing a blonde wig.
"Several students dressed up as officer O'Dell and got pictures taken with him," Beard said. "It was super cute."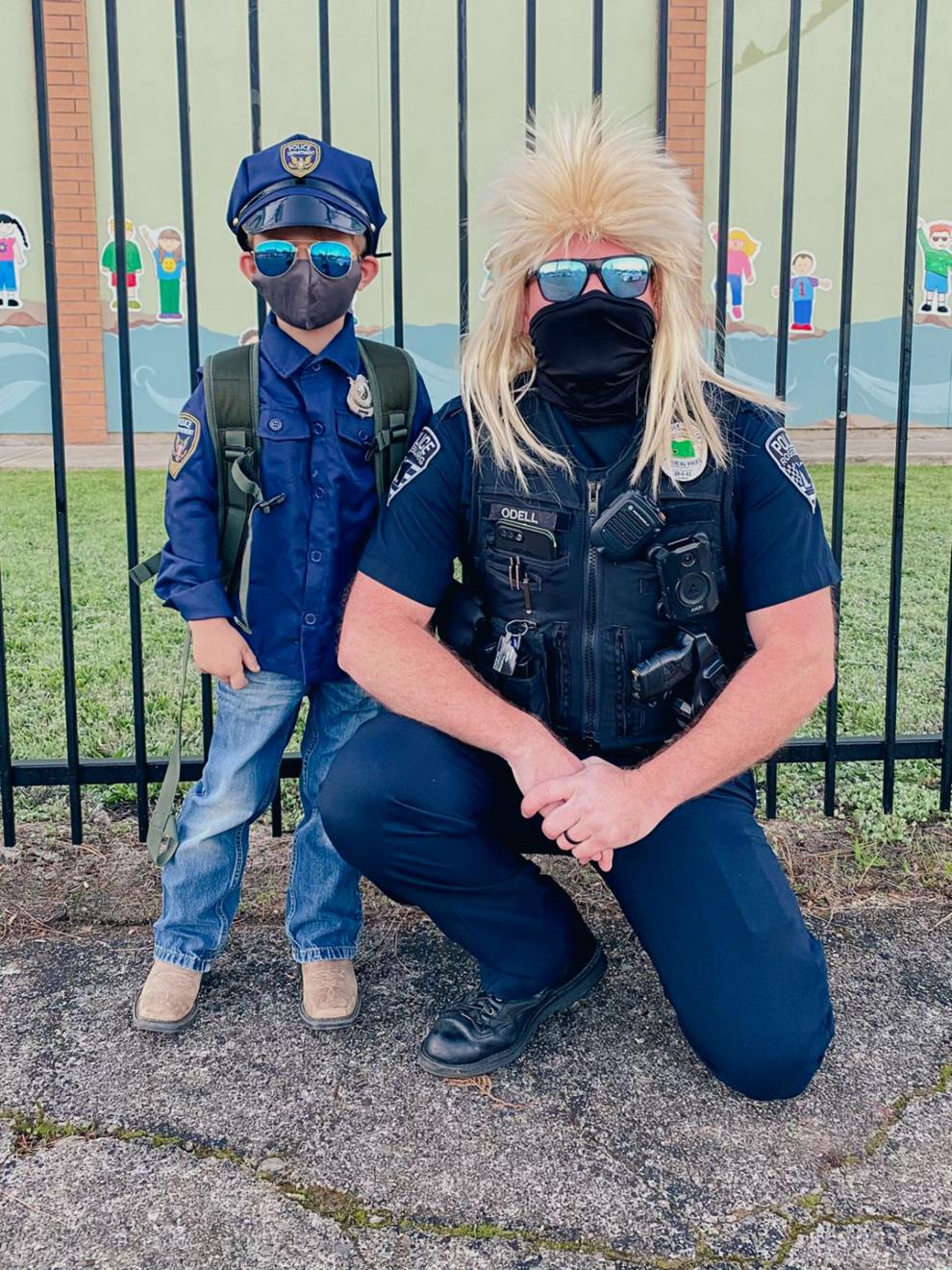 Prior to the coronavirus restrictions, O'Dell would attend physical education classes or pop into woodshop or welding class to see what the kids are working on. With restrictions in place, he is making sure he doesn't spend more than 15 minutes in a class — so he doesn't become part of the cohort.
"Every day he comes in and he's part of the classrooms," Beard said. "He is just visible, students are getting to develop this positive relationship with him and know that he's a person they can count on."
O'Dell also helps keep track of attendance at the school and makes sure students who aren't able to make it to school have the technology they need to learn from home.
This is O'Dell's third year on special assignment as the school resource officer, which means it's likely also his last. Special assignments within the police department last for three year periods.
"It's my third year and if nobody was interested then (I would like to continue being the school resource officer), but I think we have some officers that are interested in coming out and giving it a shot," O'Dell said. "I think I talked about how much I enjoy it too much."
Eichenbusch said that connection with students and staff lasts a long time.
"I've had conversations with students who went through some rough times while in school, but they've approached me now as adults and let me know the positive impact our SROs had on them, and how much they appreciated having us at the school," he said.
The school district pays 72% of the school resource officer's salary for the year. When school is not in session, O'Dell continues to work as an officer for the Roseburg Police Department.
O'Dell said if it is his last year with the district he will miss the connections with the kids the most.
"You laugh on the daily, at least a dozen times," he said. "Kids at the high school, I love talking to them about what their plans are after school or what their interests are. And I'm gonna miss when a kid runs up to me on the elementary school playground and shows me that they can run faster because they got new shoes."