Imagination was the theme of the play performed Tuesday by Roseburg High School students for crowds of elementary school students.
The high school students performed "Spellbound" three times Tuesday and will perform it two more times Thursday. It's part of the 2020 Celebration of Literacy sponsored by Altrusa International of Roseburg.
"I believe it's really important to learn how to read, because not only is it fundamental it helps you imagine," high school student Lacey Lambert said. "If you get really in-depth into a book, you can see the story in front of your eyes."
The play was written, produced and performed by students in the advanced drama class at the high school. Students read several different plays written by their peers before selecting "Spellbound."
Dunkyrk Brooks wrote "Spellbound" and Alanna Mackintosh and Malachai Mayorga are the directors.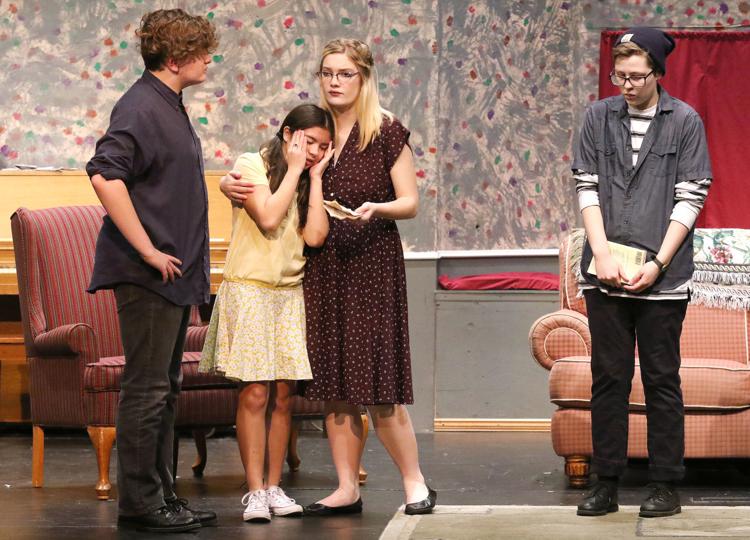 "I used to write stories as a kid, and one of them was this particular story. So, I rehashed it and it turned out to be a really great thing," Brooks said. "It was interesting to see my characters come to life on stage."
In the play, a young girl uses her imagination to enter a world she's only ever read about. She becomes a princess, her parents a queen and knight, and she encounters a wizard, wolf, guards, handmaid and others on her journey through the imaginary world.
"The story was something different initially, but I wanted to incorporate as much reading in there as I could and it worked out really well," Brooks said.
Elementary school students were able, often even encouraged, to interact with the actors. The actors in turn, also interacted with the students in the crowd.
"My favorite part of the show is when I get to run through the audience and ask all of them, 'Where's the wizard, can you help me?,'" Cosette MacLean, who played Gwen and the queen, said. "I love that because there are the kids that are really excited and are like 'Oh my gosh, the queen is talking to us. This is so cool.'"
MacLean said students often come up with their own imaginary reasons for why they can see far, or how they know things her character does not.
"It doesn't just help me as an actor, but it really warms my heart and makes me happy," MacLean said.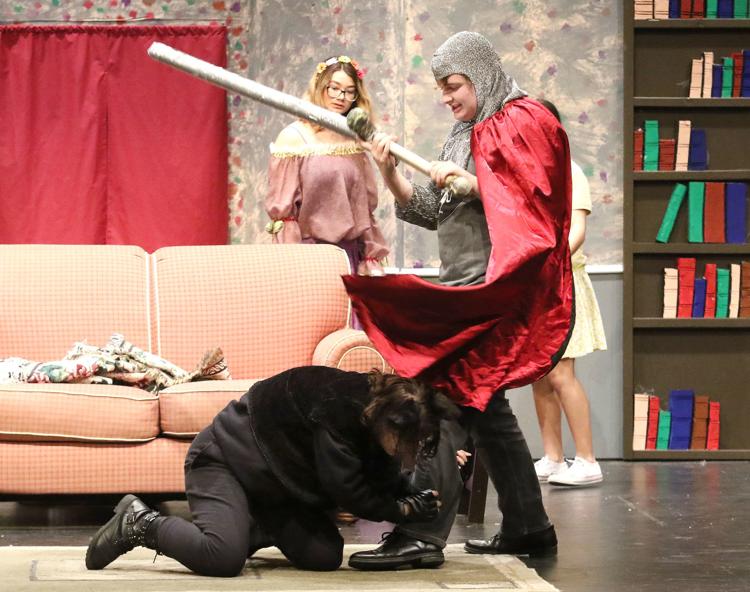 Audience members helped find characters, cheered on people during fights, roared in laughter and screamed out "Eww" when the queen kissed her knight in shining armor.
Jacob Swartz, who played Arthur and Sir Fredrick, said it provided him with a lot of opportunities to get better at improvisational acting.
The play finished with a song. Students who knew the song joined in and danced along before they returned to the school buses to take them back to their respective schools.
"The fact that people enjoy it makes me feel really good," Brooks said. "Before I was really insecure about my writing, I didn't think it was good, I didn't think it was worth anything, but to hear them respond the way they did was just amazing."
Students came from all over Douglas County — including Days Creek and Yoncalla — to watch the play. All of them were able to high-five the cast and crew before heading back.