A few days ago, Roseburg Public Schools Superintendent Jared Cordon received a call from a community member asking to reconsider the name of Joseph Lane Middle School, a sign that discussions on racism, systemic racism and social injustice are being discussed not just in urban areas but also in Douglas County.
One of two middle schools in Roseburg, Joseph Lane Middle School is named for the first governor of Oregon Territory, who was a defender of slavery and won support from his constituents thanks to his "blunt dealings with Native Americans," according to The Oregon Encyclopedia. The other middle school, John C. Fremont Middle School, is named after the military leader and firm opponent of slavery.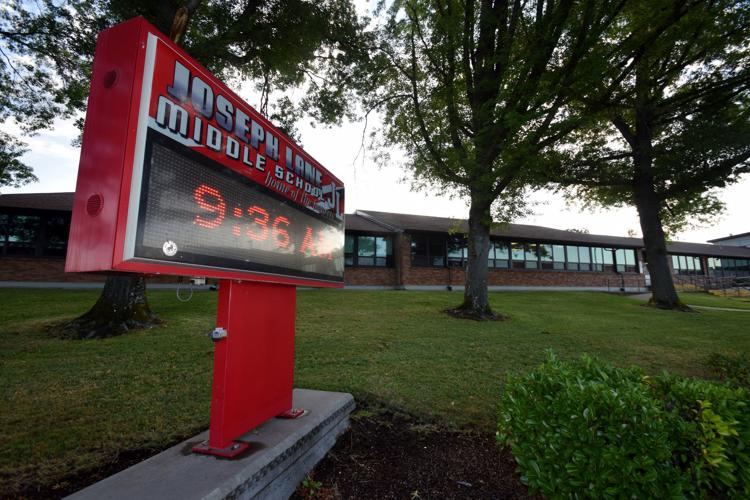 The call came as a response to a renewed public outcry, led by the Black Lives Matter movement, citing systemic racism and social injustice as the reasons black people, and other people of color, aren't treated equitably in America.
Cordon, who is white, said he's open and welcomes questions from the community.
Near the conclusion of the June 10 board meeting, Cordon read a statement on behalf of himself and the school board:
"We are saddened and deeply disturbed by the recent events that have thrown a spotlight on our country's ongoing battle with systemic racism.
"We want to assure our community and our students of color, that Roseburg Public Schools values equity and inclusiveness. Our district's Strategic Plan, which is rooted in equity, helps guide our decisions and our work to support students of color and other marginalized groups.
"Our Strategic Plan affirms that Roseburg Public Schools is dedicated to the academic and personal success for every student. Our plan emphasizes our commitment in providing safe and inclusive environments, in which every child and every adult feels safe, is seen, is heard and is respected. The decisions we make for our students are viewed through this lens in an effort to grow and improve.
"The Roseburg Public Schools pledges to help fight racism and discrimination and invites our community to join in this effort.
"Together, we learn. Together, we are stronger."
The strategic plan centers around equitable student experiences through five main points: appropriate and timely instruction, safety and inclusivity, effective operations, leadership development, and systems development. The goal is that "our students will master grade-level academic standards, attain the behavioral and social-emotional skills needed to thrive and graduate from high school with a plan to achieve success," according to the plan.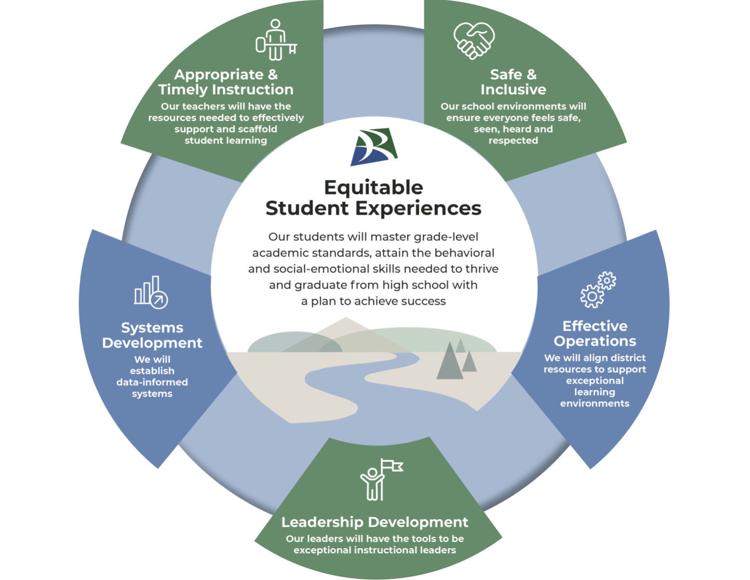 School board member Howard Johnson is also expected to lead a school board in a future board work session on racism and its relation to the strategic plan.
"What he's had to endure is unconscionable," Cordon said.
Johnson, who is black, didn't respond to a request for an interview this week, but when he spoke to The News-Review in 2016 he said he received multiple death threats when he first moved to Roseburg in 1989 and continued to receive threats.
"When we draw a line in the sand for how black people look at these problems, and how white people look at it, you're going to get two polar opposite views which will restrain good conversation when these incidents should be used as a focal point," he said at the time. "If we get into a room and talk, we could solve a lot of problems."
Roseburg Public Schools is a predominantly white school district, with 78% of students and 90% of teachers identifying as such, according to 2018-19 data from the Oregon Department of Education. The student body consists of 11% Hispanic/Latinos, 7% multiracial, 1% American Indian/Alaskan Native, 1% Asian and 1% black students and less than 1% of students identified as Native Hawaiian/Pacific Islander.
Cordon said the goal for the district is to "not be predictable." He said that in education systems worldwide the language you speak at home, the color of your skin and the poverty level are still indicators of how well a student will perform in a classroom.
"I believe strongly that achievement and intelligence are not dependent on circumstances," Cordon said.
The strategic plan was designed to help all students achieve their goals.
In data released by the Oregon Department of Education on the 2018-19 school year, Roseburg High School graduation rates for white students (61%) were exceeded by all others except black students, who were lowest at 60%. Asian students graduated at a rate of 75%, multiracial students at 68%, American Indian and Native American students at 64% and Hispanic/Latino students at 63%.
Attendance in kindergarten through second grade was also highest for Asian students, exceeding 95%, while American Indian and Alaskan Native students attended school 50% of the time.
Data for third grade English, eighth grade math and freshmen on track to graduate didn't show a lot of information, as there was either no data or less than 10 students to provide accurate data.
Director of Human Resources Robert Freeman said as of Wednesday the school district actively employed 718 people, which does not include employees of Phoenix Charter School, the New Horizons program or "casual employees" such as coaches.
There are no black teachers in the school district.
Throughout the entire district, there are 69 employees, less than 10%, who identify as a race other than white. This includes all employees, not just teachers.
Cordon said the school district will be working to attract a more diverse staff because "an equitable and just organization will make a more equitable and just society."
In 2018-19, the Oregon Department of Education reported that there was one black teacher in the school district — at Phoenix Charter School.
In mid-February the school district hired Edward Villarreal, who is Hispanic, to be the district safety coordinator.
Villarreal worked in law enforcement for 38 years, his last assignment as the police personnel sergeant with the El Segundo Police Department in California. He also held positions as a field training officer, lead defensive tactics instructor, active shooter response trainer, SWAT team leader and more.
Roseburg schools hire district safety coordinator
"In developing safety plans, I use all 28 years of experience that I was able to gather in the Los Angeles County area," Villarreal said. "Our safety plans encompass our students and our staff — period. It doesn't matter what race someone is in my eyes; we are all equal and that will be reflected in our safety plans."
Roseburg Public Schools has a contract with the Roseburg Police Department for two school resource officers. Glide School District also has a contract with the Roseburg Police Department for a school resource officer.
Roseburg Police Department spokesperson Jeff Eichenbusch said any police officer can apply for the position and "most of our SROs attend training that's specific to school violence, investigations of crimes involving children, etc., but there isn't a course that is mandatory. Several of our SROs have consistently attended the school resource officer conference, which happens every year."
Villarreal said the SROs need to test for the position and go to a 40-hour SRO course.
"Our SROs have made a tremendous impact in our schools and community," Villarreal said. "RPD has also responded with pride, enthusiasm and professionalism to every situation in which we've needed support. I am not planning to make any changes; however, the ultimate decision would remain with the school board."
In the last few weeks, school districts around the state and nation have been restructuring their contracts with police departments and school resource officers.
Portland Public Schools will no longer have city police officers patrol the halls of its nine high schools, nor will the other two school districts inside Portland city limits. Eugene 4J Schools also opted to end its contract with the police department, while Salem-Keizer schools have delayed making a final decision but received hundreds of calls by the public to end the contract.
"This is not a decision to be made based on a knee-jerk reaction or political decision," Villarreal said. "The primary goal for our SROs on campus is to thwart an active aggressor incident, be on scene for a medical emergency, educate our kids on safety, and build and foster relationships with kids. Not tear them down."
Cordon said keeping kids safe is the priority of the school district and he fully anticipates that armed officers will remain on Roseburg Public Schools campuses.
Villarreal said he thinks it's important to support the police "with the understanding that departments will need to continue to grow and adapt to ensure all citizens feel safe and protected. As it is now, police departments across the U.S. have massive shortages of police officers. If we don't work together to solve problems of racial inequity, and only blame the police, fewer people will want to sign on for this difficult job."
Cordon has worked with the Roseburg Police Department, and other community partners, to collaborate on quarterly Safer Together meetings. These meetings have also included fire departments, the Douglas County Sheriff's Office, Oregon State Police, an ambulance company, community college, county officials, educators, media, nonprofits and insurance agents.
As rally cries by protestors have asked to "Defund the Police," Eichenbusch said if there were cuts to the budget it could impact school resource officers.
"With any conversation about 'defunding,' temporary duty assignments (motorcycles, SROs, detectives, etc.) are the first positions to be impacted," Eichenbusch said. "Patrol is our primary function, and that is the last area that is impacted when we discuss potential cuts in services."
While contracting with a police department for safety officers is one option, there are other options available such as a security company or hiring a retired officer.
"Sworn officers have to pass an extensive background check and pass an arduous 16-week, or 400 hours, accredited police academy. A sworn officer receives hundreds of hours of training and must keep proficient in laws, tactics, perishable skills, first aid, etc.," Villarreal said. "A security officer, on the other hand, enforces laws and regulations and responds to emergency situations, but receives less training and the guidelines are less restrictive. A retired officer does not need to keep up with state guidelines and most up-to-date training unless they put themselves through training on their own accord."
In addition to the name of Joseph Lane Middle School, the district has also previously held a discussion on changing the mascot of Roseburg High School — The Indians.
During the last discussion on the topic in 2017, Johnson was the lone vote opposed to keeping the name. When asked why he cast a "no" vote after the meeting, Johnson declined to comment, but remarked that the agreement was "too big a price to pay for my soul."
Under terms of an agreement with the local Cow Creek Band of Umpqua Tribe of Indians, it would last 10 years with a review period of every three years and include Native American history as part of the curriculum at schools.
Cordon said that he'd welcome questions from students and community members, but because schools have been closed since mid-March amid the coronavirus pandemic there were no protests on school grounds.
"It's good to have kids asking questions," he said. "We have to have the courage to listen and take action."