Roseburg Public Schools' board of directors said goodbye to administrators Lee Paterson and Robert Emerson during Wednesday's meeting.
Paterson was appointed as interim superintendent in October 2018. He took over for Director of Human Resources Robert Freeman, who was assigned the interim superintendent role when the board placed former Superintendent Gerry Washburn on administrative leave in August.
Freeman said Paterson "righted the ship and settled things down, and is going to be missed."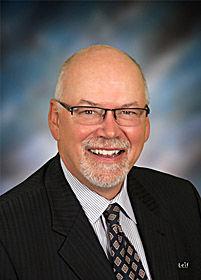 Freeman presented Paterson with a crystal apple, with the words "belonging, influence, adequacy" inscribed on the base.
"Not many 70-year-olds would've stepped into the job we asked you to do, Lee," Board Director Micki Hall said. "The job was to help the district heal from a rather tumultuous few months and you have done more than that. Your gentleness, your sense of your belonging, gave us a sense of belonging, gave us a sense of influence and made us feel much more than adequate and I thank you for that."
Crystal Apple Awards are typically presented by the school board to a staff member who has gone above and beyond the call of duty in making a significant contribution to the school.
"Lee has given us a direction to apply your philosophy in all aspects of education and in life, and for that, we are very grateful," Freeman said.
Paterson said he was humbled and honored. "This has been a capstone event in my career," he said.
"Thank you for this opportunity you have given me to serve you and our community again. As you all know I have given my entire adult life to education," Paterson said. "To be recalled to this position, at this time, when you felt I could be of help is a huge compliment."
Jared Cordon, who was selected as the district's next superintendent, will begin on July 1, although he has been in frequent contact with administrators and board members in recent weeks.
Emerson was the director of teaching and learning with the district for three years. He will return to New Mexico to be closer to family.
"Mr. Emerson, thank you for all that you did for this district," Board Director Rodney Cotton said. "I personally will miss you a great deal. I know we'll have wonderful people moving forward, but you were someone that we really needed at the time and I wish you the best."
During the meeting, the board also adopted the 2019-20 budget, approving a healthy and safe schools plan, renewing an agreement with Umpqua Community College, rescinding an outdated nutrition policy and adopting instructional materials for middle school social studies.
Dani Jardine also gave the board an update on the Regional Education Network and the collaboration grant.
Roseburg High School Principal Jill Weber and RHS Assistant Principal Adam Blue held a presentation about the use of a mobile app in case of emergencies. The school had been piloting the RAVE panic button app, which allows staff members to contact appropriate people in case of an active shooter, a fire, medical event or another emergency situation.
Freeman said he is continuing to work on an updated extracurricular salary schedule. The board was also presented with a sample policy on commercial advertising created by the Oregon School Boards Association, as requested during a discussion at the May 22 board meeting. Directors Micki Hall and Rebecca Larson were not present for the May 22 meeting, and both said they do not like the presented policy.
"I think there's something in the middle," Larson said, noting that the sample policy allowed for nearly all advertising and the current policy allows for no advertising.
Director Rodney Cotton suggested creating a subcommittee with board members and administrators to work on a new policy. Then, Fremont Middle School sixth grader Aaron Winn talked to the board about how he had watched three movies for the final week of instruction and only two of his instructors were still teaching courses.