Oregon school buildings, both public and private, will remain closed for on-site learning until the statewide positive coronavirus testing rate is at or below 5% for three consecutive weeks, state officials announced Tuesday.
Roseburg Public Schools sent out a message to families Tuesday that it agreed that this was the best way to ensure safety and that starting the school year remotely would provide "an exciting opportunity to focus on building relationships" with students.
"Our district will continue to do everything possible to maintain the safety and health of our community while supporting all of our students," Superintendent Jared Cordon said in the press release. "We believe that this delayed start to in-classroom learning will ensure our families, students, teachers and staff can provide the high-quality learning opportunities that will be necessary to ensure our students get back on track and stay on track."
Gov. Kate Brown, Director Colt Gill of the Oregon Department of Education, Director Miriam Calderon of the Oregon Early Learning Division and Dr. Dean Sidelinger from the Oregon Health Authority held a joint press conference to release new state requirements that need to be met to reopen schools to on-site education.
No other Douglas County schools have publicly announced what their plans will look like following the release of Tuesday's metrics. Schools have until Aug. 15 to submit their operational blueprints to the Oregon Department of Education.
To open to in-person learning in all grades, the following benchmarks have to be met for three consecutive weeks:
The statewide positive COVID-19 testing rate needs to be at or below 5%.
The county must have 10 or fewer new cases per 100,000 residents in seven days.
The county positive testing rate needs to be at or below 5% in seven days.
The state has not met its benchmark on the testing rates in July, but did meet this in April and May.
"Today in Oregon, we are not where we need to be to safely reopen schools," Sidelinger said. "Our current case rates are higher than they need to be and higher than they were in other countries that began to reopen schools."
Douglas County has 108,323 residents according to Oregon Health Authority, which means it cannot have more than 10 new coronavirus cases in a seven-day period to meet this benchmark.
Douglas County reported 29 new cases between July 21 and July 28. The test positivity rate in the county was 5.3% as of July 25, according to Oregon Health Authority.
"If we want our kids to get back to school, and I really want kids to go back to school, we really have to work on getting the rate down," Douglas County Public Health Officer Dr. Bob Dannenhoffer said during a Facebook live session. "We were there from the middle of April all through May, all through June and the first part of July. We were there and we can clearly get there again."
Dannenhoffer added that until last week Douglas County met the positive testing percentage and met the benchmark for 10 cases or less until early June.
If the state gets its testing rate at or below 5%, students in kindergarten through third grade, remote and rural schools with less than 100 students enrolled, and specific groups of students who meet the needs for limited on-site instruction will be the priority.
Those that fit within those three exceptions could possibly go to school even if the county does not meet its 10 or fewer cases per 100,000 benchmark. However, the spread of coronavirus cannot be active in the school community, case rates in the county have to be less than 30 per 100,000 people for seven days over a three week period and schools must be in compliance with the other guidance from the department of education.
"Right now, we could not open up to either kindergarten or other grades," Dannenhoffer said. "We think, however, within a few weeks — if we continue these good trends — we could open up, certainly for K-3 and that hopefully by September we can be available to open up for everybody. But, it's going to take work."
There are 30 school districts in Oregon with less than 100 students enrolled, including the Douglas Education Service District. Douglas ESD Superintendent Michael Lasher said those students were enrolled in therapeutic learning classrooms in South Umpqua, Winchester and Sutherlin as well as some youth in juvenile detention.
Days Creek is the second smallest district by student enrollment in the county with around 200 students. Camas Valley, Yoncalla, Elkton, Glendale, North Douglas and Riddle all have less than 500 students.
Roseburg Public Schools, which has around 6,000 students, will start remote education on Aug. 31 and will reach out to parents beforehand to provide more information on what to expect.
Officials from the Douglas County COVID-19 Response Team and Douglas Public Health Network did not immediately respond to questions from The News-Review.
School districts will receive an additional $28 million in funding to purchase hotspots for students who may not have internet access, technology for distance learning, online curriculum and training.
"We have been working with districts to provide support/professional development and technical training on Learning Management Systems, devices and expanded network connectivity," Lasher said.
School districts received initial guidance from the state department of education on June 10 which gave three options: on-site learning, distance learning, or a hybrid between the two. Many schools in Douglas County were working toward reopening to on-site learning.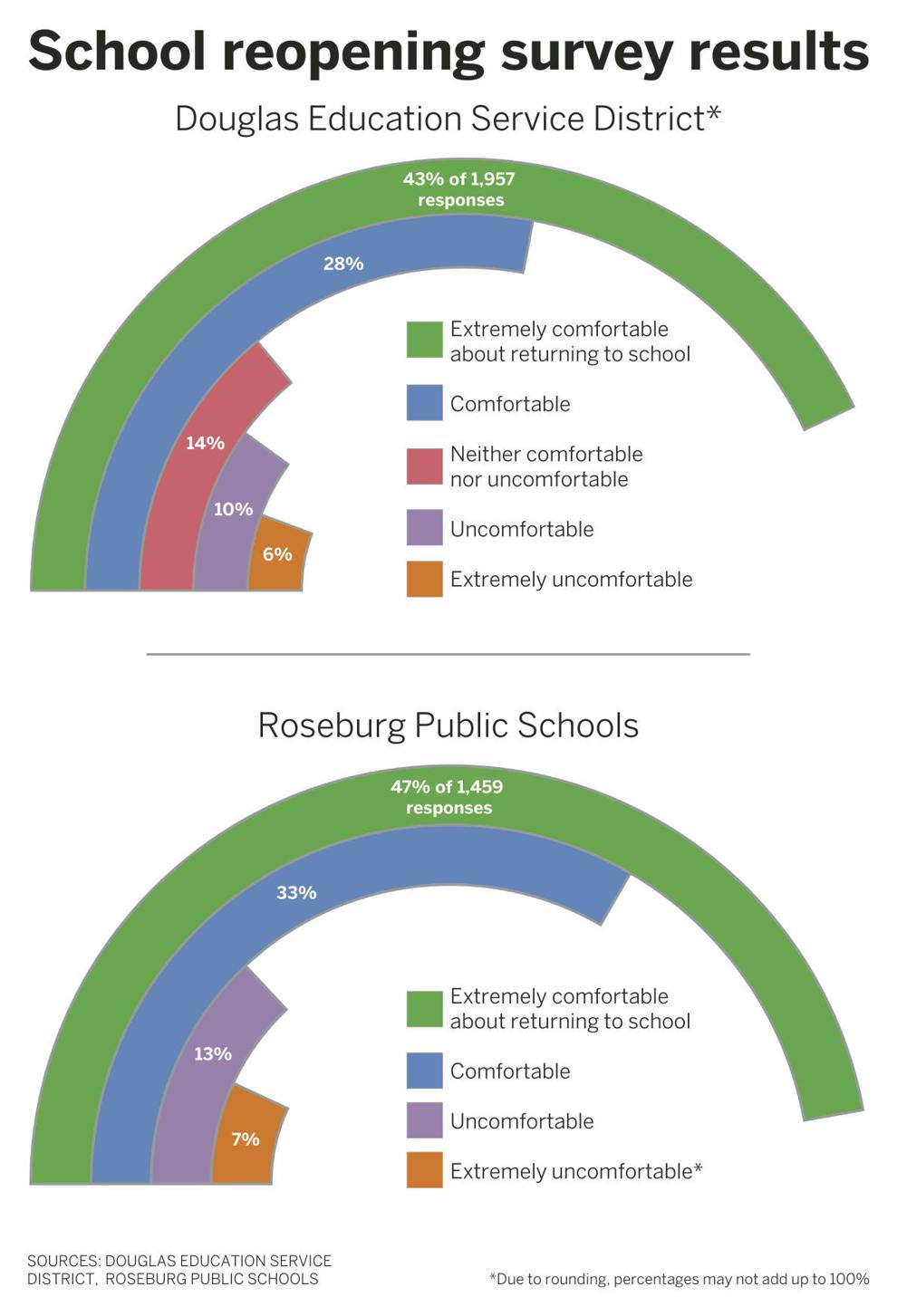 In June, the majority of parents in Douglas County said they felt comfortable sending their child back to school. Lasher said those same surveys have been reissued in some districts to see if the comfort level has changed, but the data has not yet been analyzed.
Roseburg Public Schools' statement to parents said starting school online would give the district more time to prepare for a return to classrooms, which will include social distancing and other requirements.