"What? That's super crazy!" exclaimed 5-year-old Wyatt Whitmore as Sutherlin Police Chief Troy Mills read a safety tip out of the children's book "Officer Buckle and Gloria."
Preschoolers at East Sutherlin Primary School got a visit from Douglas County Sheriff John Hanlin, Douglas County District Attorney Rick Wesenberg and Mills Thursday when the three law enforcement officials came to read the book aloud.
The 4-and-5-year-olds giggled when Wesenberg read another safety tip out of "Officer Buckle and Gloria."
"Don't go swimming during electrical storms," Wesenberg read while Hanlin showed the page to the wonderstruck children.
In the book, Officer Buckle goes from school to school teaching students about safety. During his presentations, his K-9, Gloria, does tricks imitating the safety tips to the delight of the audience.
Mills said the reading was an opportunity to highlight the importance of early education and its role in preventing future crimes.
The preschoolers are part of a state-funded program called Preschool Promise, which aims to help low-income students gain access to early education.
Winston, South Umpqua, Yoncalla, North Douglas and Elkton School Districts also participate in the program.
Debbie Foley, director of student services at East Sutherlin Primary School, said this is the second year the school has participated in the program.
Right now, she said there are 13 kids in the group in Sutherlin and she hopes to increase that to 18 by next year.
Wesenberg said it's a critical benchmark for kids to be able to read by third grade. He said studies show students who are able to read by that age are more likely to complete high school.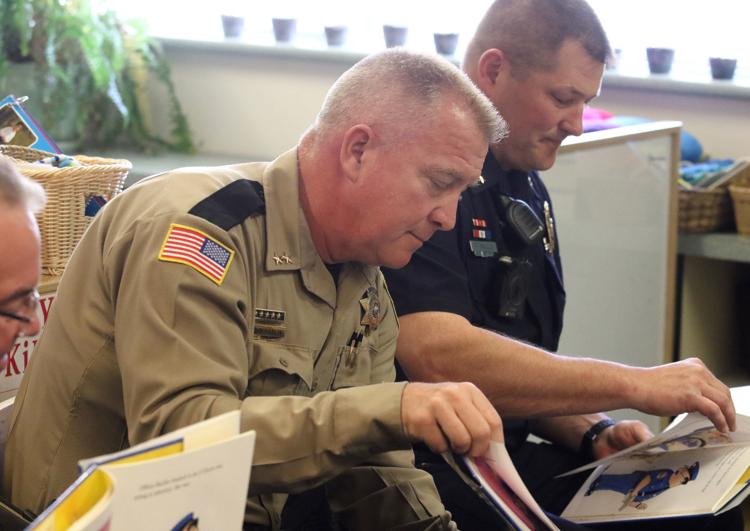 Hanlin said 30 percent of the inmates at the Douglas County Jail didn't complete high school. In the past, he said inmates could participate in a GED program, but that lost its funding.
"This is better," Hanlin said. "It's less reactionary and more proactive."
Foley said a lot of the kids have behavioral problems, but you wouldn't be able to tell watching the rapt listeners.
She said preschool gives the children a leg up before they go to kindergarten and have to get used to a classroom setting and full days of learning.
"It's exciting to see this," Foley said.
Wesenberg, Mills and Hanlin kept the youngsters' attention for about as long as a 5-year-old can sit still.
Then, the kids sprang up and began scattering around the room, raising the noise of the room by a few decibels, when reading time was over.