Earlier this week a school in Fredericksburg, Virginia — more than 2,300 miles east of Roseburg — topped national headlines after a student's service dog made the yearbook.
The pup, a 3-year-old black Labrador retriever named Alpha, climbed up to the same chair as every other student, looked straight into the camera, and had his picture taken.
Earlier this month, The News-Review reported on another black lab, this one in Roseburg, which stands in stark contrast to Alpha's tale. The family of a 12-year-old Roseburg student filed a civil rights complaint with the U.S. Department of Education after Roseburg Public Schools denied the student's request to have her service dog, Peanut, accompany her during the school day.
The U.S. Department of Education is investigating whether Roseburg Public Schools discrimina…
Alpha spends his days with Andrew 'AJ' Schalk, an outgoing 16-year-old Virginian who was diagnosed with Type 1 diabetics nearly a decade ago. Trained as a service dog who is able to detect fluctuations in Schalk's blood sugar, Alpha started accompanying Schalk to classes at Stafford High School, the "Home of the Indians," about halfway through Schalk's sophomore year.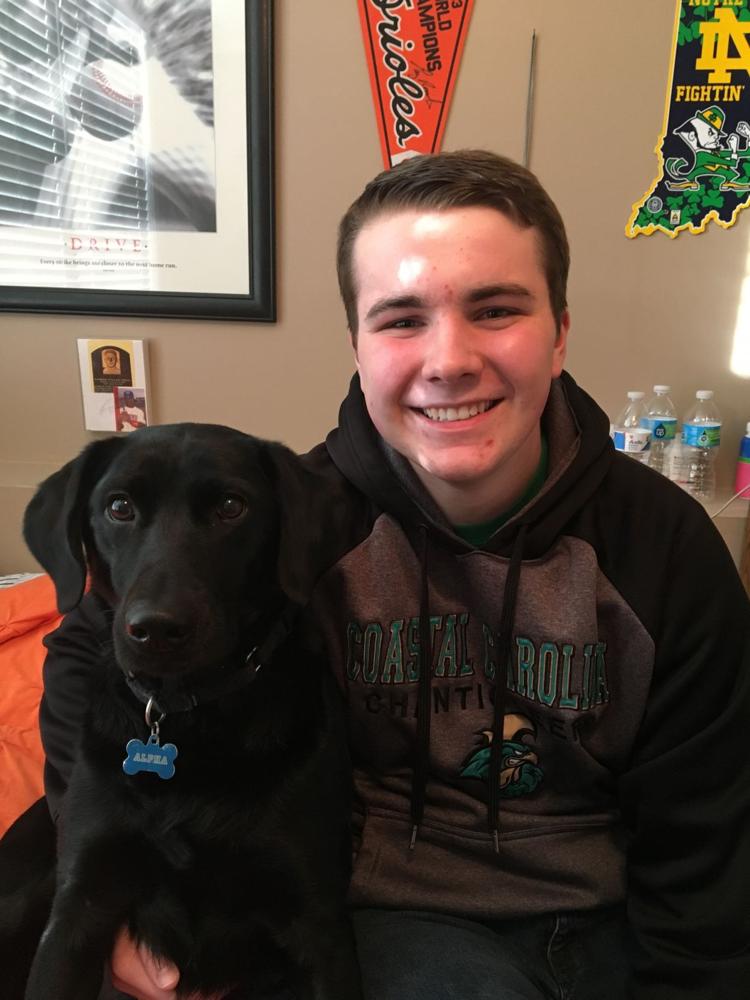 Now a junior, Schalk came up with the idea of including Alpha in the school's yearbook. After talking with a friend who was involved with the book's production, asking permission from the school's teachers and principal, Schalk got the green light.
"Everyone loved the idea," Schalk told The News-Review. "Alpha has just become such a big part of the school environment that it was a no-brainer."
A photo of the yearbook was posted on Twitter by a fellow classmate and quickly caught attention of the local and national media, including BuzzFeed News. Since being posted, the picture was "liked" more than 9,000 times and retweeted, or shared, nearly 3,500 times.
When Schalk first approached the school about bringing Alpha along during the school day, he said "everyone was so supportive, they fully understood why he was with me and fully understood the impact he could have — and if they didn't, then they learned about the impact he could have, so it's just been great."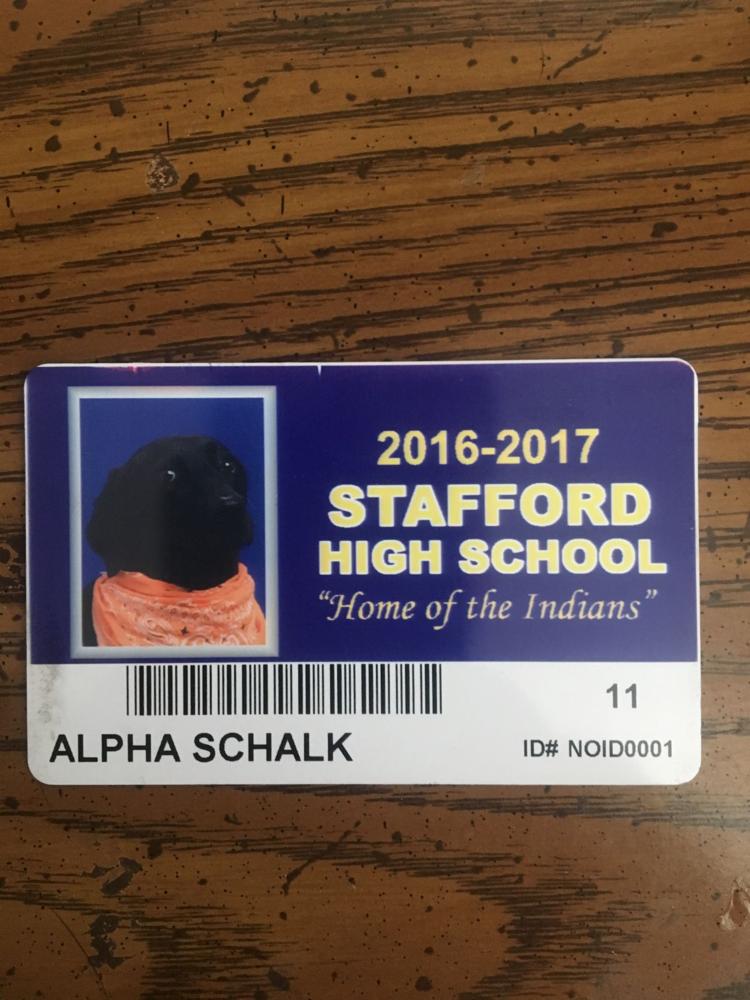 But despite making headlines for his adorable mug shot, Alpha is more than a cute, smiling puppy, says Schalk. Alpha alerts, usually by nudging his owner with a paw or by barking, when Schalk's blood sugar deviates from a normal level, something Alpha can detect up to 40 minutes before Schalk could sense a difference.
"It's really potentially lifesaving," Schalk said. "There have been many times where he's alerted but my blood sugar was OK, but when I checked 20 (minutes), 40, or even an hour later, my blood sugar was extremely low or extremely high."
One night, Alpha sensed a dangerous change and started barking, waking both Schalk and his parents, who were able to help.
"That's the kind of thing where, if I didn't have him, I might not be here telling you about this," Schalk said.
When he heard about the battle between a Roseburg student and her school district over a service dog, Schalk said it was discouraging.
"I wish I could say I was more surprised," he said. "It's sad that this dog could have such a huge impact on this girl's life. It may not be something that is going to happen every day at school or the chances of something happening at school are low, but that's no reason to ban a service dog."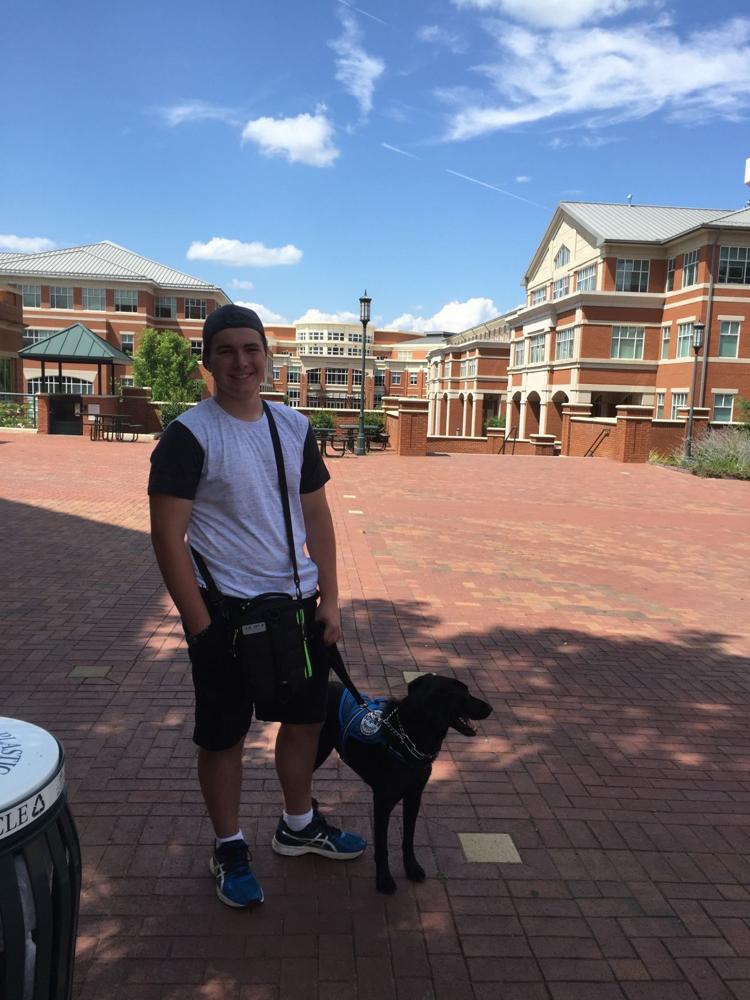 He believes part of the problem is the country's lack of education about the animals and what they are trained to do.
"When we first got Alpha I didn't know dogs could help people with diabetes, I thought they were just for blind people," Schalk said. "I mean, I was 12, but I didn't know service animals could help people with autism, hearing disabilities, smelling disabilities, or diabetes — there's just so much these animals can do, especially dogs."
Part of that education process starts with people who already have service dogs, he said.
"We have to be out and very open," he said. "When we got Alpha, the company told us that people were going to ask a lot of questions and that we had to be advocates. Being diabetic, I was already used to talking with people, but now I also need to talk with people about my service dog.
"He's saved my life multiple times and is benefiting my life by doing so much for me," Schalk said. "That's the kind of stuff that is more important than the cute yearbook photo."
But even with the current lack of information and misconceptions about the animals, Schalk says he can't believe schools across the U.S. are blocking service dogs from attending class.
"It just boggles my mind," he said. "But that's just the world we live in."