Douglas County Commissioner Chris Boice won re-election to a second four-year term Tuesday. As of Wednesday morning, elections officials were reporting that Boice defeated his nearest challenger, Jeremy Salter, by a margin of 64 percent to 25 percent.
Because he received more than 50 percent of the vote, Boice won outright, with no November runoff election needed.
"I'm excited. I'm grateful," Boice said, as he celebrated with friends and family in his office at the Douglas County Courthouse after the initial results came in Tuesday evening.
"It feels good to know that the voters have confidence in the work that I'm doing," he said.
Boice said there's a lot more to be done.
"I'd like to say that I have new goals, but we haven't quite accomplished the ones we set out with yet, so it's going to continue the same old work, the same grind, working toward the same goal. We've got to make the county financially sufficient," he said.
He said the solid win indicates that "experience matters."
Salter said he wasn't giving up on joining the commission. He plans to run again, starting with the seat former commissioner Gary Leif recently vacated.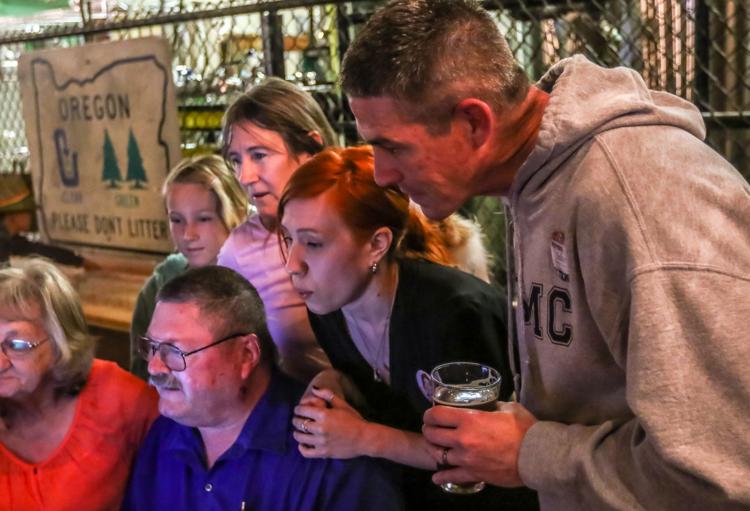 "This is not going to deter us, or make us go away. We're coming full steam ahead," Salter said.
Salter said he's received a lot of positive feedback during this run for office.
"It's been encouraging," he said. Salter's reaction to the news that Alek Skarlatos had also announced his plans to run for Leif's former commissioner seat was optimistic.
Leif gave up the commissioner seat to take a job as interim representative for House District 2. He'll face Democrat Megan Salter — Jeremy Salter's wife — in the November general election.
Two other challengers for Boice's seat didn't actively campaign for the job. Jason Leeper won 3.1 percent of the vote, while James Hoyt won 7.2 percent.
Boice was backed by a combination of local businesses and small individual donors, who together gave more than $47,000 to his campaign. Boice is the owner of Big O Tires in Roseburg. During his time on the board of commissioners, he has worked with the parks and other departments to move toward financial self-sufficiency.
Salter, a Marine veteran, campaigned as a political moderate and raised about $3,000, mostly from small individual donations.