SALEM — Hundreds of protesters wearing red, including a couple dozen from Douglas County, covered the steps of the Capitol building in Salem on Thursday to rally against the proposed Jordan Cove liquefied natural gas project.
They were there to demand that Gov. Kate Brown take a stand and join the opposition, and many of them joined a sit-in in the governor's office following the rally.
The project, which is spearheaded by Canadian energy company Pembina, includes the construction of a 229-mile natural gas pipeline through Southern Oregon. The gas would travel to an export terminal in Coos Bay and then be shipped to Asian markets. The pipeline would cross 64 miles of public, private and tribal land in Douglas County.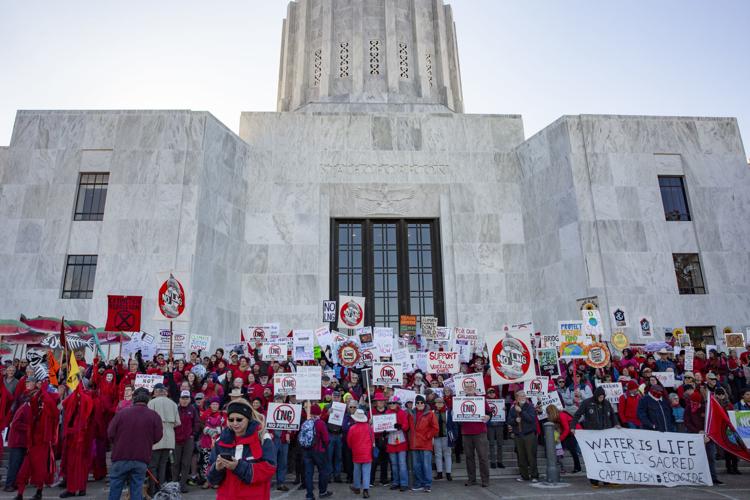 One of the speakers at Thursday's rally was Bill Gow, a cowboy hat-wearing conservative Republican rancher from Douglas County, whose land lies directly in the proposed pipeline's path.
Shortly before the rally, he told The News-Review that opposition to Jordan Cove is a bipartisan issue. As proof, he said with a laugh that he rode up to the Salem rally with a liberal friend who also opposes the pipeline.
Other speakers included youth activists, environmentalists and members of several Native American tribes. At times, the group broke into chants on the Capitol steps. After the speeches, the entire group walked inside the building and sang, "We have got the power. It's in the hands of us all."
After that, about 85 people sat themselves down in the governor's office, while outside a group of performance artists called the Red Rebels offered a symbolic representation of animals like spotted owls, salmon and Dungeness crabs they said would die if Jordan Cove is built.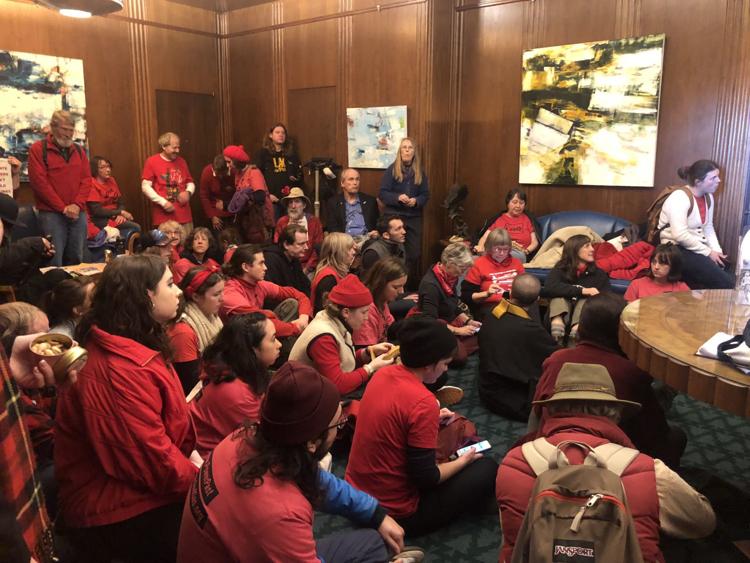 Gow received cheers from the crowd as he spoke about his desire to protect his land.
"I don't think people really understand the magnitude of what this project has done to my family and the other landowners that are holding their own on this thing. It's taken a major toll on us," he said.
He said he's spent many hours fighting to protect what he has.
"For 15 years this fight has been going on, and it's been horrible. I'm a real believer in private property rights. To me that's a core American value," he said.
He said those rights shouldn't be taken away by a foreign company.
"I just can't even get my head around this whole thing, and that's why I've fought so hard. I just can't even imagine the day they show up with the bulldozers and stuff. I seen what happened to Standing Rock and stuff and I know seeing this crowd, we'll fight," he said, as the crowd roared approval.
Klamath Tribes Chairman Don Gentry said the project would do damage to tribal lands and likely disrupt ancestral burial places.
Gentry said he believes Brown has a heart for native people and the environment, and he doesn't know why she hasn't expressed clear opposition for Jordan Cove.
"I'm here to urge her as someone who knows her and has met her and respects her to do everything within her power and authority as governor of this state to stop this 'koyci' project," he said, using the Klamath word for bad or wrong.
Coos County Commissioner candidate Sam Schwarz said many more jobs could be created with wind and wave energy projects in Coos Bay than would be created by Jordan Cove.
Artist Ka'ila Farrell-Smith, a member of the Klamath Tribe, said she rejected Brown's offer to hang her art in the governor's office because she had failed to stand up against Jordan Cove.
At one point in the rally, while a poem was being read about an eagle, a bald eagle flew overhead, drawing gasps from the crowd.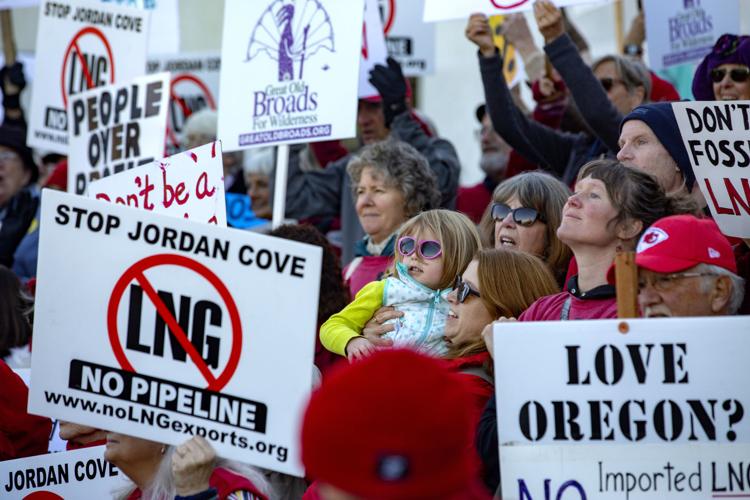 Richard Chasm of Olalla wore a top hat to the event. He said the project is drastically devaluing Douglas County real estate. He said the governor needs to stand behind her agencies and demand that a foreign corporation meet Oregon environmental standards.
"Everybody else in this state has to kiss the state's ass. Why is Pembina any different?" he said.
If things go badly, he said, the governor will be blamed.
"When it's going in and things are going wrong, Kate Brown's going to wear it for the rest of history. Any good things she's done are going to be immaterial to the shortsighted abuse of the people in Southern Oregon," he said.
Francis Eatherington, an impacted Douglas County landowner, said the turnout was great and showed that Oregonians really care that this would be the state's highest greenhouse gas polluter.
"You know if they spent the same amount of money putting solar panels on everybody's roof, especially on every Walmart roof that there is, the same amount of money, no one would have to pay for electricity again," she said.
On Thursday afternoon about an hour after the rally concluded, Southern Oregon Rising Tide, one of the groups organizing the event, issued a press release saying that 85 people were sitting peacefully in the governor's office.
One of them was Sandy Lyons, an impacted landowner from Days Creek. She said in a written statement that she and her husband have ranched their property for 29 years, raising their son there and teaching him to respect the land and its natural resources.
"For 15 of those years, we have been fighting the proposed gas pipeline which a fossil fuel corporation has chosen our land to cross and seize it from us by eminent domain," Lyon said. "I am here today because we have tried every possible way to be heard and want somehow to gain the Governor's attention to how wrong this is and the negative ways in which it will permanently scar us and our land."
Twenty-one people were arrested during the protest, including Lyon, according to police. The group was part of a larger crowd that entered the Capitol building around 2 p.m. asking to speak with the governor. Brown eventually addressed the protesters at 8:30 p.m., according to police, but by 9 p.m. a small group of people remained in the building and were warned by OSP Superintendent Travis Hampton that they needed to leave or risk being arrested.
A group of 21 remained and were all arrested without incident on suspicion of second-degree criminal trespass, according to police.