About 100 protesters greeted members of the Roseburg Area Chamber of Commerce as they made their way to the Douglas County Fairgrounds on Monday for their monthly membership meeting and to hear an update on the Pacific Connector Gas pipeline project.
Law enforcement officers were present to ensure a safe, peaceful protest and a disruption-free meeting.
The 233-mile underground pipeline would travel from Malin, in south central Oregon, through Klamath, Jackson, Douglas and Coos counties to reach the Jordan Cove Liquefied Natural Gas terminal in the Port of Coos Bay, where the natural gas would be cooled down and liquefied before being shipped to Asian markets.
"I believe there are serious public benefits to all of Southern Oregon," Jordan Cove spokesman Michael Hinrichs told the chamber members. "There are so many jobs associated with this project."
After denying the project twice in the past year, the Federal Energy Regulatory Commission accepted Jordan Cove's pre-filing application last Friday, meaning the commission will conduct an informal review of the proposal over the next six months until the developers file their formal application.
Along the street leading to the fairgrounds, the protesters chanted and held up their signs, including a bright orange 95-foot sign that read, "no pipeline, no LNG."
"We're here to tell the company to expect resistance, that we've defeated you twice before and now it's not going to be any easier for you, even with the new FERC members coming in with the Trump administration," Colin Kerosky of Phoenix, Oregon, said. Kerosky has been traveling around the areas along the proposed route to support the potentially affected landowners.
He said he and the protesters were also there to speak with the members of the chamber of commerce who are on the fence about the project.
"Southern Oregon is a beautiful place and when you think about the reasons why people settle down here, the livability and natural beauty is a huge part of that, and that would be threatened if this pipeline went through," Kerosky said.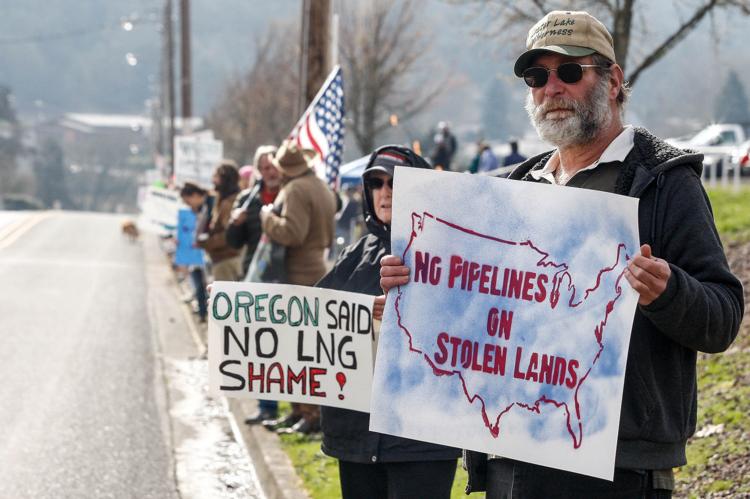 While 60 percent of the proposed pipeline route would cross public land and timberland managed by timber companies, about 40 percent would cross private land.
According to Hinrichs, almost 40 percent of the affected landowners have agreed to the project. Other landowners, however, do not want the project to move forward.
"We're appalled that Jordan Cove has refiled again and that they've come to Douglas County to try to convince the chamber of commerce this is a good idea," Francis Eatherington of Roseburg said. "This is not a good idea for Douglas County."
"It's slated to go a mile across our property, and we do not support this project," Stacey McLaughlin of Round Prairie said. "There's more than 100 people here today saying they don't want this project."
While the original plan, proposed in 2004, included a power plant with the LNG facility, the new design does not.
"The power generation is incorporated into the LNG facility, making it more efficient, decreasing air emissions and making it an overall smaller infrastructure and footprint," Hinrichs said. He added that the developers are also looking into accommodating workforce housing on their properties near the facility.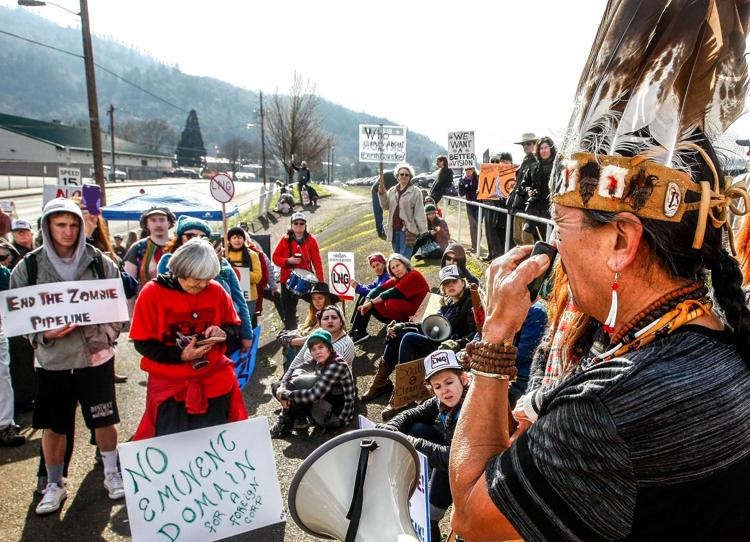 Eatherington said the pipeline is not in the landowners' interest.
"On December 9, the Federal Energy Regulatory Commission told them no, you have no buyers, there's no market. It's unfair to take land from landowners when this project will not succeed," Eatherington said of Jordan Cove LNG. "We want them to go home back to Canada and stay out of Douglas County."
"Any kind of temporary jobs, which have been extremely escalated as far as the numbers, will not benefit local workers," McLaughlin said. "Why would they be building a camp for the workers in Coos Bay if it was for local people? It's not. It's just another contribution to the boom and bust economy that we need to get away from in Douglas County."
Hinrichs said Jordan Cove LNG would not be taking any land, it would be compensating landowners for the use of easements underneath their properties, and the project would indeed benefit local workers.
"We think we can hire 85 percent of our workforce locally, from around the state, and perhaps needing to go up to southern Washington," Hinrichs said. "Thirty-five percent should be able to commute from their homes to the workplace, so we see that as a direct benefit."
He said the project would create an estimated 300 construction jobs in Douglas County for four to five years, jobs that workers in southern Oregon are qualified for.
On average, these employees would earn about $85,000 per year plus benefits, according to Hinrichs.
"These are family-sustaining jobs and we're proud of that," Hinrichs said.
Hinrichs added that there is a chance for other pipelines to connect into it, and Jordan Cove already has a deal to pay Avista Utilities to provide natural gas to communities that are currently under-served or use more expensive, dirtier fuels.
"It is a private, foreign corporation from Canada that is impacting local American individuals who do not want the project. It is insane that we have to give up our property to eminent domain for private shareholders in Canada to prosper," McLaughlin said of the company behind the project.
"It's 100 percent foreign-owned," Eatherington said. "They want to take my property with eminent domain so a foreign company can sell foreign gas to Asia, so I'm appalled at that."
Hinrichs said though the company's parent company, Veresen, is based in Alberta, Canada, Jordan Cove is a United States entity with its headquarters and many employees based in the U.S.
"Eminent domain is the last option we would use, and we would try to avoid it every way we can," Hinrichs said, adding that the company would try to reach an agreement with the landowners before resorting to eminent domain, or having a judge decide the amount of compensation in court.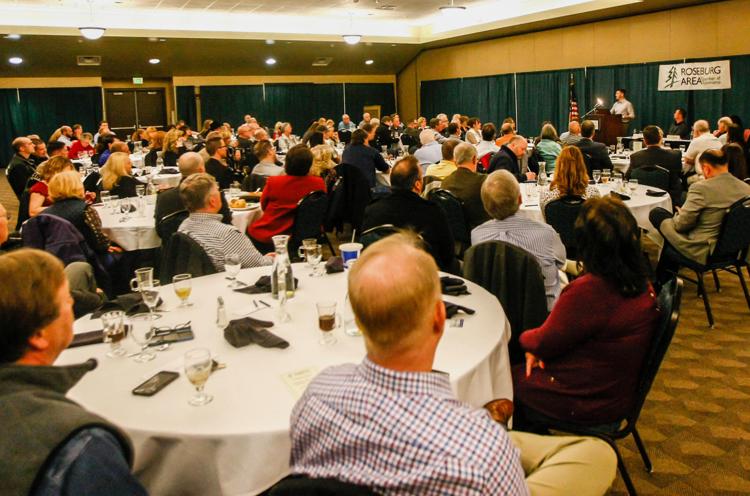 An estimated 7 percent of the liquefied natural gas going through the Jordan Cove system would provide power for local markets, which Hinrichs said is enough to power the state of Hawaii and is more than enough to provide an ample source to southern Oregon.
Toby Luther of Lone Rock Timber Management Company said he is supportive of the project.
"I think it's going to be beneficial for the counties," Luther said, adding that the project will create local jobs and bring increased tax revenue for the counties that are currently struggling financially.
Douglas County would be expected to gain an average of $5 million in tax revenue per year.
"It's a huge boost from the decrease in timber receipts that all these towns have been seeing," Hinrichs said.
"They've been very good to work with and very reasonable with their approach," Luther said, adding that the company would cross Lone Rock properties.
Kerosky, however, said that a 95-foot width of timberland on landowner's properties would potentially be clear cut to allow for construction of the underground pipeline.
"For a lot of landowners, for a lot of people in the first nations, it's very personal for what they're trying to protect," Kerosky said. "On an environmental level, it's really important that we think about the future and we're thinking about switching away from the fossil fuel industry and we're not complicit to the damage this fracked gas is doing across the United States, Canada and the world."